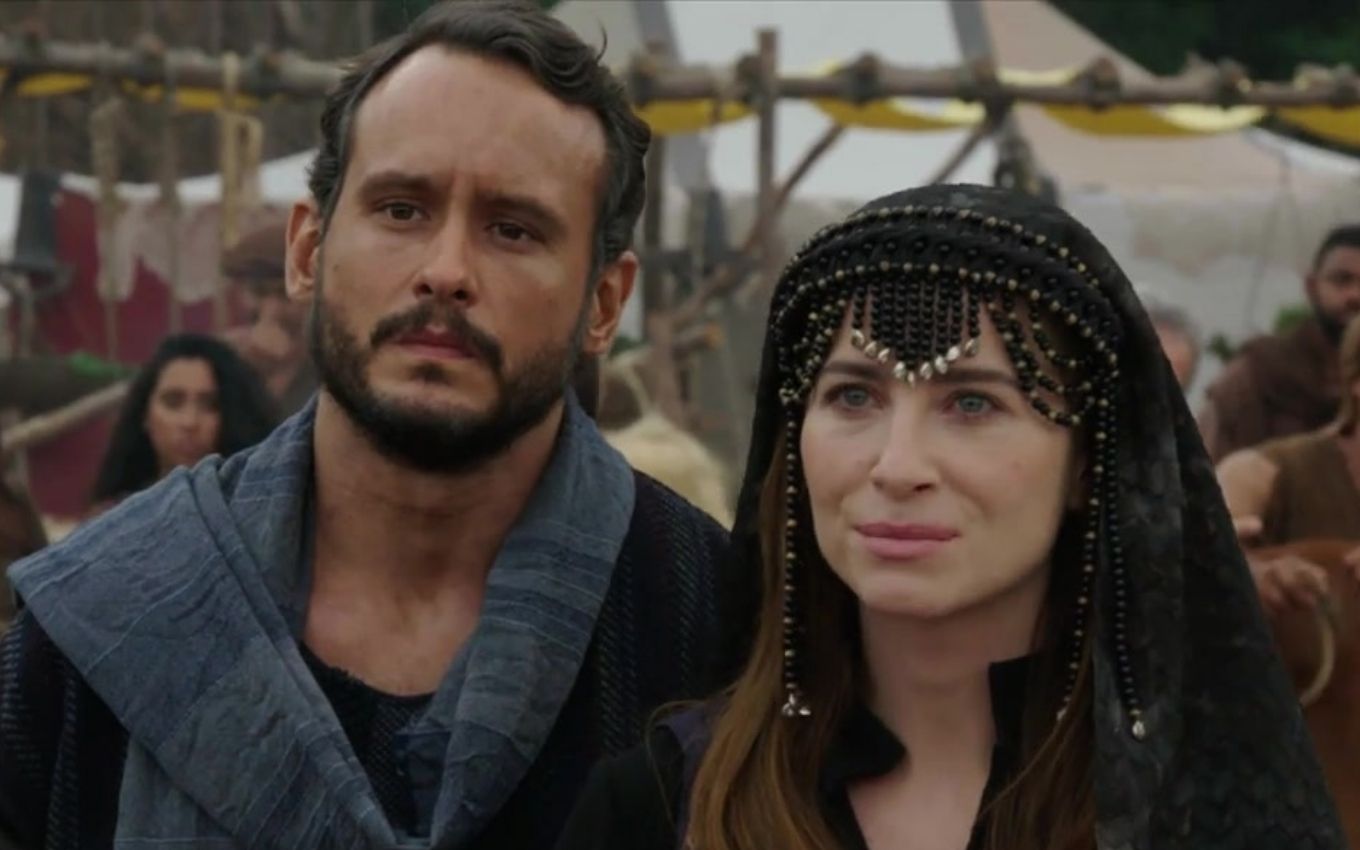 Isaac (Guilherme Dellorto) will make the same mistake as Abraham (Zécarlos Machado) in Genesis. The prophet's son will arrive in Gerar and tell Abimelech (Leonardo Franco) that Rebeca (Barbara França) is his sister. He will fear that the executioner king will take the redhead for himself, and the lie will soon be discovered.
Chaim (Tadeu Aguiar) will convince the Hebrew to lie in this fourth chapter (30). Sara's son (Adriana Garambone) will be advised by God (Flávio Galvão) to travel with his group to the region ruled by Omar's father (Marcello Airoldi) to escape a devastating drought.
Upon arriving there, Isaac will hear advice from Michal's son (Cristina Amadeo). The man had his daughter Hannah (Yris Sampaio) kidnapped by Abimelech shortly after her husband died under suspicious circumstances.
Abimelech has a bad reputation as a scoundrel
Who warns…
"Careful, Isaac. Don't tell anyone in the palace that Rebekah is your wife", the veteran will ask. "Why?" asks Jacob's father (Enzo Barone). The peasant will explain his concern: "The king might want to kill you to take your wife for him."
"Something like my father happened. I remember very well my mother telling this story. But that was so many years ago. Abimelech must be very old now, Chaim. Sorry, but it doesn't make sense", will disagree Rebeca's husband, not believing in the man's words.
Chaim will try to convince the boy: "The king has become even more mean with age. He took my youngest daughter to his harem. A beautiful girl named Hannah. This happened right after her husband's mysterious death," confesses the old friend of Ishmael (Iano Solomon).
Isaac will fear the possibility of losing Rebekah to Abimelech. He will choose to lie to the king of Gerar and tell him that the redhead is his sister. However, Nader's grandfather (Cristiano Garcia) will discover the protagonist's deceit and will condemn the couple to the gallows.
Genesis is a free adaptation of the first book of the Bible. The serial is divided into seven phases and, currently, Record exhibits the fifth –Jornada de Abraão. In addition to spoilers, the TV news publishes the summary of the biblical novel.
---
Learn all about the upcoming chapters of soap operas with the Noveleiros podcast
Listen to "#63 – All about Kyra and Rafael's reunion in Save Yourself!" on Spreaker.
---
Subscribe to the channel TV news on YouTube and watch videos with revelations of what will happen in Genesis and other soap operas.
.