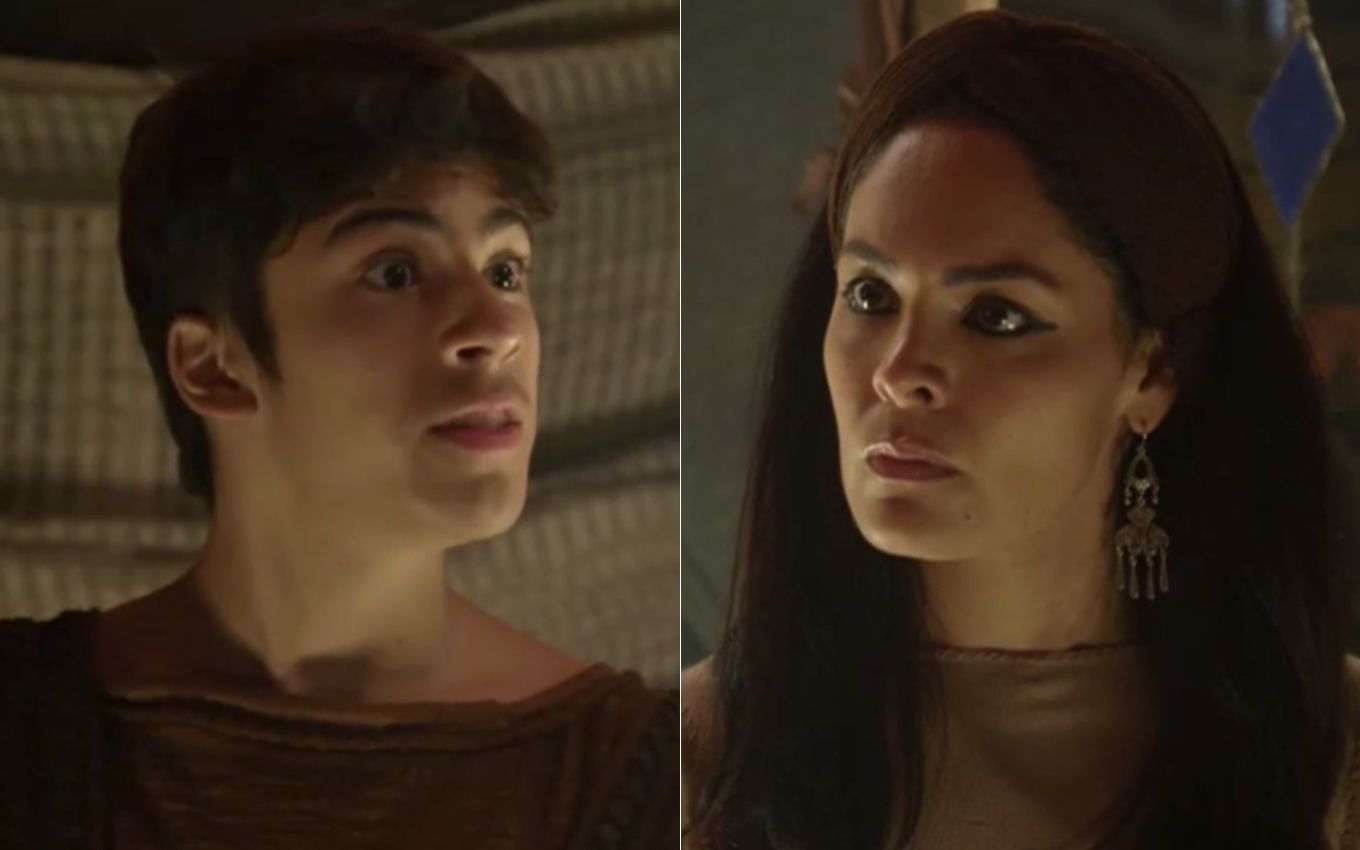 Ismael (Henrique Camargo) will make Agar (Hylka Maria) cry in disgust in Genesis. The rebel will face Abraham (Zécarlos Machado) and will be forced to stay grounded in his tent for seven days. The boy will find it good to be away from everyone, and will shock the servant: "I am not ashamed to hate," he will say.
the troubled boy will freak out this Wednesday (2) in the biblical booklet. At this point in the plot, God's chosen one will have discovered that the heir placed scorpions in Massa's (Marcos Winter) tent and nearly killed Adália (Carla Marins) by poisoning.
Angrily, Lot's uncle (Emilio Orciollo Neto) will ban the boy from socializing in the camp. "Are you satisfied? Now you're going to have to stay inside the tent, imprisoned, grounded for seven days," says Agar, furious at the spurt the boy took.
"I don't even care. I think it's good. I'm tired of seeing everyone celebrating Isaac's birth. What a hatred", replied Gael's friend (Guilherme Boury), envious of Sara's new son (Adriana Garambone) and Abraão.
Bakari's ex-girlfriend (Paulo Lessa) will be frightened by Ishmael's arrogance: "My son, stop it. You'll end up having much more serious problems with your father. Everyone will notice your hatred", she will ask. The boy won't mind his mother's pleas: "I'm not ashamed to hate. In fact, I like it," the character will assure.
The Egyptian will remind the boy that Abraham will be able to expel him from the caravan if he continues with his rebellion, but he will doubt that the patriarch will do anything like that. For the first time, Hagar will face Ismael's evil personality. "I don't recognize you!" she will snap.
"Well, this is the son you raised. Pleasure," will answer the Hebrew, cynical. The brunette will get tired of the boy's disobedience and will take her things to stay in the servants' tents. "Are you going to sleep there? Why is that?" Asked Ismael, worried.
"For you to spend these seven days completely alone. Maybe put your head in the right place", will end the character of Hylka Maria, furious.
Genesis is a free adaptation of the first book of the Bible. The booklet is divided into seven phases and, currently, Record shows the fifth – Journey of Abraham. In addition to the spoilers, the TV News publishes the summary of the biblical novel.
---
Learn all about the upcoming chapters of soap operas with the Noveleiros podcast
Listen to "# 61 – Romance in chaos: New couple appears in Genesis!" on Spreaker.
---
Subscribe to the channel TV News on YouTube and watch videos with revelations of what will happen in Genesis and other soap operas.
.