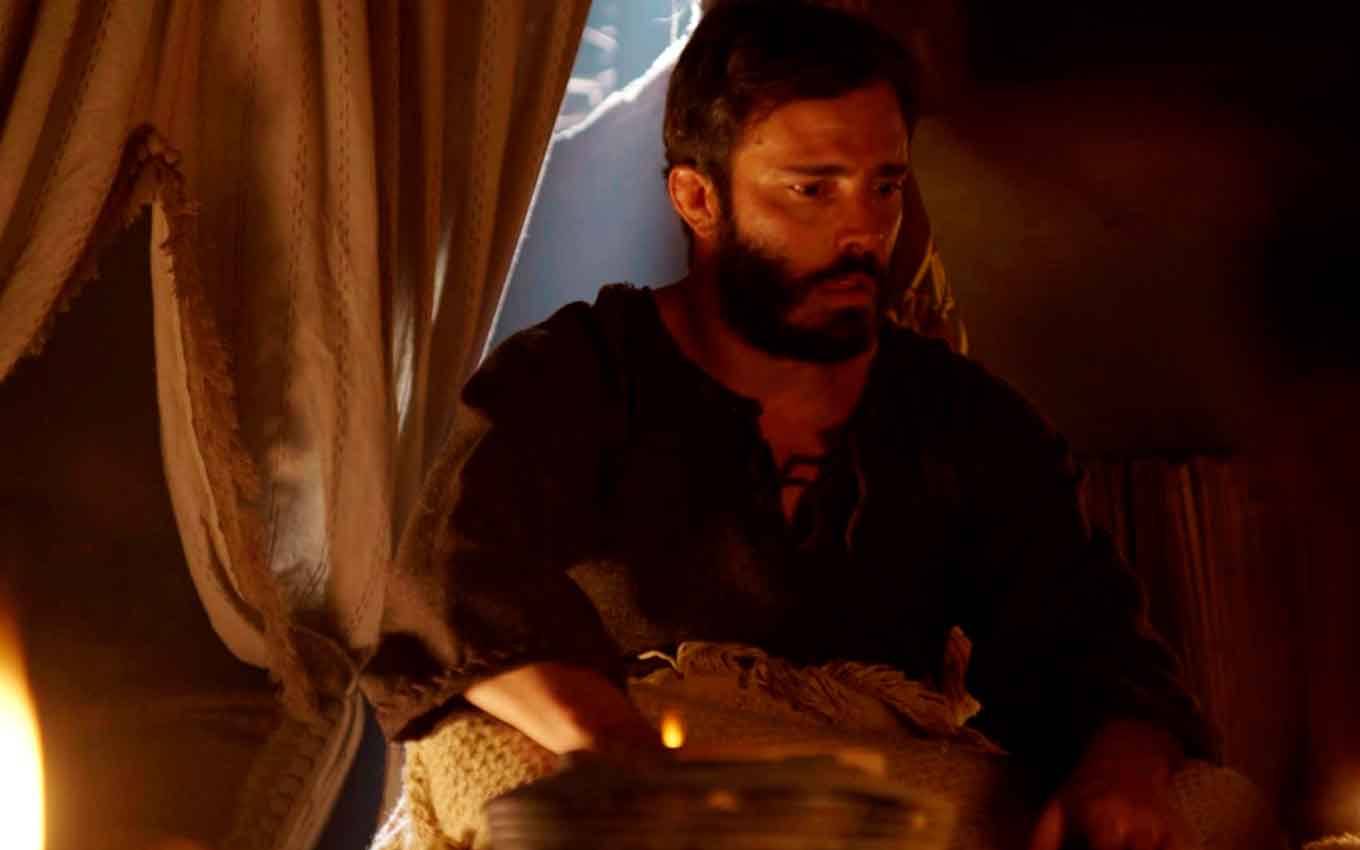 Judah (Thiago Rodrigues) will not sleep in peace after having sold José (Juliano Laham) as a slave in Genesis. The sheep herder will frighten Muriel (Rhaisa Batista) with her screams of terror as she wakes up from a nightmare in which she will be confronted by her brother's ghost. "It's all your fault", will repeat the protagonist of the Bible soap opera by Record.
The young man will turn his back on his brothers by asking Israel (Petrônio Gontijo) for a blessing to rebuild his life far from his family in the serials by Camilo Pellegrini, Stephanie Ribeiro and Raphaela Castro. The patriarch will even say "no" at first, but will allow his son to leave after some advice from Zilpah (Karina Barum).
Willing to leave the past behind, Judah will settle in Adullam and assemble a small flock by establishing a partnership with Hirah (Sandro Pedroso). The Canaanite will even be responsible for introducing him to the love of his life — Muriel.
Thiago Rodrigues' character, however, will discover that it is not so easy to get rid of the guilt in the scenes that will be shown from the next Monday (20). Lost in a desert, he will panic when he finds three bodies lying amidst boxes, chests, fabrics and other types of goods.
The Hebrew will tremble at the base when he sees a fourth man lying on the ground and realizes that he is the protagonist played by Juliano Laham. "Joseph, no. Joseph, please," he will plead as he clings to his dead brother.
Joseph (Juliano Laham) in Genesis
What happens to Judah in Genesis?
Next, José will come back to life and surprise Judah by showing his wrists badly bruised and bloodied by Issad's (Ricardo Dantas) bonds. "It's all your fault," will roar the spirit, who will also be delighted by the relative's cries of despair.
Muriel is going to give her husband a shake to wake him up from the nightmare. "What is it? What were you dreaming about?" she will question. "It was nothing. Go back to sleep", will minimize the goat farmer, covered in sweat and with his breath still wheezing.
Genesis is a free adaptation of the first book of the Bible. The serial is divided into seven phases, and, currently, Record exhibits the seventh: José do Império. In addition to the spoilers, the TV news publishes the summary of the biblical novel.
---
Learn all about the upcoming chapters of soap operas with the Noveleiros podcast
Listen to "#74 – José Alfredo Makes Emergency Decision in Império!" on Spreaker.
---
Subscribe to the channel TV news on YouTube and watch videos with revelations of what will happen in Genesis and other soap operas.
.