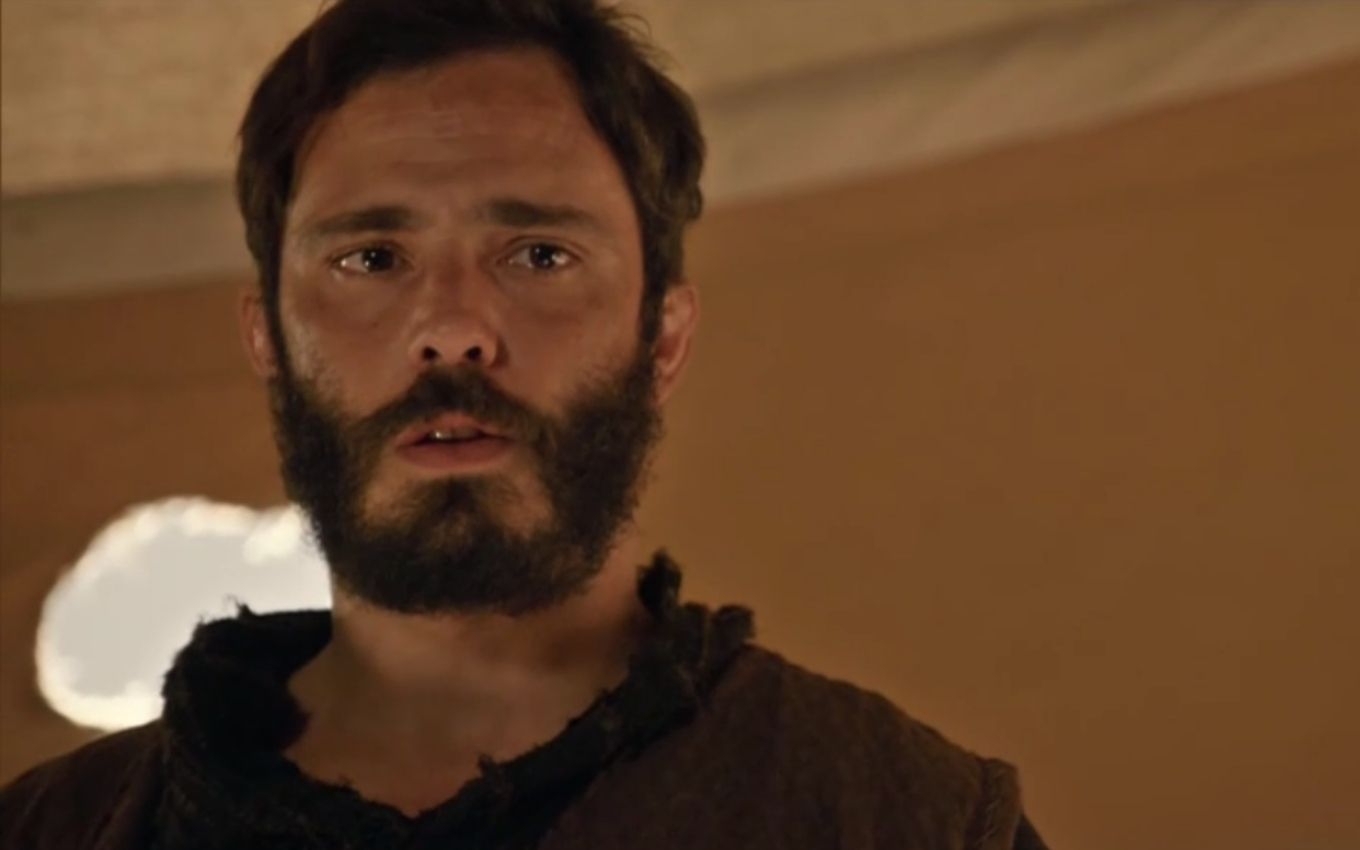 Judah (Thiago Rodrigues) will be on all fours for Muriel (Rhaisa Batista) in Genesis. The Hebrew will be kissed by the citizen of Adullam and will fall in love. The touch will be enough for the boy to promise to marry the girl. "I can't explain why or how, but I want you in my life," he will confess.
A new resident of Adullam, Judah will decide to spend the night gazing at the stars in chapter next tuesday (21). The boy will have left the camp in Israel (Petrônio Gontijo) taken by the guilt of having sold José (Juliano Laham) and chosen to follow his life elsewhere.
Muriel will interrupt her friend's reflective moment and notice his face of constant worry: "This is a sign of a man tormented by something", the girl will comment.
Curious, the girl will touch the young man's forehead and disappear with her distressed wrinkles. Joseph's brother will feel vulnerable to the touch. "I can't even remember the last time someone caressed me," he will confess, needy.
"You need to stop being so serious. So intense," Muriel will add, with a smile on her lips. The couple will move even closer, and Judah will kiss her on impulse. The girl will accept the joke and surrender to the affection.
Wedding in sight
"Sorry, it was stronger than me", will say the character played by Thiago Rodrigues, after distancing himself. Shy, Muriel will instigate her lover. "What does that mean?" He will then reveal his feeling:
It means you're screwing up all my plans not to marry me right now. I know it sounds crazy, we don't even know each other, your father doesn't even know me…
The girl will laugh at the courtship and ask him not to tell her father about the romantic moment. The man in love will agree: "I can't explain why or how, but I want you in my life, Muriel," he'll say.
The character will be excited by the promise and embrace you. Careful, Judah will ask Muriel to return to her quarters so that her father doesn't suspect anything.
Genesis is a free adaptation of the first book of the Bible. The serial is divided into seven phases, and, currently, Record exhibits the seventh: José do Império. In addition to spoilers, the TV news publishes the summary of the biblical novel.
---
Learn all about the upcoming chapters of soap operas with the Noveleiros podcast
Listen to "#74 – José Alfredo Makes Emergency Decision in Império!" on Spreaker.
---
Subscribe to the channel TV news on YouTube and watch videos with revelations of what will happen in Genesis and other soap operas.
.