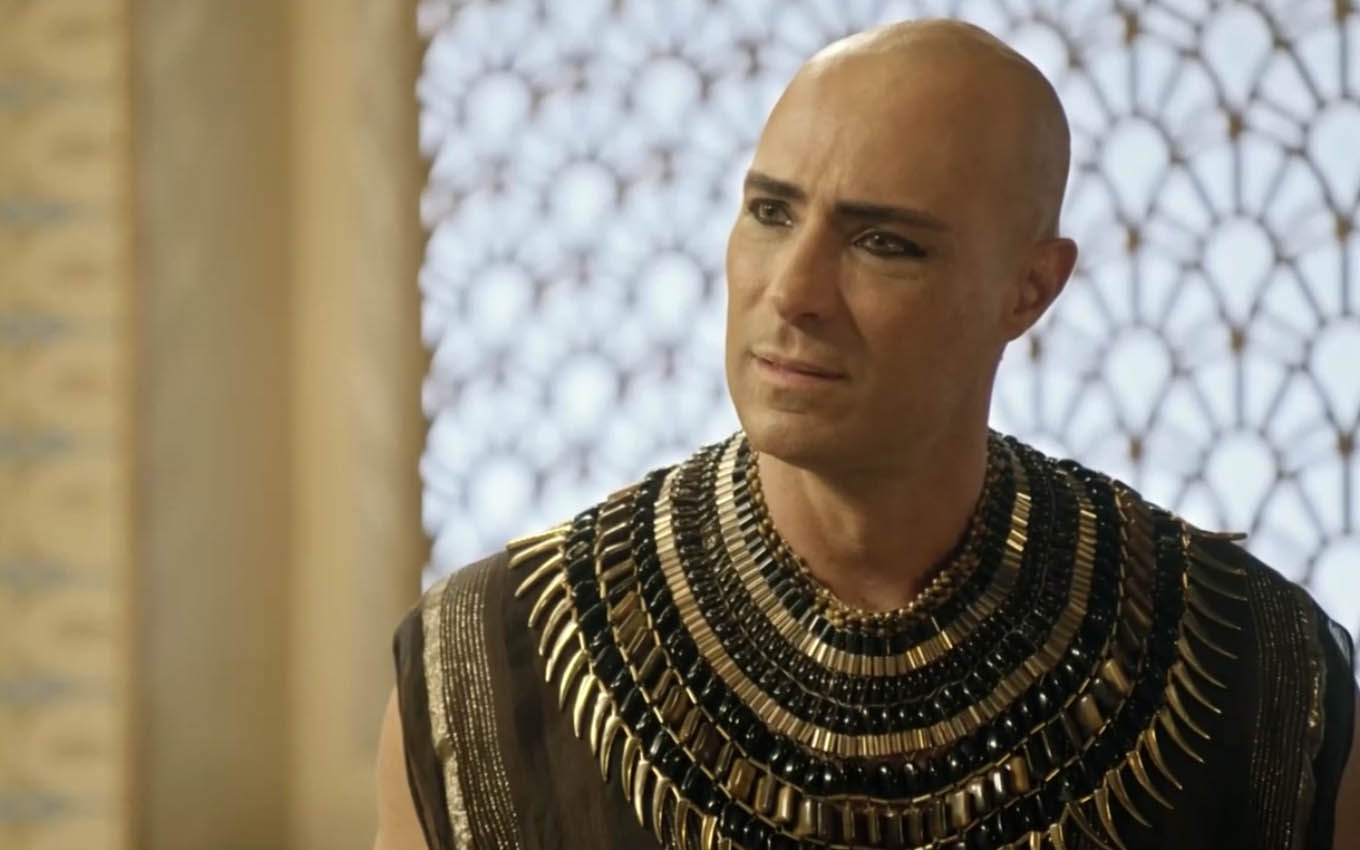 Sheshi (Fernando Pavão) will wash his honor with blood in Genesis. After Apepi (actor's name was not released) assumes he has poisoned the palace food, Pharaoh will not think twice about declaring war against his rival. "He had the audacity to do what he did and still send a message. I myself will avenge Amarilis' death [Marianna Alexandre]", will roar the sovereign in Record's biblical novel.
The monarch will drown his sorrows in alcohol after losing his sister and exiling Kamesha (Kizi Vaz) to Nubia. Intoxicated, he will come to embarrass himself in front of his subjects, fail Merianat (Samia Abreu) ​​in bed and cry like a child on the shoulders of Shetep (Camilo Bevilacqua).
Fernando Pavão's character will gather his last strength to turn around and retake his throne in the scenes that will be shown from next Friday (2). He, however, will go into a spin again as soon as Potiphar (Val Perré) reveals that he has a message from Apepi:
Miss me? Congratulations on the wise decision to exile the second royal wife. Even I was impressed that you found my message aimed at her. Oh, and my condolences for the death of my beloved Amarilis. The poison was for you, but it served as a sacrifice for your brother. One less Hyksos to defile the sacred reign of living Horus. In this case, me.
Amarilis (Marianna Alexandre) in Genesis
sheshi announces battle
Full of rage, Pharaoh will take the role from Potiphar's hands. "In light of recent events, I thought it wiser to leave him alone for a while to grieve his loss. I hope he's recovered enough by now. So let's play? Only you, Sheshi, can avoid the next death," he will read , out loud.
Potiphar, however, will immediately suspect that Apepi may not be behind the messages or even the attack on Amarilis. "I suggest that we make a diplomatic visit to Upper Egypt. A peace visit, with a reduced number of soldiers. We would probe what is happening before we take a more aggressive attitude," the general will propose.
"Yes, but that idea will vanish in the dust of the wind, because as soon as I see the bastard's face, I'll kill him," the nobleman will shout. "I know that, sir. That's why I advise Pharaoh not to go with us," will punctuate Neferíades' husband (Dandara Albuquerque).
The gentleman will lose his patience for good in the serials by Camilo Pellegrini, Stephanie Ribeiro and Raphaela Castro:
No way. I will not send messages. He had the audacity to do what he did and still send a message. I myself will avenge Amarilis' death. In person. Apepi took up the murder in writing. We leave tomorrow. If it's war Apepi wants, it's war he's going to have.
Genesis is a free adaptation of the first book of the Bible. The serial is divided into seven phases, and, currently, Record exhibits the seventh: José do Império. In addition to spoilers, the TV news publishes the summary of the biblical novel.
---
Learn all about the upcoming chapters of soap operas with the Noveleiros podcast
---
Subscribe to the channel TV news on YouTube and watch videos with revelations of what will happen in Genesis and other soap operas.
.