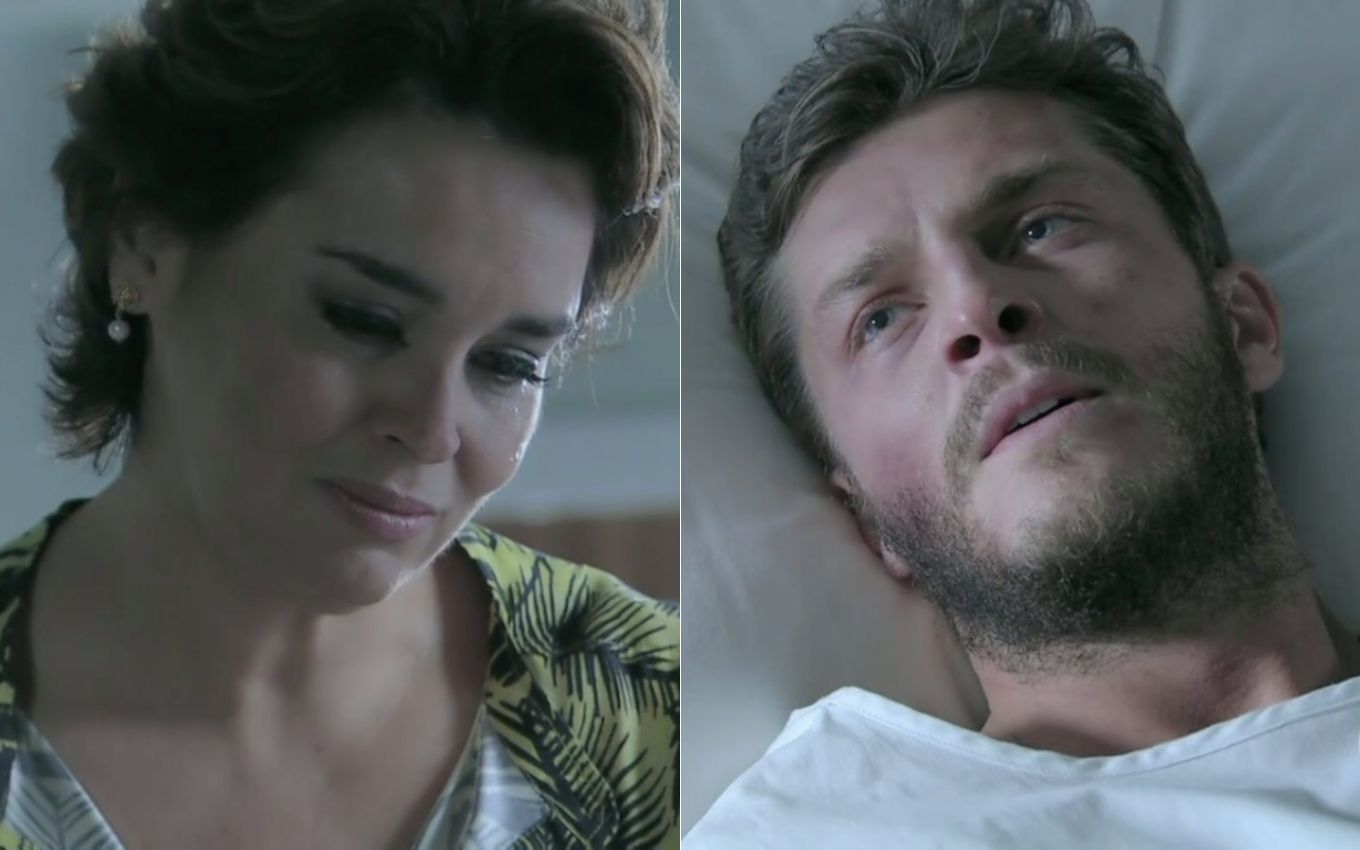 Beatriz (Suzy Rêgo) will surprise and console Leonardo (Klebber Toledo), her husband's former lover, in Império. Claudio's wife (José Mayer) will see the model with pneumonia and the worst in the hospital, but will give him strength to get off the streets and let him know that his housing debts are paid. "Amanda [Adriana Birolli] paid the back rent", will say the mother of Enrico (Joaquim Lopes) in the soap opera at nine on Globo.
"Homeless, Leonardo? A strong man, handsome like you, with his whole life ahead of him. Where did you want to go with that, tell me?", Beatriz will question in the scenes that will air from August 7th. "It doesn't interest you. You should be the last person in this world to want to meddle in my life", the patient will retort harshly.
"But I wasn't the first either, Amanda arrived first," Beatriz will say. "Yeah, and you two try to leave me alone, okay?", the handsome man will advise. "Negative, we're willing to help you and we'll do it, even if you don't want to!", decrees the ceremonialist's wife.
"I don't," the boy will reply. "But we don't", will answer the character played by Suzy Rêgo. "What do you want with that? Tell me? You came here under your husband's orders, is that it?", the blonde will question. "Oh, Leonardo, whoever loves doesn't give orders. That was my decision, Claudio had nothing to do with it," explained the brunette.
"Does he know you're here?" the aspiring actor will ask. "Of course he knows I'm here. Because you know we don't have secrets", will say Bianca's mother (Juliana Boller). "The perfect couple", will mock the "beggar".
"Yeah, with all the imperfections of a couple like that. Listen! I didn't come here to talk about us, I came here to talk about you. Well, first, you'll get well from this pneumonia, then you'll go back to your house." will feature the former mother-in-law of Maria Clara (Andréia Horta).
"I don't have a house", says Léo. "The situation of your apartment has already been regularized", reveals Beatriz. "Listen, I already told Claudio that I'm not going to accept anything else that comes from him, so please, Beatriz, that's enough", will reject the boy. "It wasn't Claudio, it was Amanda who paid the back rent," the rich woman will warn.
Leonardo has a coughing fit in the hospital
'Beggar' defeated
The model will try to complain one more time, but will end up having a coughing fit. It will be the organizer's wife who will help you with an oxygen mask. "Everything went wrong, Beatriz, everything went wrong in my life. Now I don't know what to do anymore. I don't know", will lament the aspiring artist.
"Look at me, it's simple: just go back to what it was," advises the Bolgari matriarch. "And what was I? Tell me, Beatriz, what was I?", the disillusioned with life will question.
"A man full of dreams. Now, if you couldn't make all your dreams come true, you don't need to martyr yourself for it. You have to look for other alternatives. I'm here to help you with that", he will console Leonardo's nothing rival.
Written by Aguinaldo Silva, Império (2014) won a "special edition" to fill the hole left after the end of Amor de Mãe on Globo's prime time. The unprecedented Um Lugar ao Sol, the next new soap opera at 9 pm, was postponed to premiere in the second half of this year.
In addition to the spoilers, the TV news It publishes daily the summary of the nine soap operas that the network repeats due to the Covid-19 pandemic.
---
You can hear more about Império and all the soap operas on the air through the link below, in the 67th episode of the podcast Noveleiros, from TV news. Also available on Spotify, Deezer, Apple Podcasts and Google Podcasts.
Listen to "#67 – Cora, is that you? The Empire Villain's Radical Change" on Spreaker.
---
Subscribe to the channel TV news on YouTube and watch videos with revelations of what will happen in Império and other soap operas.
.