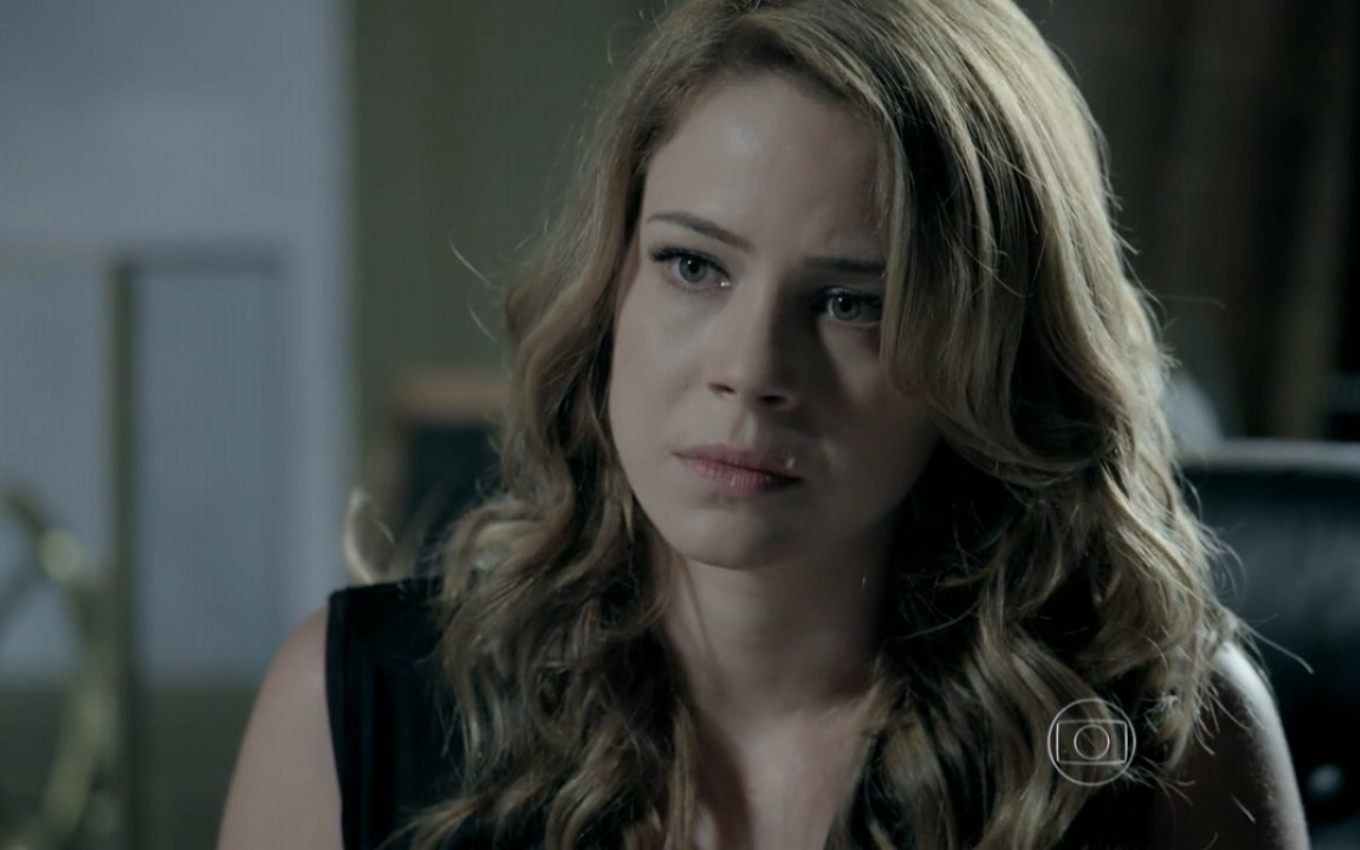 Cristina (Leandra Leal) will not stand the suspicion of José Alfredo (Alexandre Nero) and will face her father in Império. The commander will accuse his daughter of being Fabrício Melgaço, his secret enemy. He won't know that the blonde is actually the one trying hard to get the family business out of the hole.
In scenes planned to air from the 20th in the nine o'clock soap opera on Globo, it will be Josué (Roberto Birindelli) who will raise suspicions against Cristina.
He will be in Santa Teresa, in a car, waiting for his girlfriend. Meanwhile, you'll see Elivaldo's sister (Rafael Losso) walking down the street and speaking in Chinese on her cell phone.
Soon after, she will start speaking in Portuguese: "Good evening, Mister Ming! OK, everything is fine for the big turnaround! Nobody suspects what I've done. It's going to be a surprise for everyone. When are they coming? Next week? Great! Remember it's a secret, no one can suspect, especially the Commander, my father. He'll go down hard when he finds out the truth. And I'll need your services, Mister Ming, when they arrive to change the game at Império."
The commander's henchman will soon gossip for the boss, who will arrange a private meeting with Cristina. Straightforward, he'll ask her if she's the person behind the codename Fabrício Melgaço.
The young woman will revolt. "Let me guess what makes me suspicious: I'm the rejected daughter, prepared from a young age by the despised mother to take revenge on the father, who left them behind in misery and became a millionaire on top… I'm the witch who looks good , but in the end it will be unmasked as the bad guy in the story. I got it right, didn't I?", she will ask.
"My reaction is one of deep disgust. I'm not even going to say that famous phrase: 'After all I've done?' I just want to know who poisoned you against me. By chance it was Marta [Lilia Cabral] or Clara [Andreia Horta]?", Cristina will want to know.
José Alfredo will say that the information came from Josué, and then Leandra Leal's character will say: "I confess… It's true, I'm Fabrício Melgaço. And since I opened the game, I confessed that I'm the bad guy in the story… What are you going to do about it? Give me to the police? Tell Joshua to take me away and leave me dead in a ditch with my mouth full of ants?" Cristina will say, holding back tears.
"I know you're not Fabrício Melgaço, I already know you're not, I just wanted to see your reaction", the commander will say, regretfully. Even so, Cora's niece (Marjorie Estiano) will have her pride hurt and will resign from the company.
"I no longer work at Império, nor do I have anything to do with you or your family anymore. I'll manage my box at the camelódromo, because that's where my real family and my friends are. I hope you forget me. And let that happen as soon as I walk out that door. What will I do now," he will decree.
Before that, however, the "man in black" will want to know who Ming Ming is. "I say yes, without the slightest problem. He's a Mandarin translator… The salvation of his company. Ming negotiates on behalf of Império a partnership with an importer from China, Chao Chin. He knew that the Chinese are the people who do you have the highest number of graduates per year? I figured that out, and I thought that if they were convinced to wear this symbol of western culture that is the graduation ring, we who just created a full line would sell thousands of them there. … And that's how to get out of the hole and change the game", will reveal Cristina.
The Commander will agree that it is a good idea and will send the daughter forward with the project. "I'll think about it. Who knows," the blonde will respond. Then the soap opera will have a lapse of a few weeks. The public will then see that Cristina's project worked and made the jewelry store's profit grow a lot.
Written by Aguinaldo Silva, Império (2014) won a "special edition" to fill the hole left after the end of Amor de Mãe on Globo's prime time. The unprecedented Um Lugar ao Sol, the next telenovela in the 9 pm range, was postponed to premiere in the second half of this year.
In addition to the spoilers, the TV news It publishes daily the summary of the nine soap operas that the network repeats due to the Covid-19 pandemic.
---
You can find out everything about Império and the other soap operas on the air through the link below, from the 74th episode of the Noveleiros podcast, from TV news. Also available on Spotify, Deezer, Apple Podcasts and Google Podcasts.
Listen to "#74 – José Alfredo Makes Emergency Decision in Império!" on Spreaker.
---
Subscribe to the channel TV news on YouTube and watch videos with revelations of what will happen in Império and other soap operas.
.