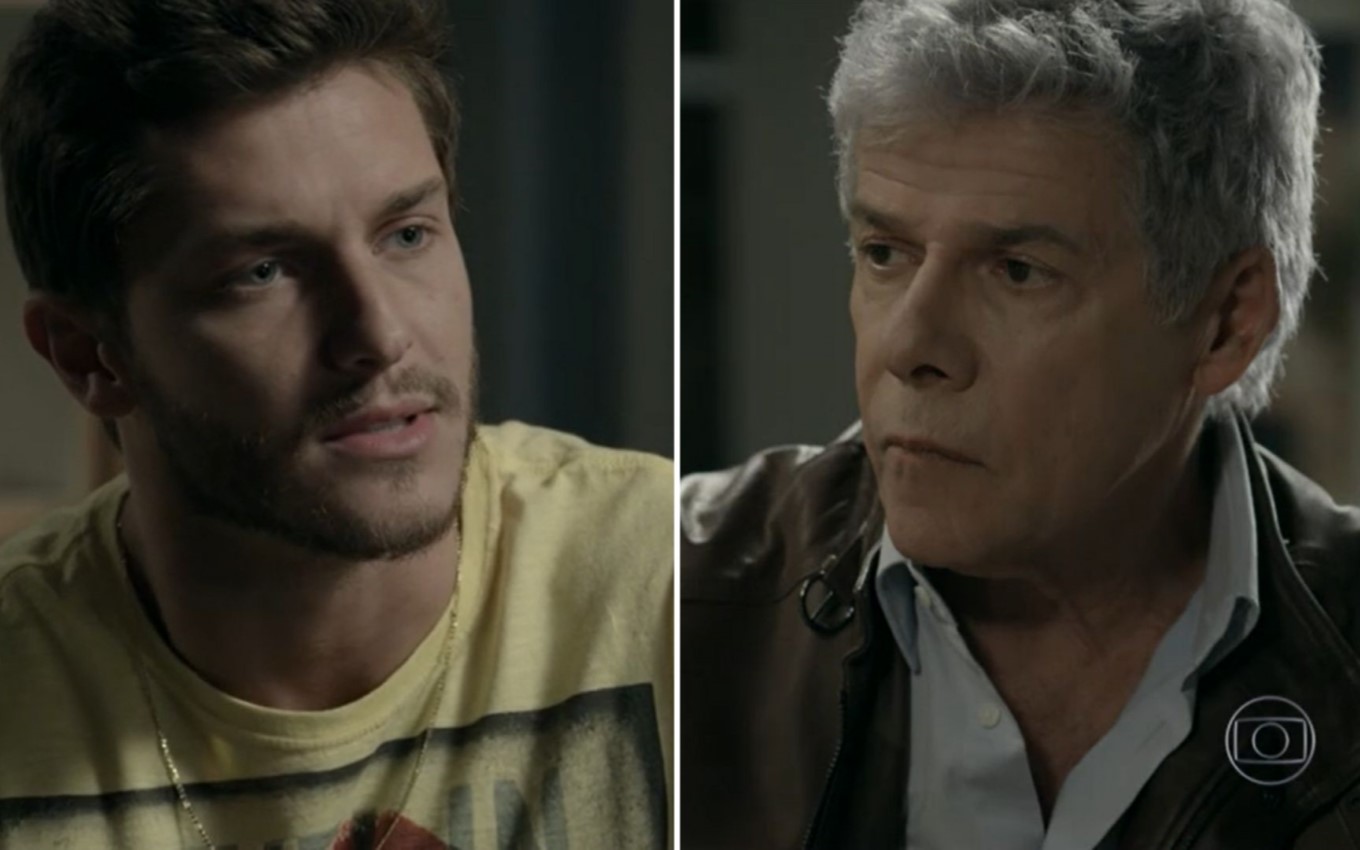 Leonardo (Klebber Toledo) will give up being Claudio's (José Mayer) secret lover in Império. The veteran will try to reconcile with the young man, who will explain to the ceremonialist that he wants the end in the relationship of the two for not being able to live in hiding. "I don't want to be in the closet," says the blond in Globo's nine o'clock soap opera.
In chapters prior to this conversation, the two will have slept together. They will have come back to be seen because of the disappearance of the documents that prove that they are lovers. Only then Leonardo will be unhappy in not being able to live their love in the open.
In scenes that will air this Thursday (13th), Cláudio will say that the boy is thinking about nonsense. "We are not lovers, we love each other. I love you as much as I love Beatriz [Suzy Rêgo]", Enrico's father (Joaquim Lopes) will announce, referring to his wife.
The aspiring actor will explain that the difference is that Beatriz is in the window, and he lives in hiding. "You feel terrified just thinking that someone might discover that we are lovers," added the boy. Leonardo will say that he will not humiliate himself by asking to be taken on, and Claudio will claim to be a married man who cannot abandon his family.
Lots of life ahead
Theo's old friend (Paulo Betti) will imply that the boy is too insecure. "I am tired of suffering. For me, it's over, I don't want to live in this situation", declares the handsome guy.
The ceremonialist will plead with the young man not to abandon him. "I don't want to be in the closet with you anymore, I have a life to live. From now on, I'll take care of myself", replied the big boy, determined about his future. Beatriz's husband will leave Leonardo's apartment without saying goodbye, and the two will suffer in the following scenes.
Império (2014) won a "special edition" to plug the hole left after the final stretch of Amor de Mãe during prime time at Globo. Um Lugar ao Sol, the next unpublished soap opera at 9pm, was postponed to debut in the second half of this year.
In addition to the spoilers, the TV News publishes daily a summary of the nine o'clock soap that the broadcaster reprises due to the Covid-19 pandemic.
---
Find out everything that will happen in the next chapters of the soap operas with the Noveleiros podcast
Listen to "# 58 – Blackmail, kidnapping and revelation in Salve-se Quem Puder!" in the Spreaker.
---
Subscribe to the channel TV News on YouTube and watch videos with revelations of what will happen in Império and other soap operas.
.