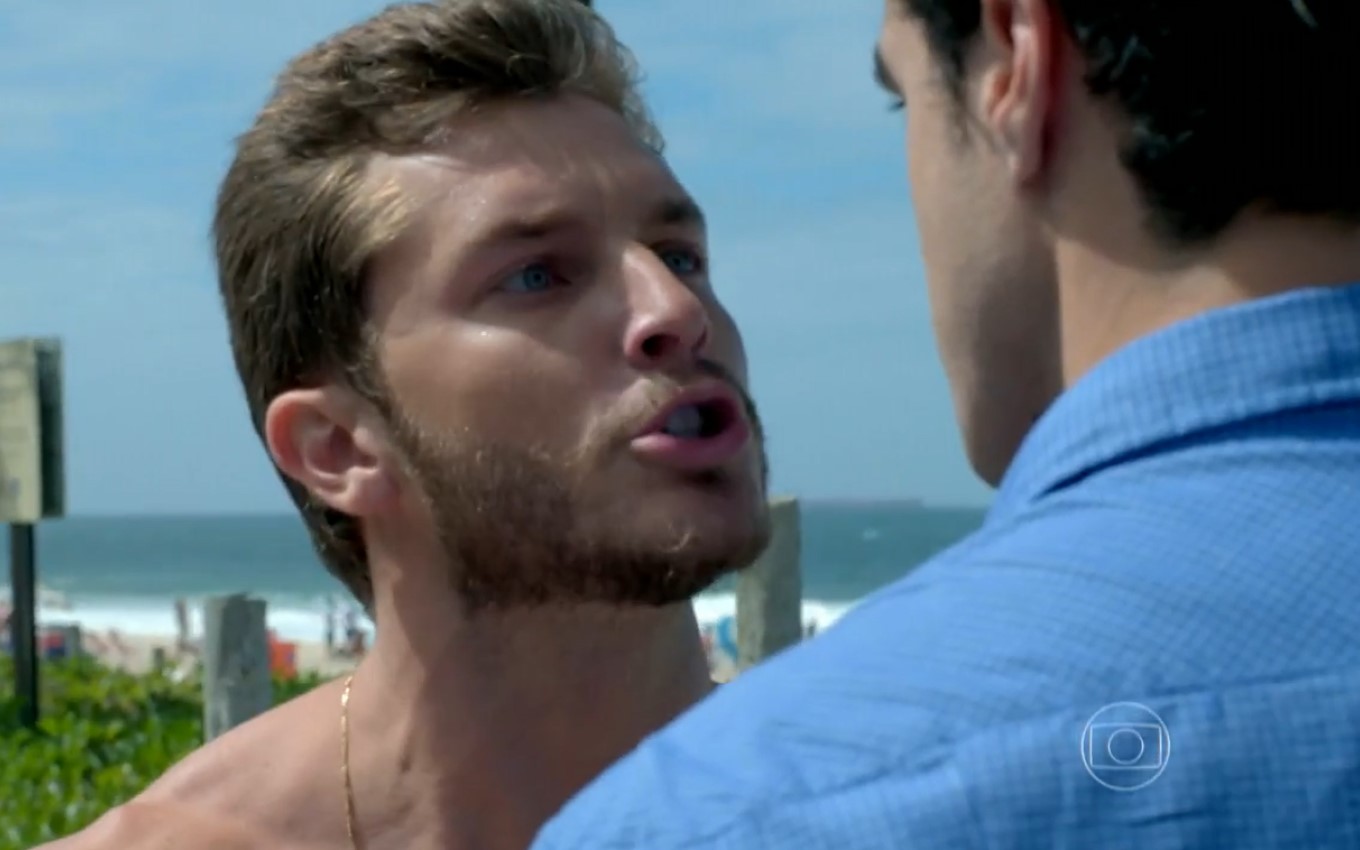 Enrico (Joaquim Lopes) will see Leonardo (Klebber Toledo) exercising on the beach and confront his father's ex-lover in Império. Instead of being intimidated, the aspiring actor will confront the chef and insinuate that homosexuality disturbs him because he is afraid to come out. "Stop and think", the boy will suggest in Globo's nine o'clock soap opera.
"You disgraced my father's life", will declare the character of Joaquim Lopesin scenes that will air on the next 7th. The blond will assure that Cláudio (José Mayer) was happy with him for years, and the spoiled one will reply saying that no man would be happy with him.
"You don't know anything. Nobody is able to understand what Cláudio and I lived together and all I wanted most was to continue with him", says Leonardo. Enrico will put a stop to the conversation: "Enough of this fag thing", scream the owner of the fine restaurant in the serial, aggressively.
When noticing the lack of control of his ex-lover's son, Leonardo will insinuate that Maria Clara's fiance (Andréia Horta) is gay. "Have you ever wondered why this subject bothers you so much?", will question the "new".
Disturbed, the homophobic will call his mother and be extremely rude, he will offend the father by calling him a "baby." Beatriz (Suzy Rêgo) will lose patience and hang up in Enrico's face. "Enough! Not another word", will declare the housewife.
Império (2014) won a "special edition" to plug the hole left after the final stretch of Amor de Mãe during prime time at Globo. Um Lugar ao Sol, the next new soap opera at 9 pm, was postponed to premiere in the second half of this year.
In addition to the spoilers, the TV News It publishes daily the summary of the nine soap operas that the network repeats due to the Covid-19 pandemic.
---
Subscribe to the channel TV News on YouTube and watch videos with revelations of what will happen in Império and other soap operas.
.