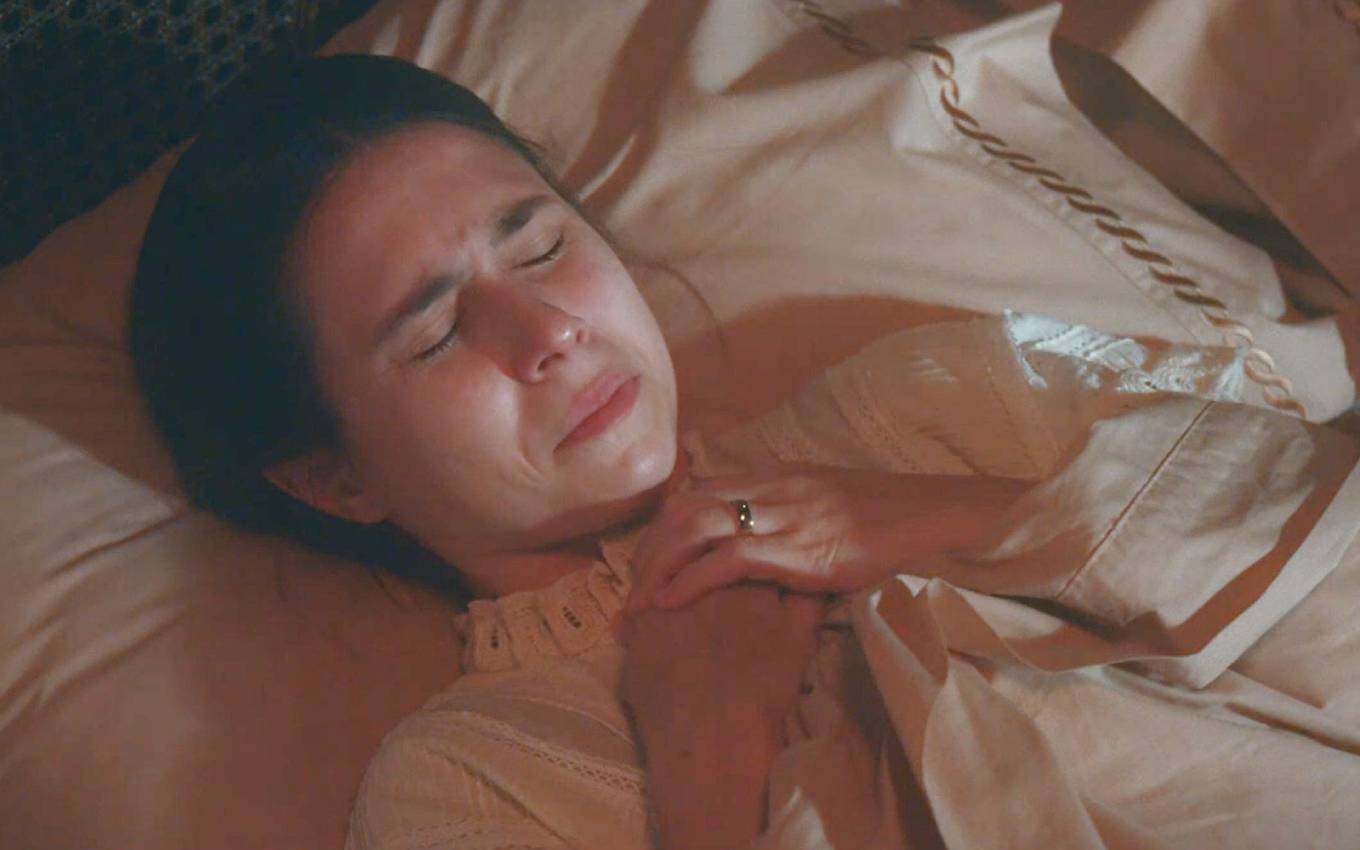 In this Monday (4)'s chapter of In Times of the Emperor, Tonico (Alexandre Nero) made Dolores (Daphne Bozaski) lie down with him after the forced marriage. The girl was scared and didn't want to, but was convinced by Lota (Paula Cohen) to sleep with her husband. After the act, Pilar's sister (Gabriela Medvedovski) cried a lot, and the scene disgusted the audience of Globo's six o'clock soap opera.
Eudoro's daughter (José Dumont) had locked herself in her room and swore that the colonel would never lay a finger on her. Revolted, the politician sought help from Lota, who agreed to convince her as long as the crook got public office for Bernardinho (Gabriel Fuentes), her son.
The tramp talked to the young woman and then a sequence was shown in which Tonico entered the room, while the girl was withdrawn in bed. There was a cut and the villain appeared shirtless beside the woman, who just turned around and burst into tears at what had just happened.
On social networks, the audience felt sorry for the character's suffering and showed disgust with the situation. "Oh my God. Someone save Dolores," cried a netizen named Jessica. "I'm seriously going to have to see Dolores scenes with this disgusting man?", Robertta complained.
In another moment of the chapter, the deputy still gloated of the night he had. "She ought to give thanks to God for sleeping with me. I was there making a sacrifice. But she knows that in the end… She looks like a young girl", he mocked.
Check out some of the viewer comments below:
IS IT REALLY THAT I WILL HAVE TO SEE DOLORES' SCENES WITH THIS DISGUSTING MAN ?? 🤢🤢🤢 #NosTemposDoImperador

– Robertta 🌻 (@Roberttiane) October 4, 2021
MY DOLORES NOT MY GOD #NosTemposDoImperador

— Bruna loves the empress (@brnarbr) October 4, 2021
Someone takes the pain out of this place for love #NosTemposDoImperador

– Narocas do vigor 🎓 (ara NaaraSoares5) October 4, 2021
OH MY GOD SOMEONE SAVE DOLORES #NosTemposDoImperador

— Jessica (@flowerrmoon) October 4, 2021
Nelio, our protégé 'He's thinking about Dolores. Poor Dolores feeling dirty after the Tonic monster🤮🤮#NosTemposDoImperador

– Fer☀️ (@StudyFer) October 4, 2021
Daphne transmitted everything, what a heavy scene #NosTemposDoImperador

– liv (@livsoulsecrets) October 4, 2021
The only new Globo soap opera on the air, Nos Tempos do Imperador takes place around 40 years after the events of Novo Mundo (2017). In addition to the spoilers, the TV news also daily publishes the summaries of the six o'clock soap opera.
---
Learn all about the upcoming chapters of soap operas with the Noveleiros podcast
Listen to "#77 – Luísa makes a big revelation to Pilar in Nos Tempos do Imperador" on Spreaker.
Subscribe to the channel TV news on YouTube and watch videos with revelations of what will happen in Nos Tempos do Imperador and other soap operas.
.