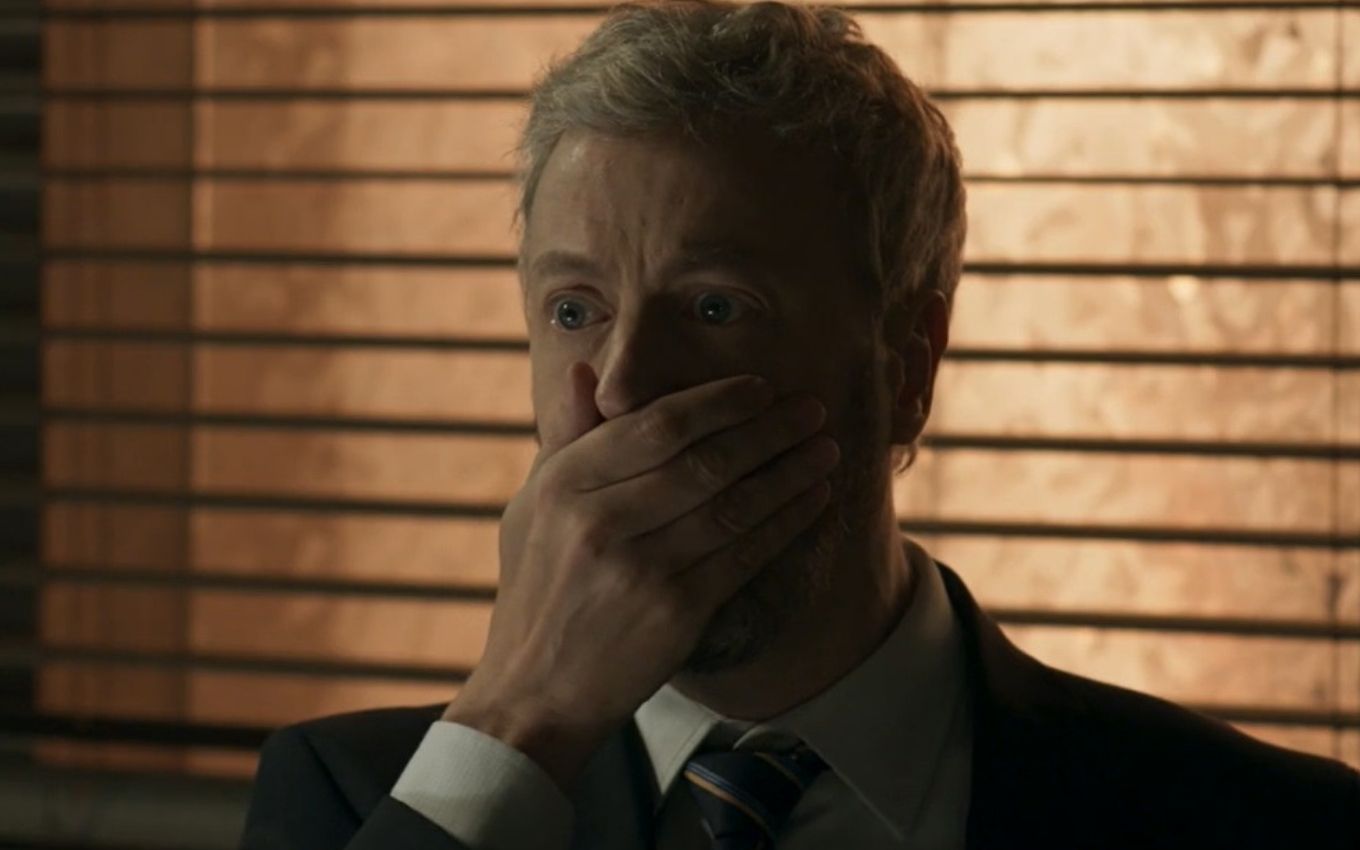 Douglas (Guilherme Weber) will need to deal with a bomb from the past in Pega Pega. The manager of the Carioca Palace will meet Raquel (Mayara Lepre) and discover that he had a child with his wife. "Never, that's impossible", will doubt the character in Globo's seven o'clock soap opera.
In Claudia Souto's serial, Luiza's friend (Camila Queiroz) will be "run over" by Gabriel (Antônio Guilherme Cabral Fonseca) in the hotel's service area. "Who is this pest?" the manager will ask, irritated after falling to the ground.
The boy will claim his name is Gabriel. "There was nothing missing, giving the name of an angel to a little devil like that. What is this boy doing here loose and alone? My God, who is the father of this creature?", the manager will shout. "It's you," the dancer will advise.
The owner of the Strass nightclub will be surprised to see his friend again. "If I was from far away I wouldn't recognize you. You look different, the hair, the clothes", will comment Douglas. "How long, right? And I thought you were running away from me", will release the blonde. "Imagine, running away… What did you say about the boy's father?", the hotel employee will ask.
Raquel will repeat that he is the boy's father. "What is this? Never, this is impossible", will retort Rúbia's friend (Gabriel Sanches). "You don't remember, do you?", the woman will question. "Are you saying that that night… It happened between us?", Guilherme Weber's character will be shocked. "It rolled over. And you were very excited," the dancer will shoot.
Gabriel will be in Douglas' care
Suddenly father!
Next, Eric's subordinate (Mateus Solano) will appear talking to the young woman and the boy in his office. "Oh Raquel, what did you come to get me? So many years later," Douglas will complain. "I didn't do it myself, right?", the dancer will counter. "Practically. That night you abused me," the manager will accuse.
The blonde will ask not to talk about the details in front of Gabriel. "I want to see if he really is my son. Well, he is handsome," Douglas will note. He will then ask the boy a series of questions, such as whether he prefers chocolate or vanilla ice cream. The child will claim to like the second option better. "Me too," Nelito's (Rodrigo Fagundes) colleague will be surprised.
In the planned scenes to air next Tuesday (28), Raquel will explain that she needs to go on a business trip and has no one to leave the little one with. "My sequin lady. But don't you have a relative to leave the boy with?" the manager will ask.
The dancer will claim that she only trusts him. "This is crazy. Look at me, look at my life. I run a five-star hotel. Do you have any idea how many people depend on me?" "From now on, you have one more: your child", the woman will reply.
new responsibility
Luiza's friend will claim that it's not fair for the woman to disappear for years and come back that way with the news that they've had a child. However, the blonde will defend:
Wants to know? A father has to take care of his child until he is 18 years old, and I have done my part for ten. Now, you're in profit, it's only eight more. Do you want me to file a lawsuit to claim back-to-back support? I don't know if you know, but not paying child support gets you jailed.
"I don't have the vocation to be a father, I won't know what to do", will justify the owner of the plot's nightclub. Raquel will say that he will have to learn and will ensure that Gabriel is adorable. "Take good care of him for me, okay? Do your thing, Dad. I'm trusting you," the child's mother will say as she says goodbye to Douglas and the boy.
Pega Pega (2017) won a "special edition" to fill the hole left after the final stretch of Salve-se Quem Poder. Como Mais Vida, Melhor, the next unpublished soap opera in the 7pm range, was postponed because it is being recorded with security protocols that slow down the execution process.
---
Learn all about the upcoming chapters of soap operas with the Noveleiros podcast
---
Subscribe to the channel TV news on YouTube and watch videos with revelations of what will happen in Império and other soap operas.
.