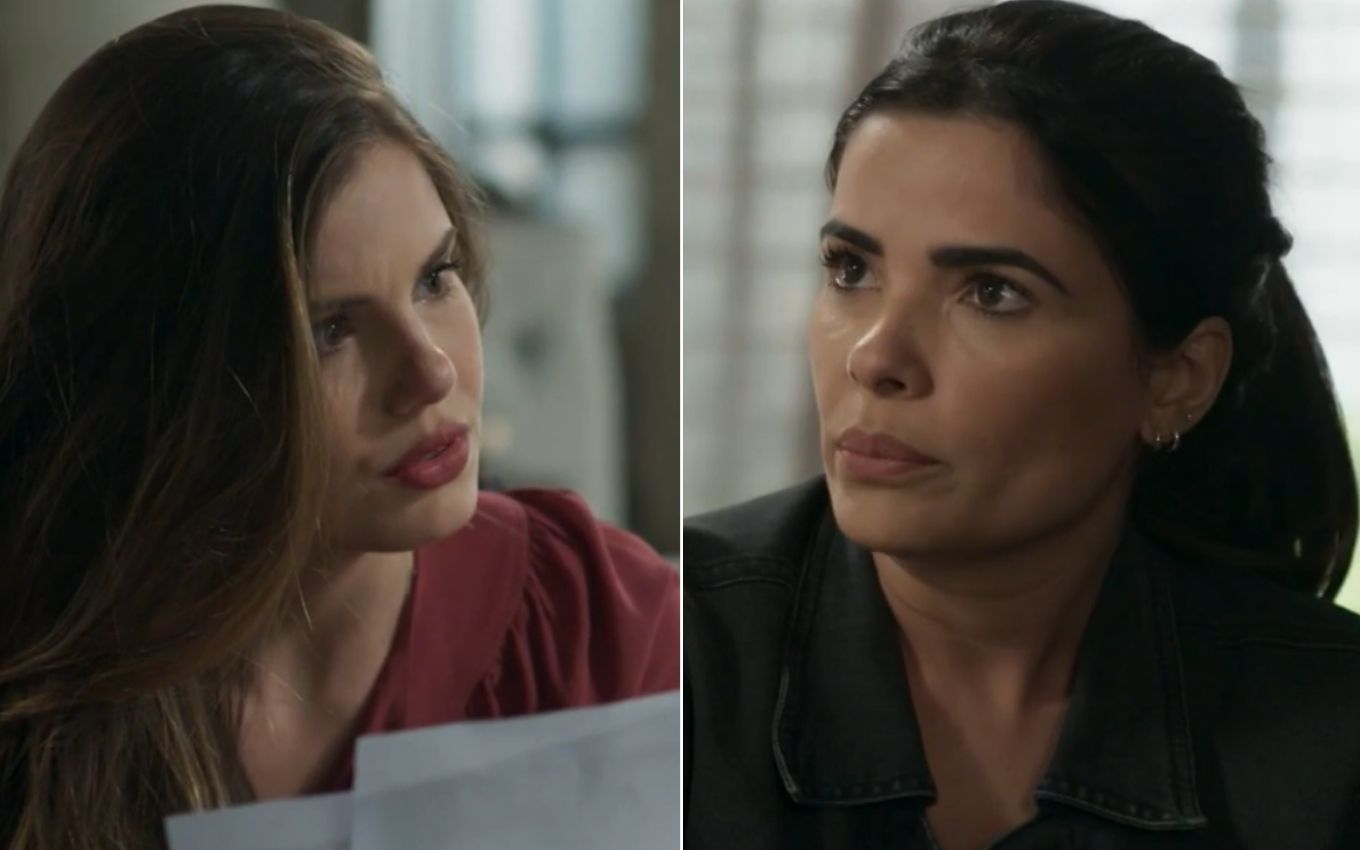 SUMMARY: Luiza (Camila Queiroz) will receive a call from Antônia (Vanessa Giácomo) to meet urgently. The police officer will reveal that she received an anonymous tip against Eric (Mateus Solano) with evidence that he killed Mirella (Marina Rigueira). "Only if Eric was a monster", the businessman's wife will react in the Thursday (7) chapter
Second 4/10 (Chapter 67)
Monteiro reveals to Antônia that the expert died during the investigation into Mirella's accident. Antônia tells Domênico about the investigation into Mirella's accident. Domenico tells Antonia that he has arranged a meeting with Dalva.
Eric tells Carioca Palace employees that they will have a share in the hotel's profits. Sandra Helena decides to buy the house where Sabine lived and invites Cíntia to move in with her and her mother. Malagueta puts the evidence of Mirella's accident in Eric's folder.
Tuesday 10/5 (Chapter 68)
Luiza accepts Lourenço's ride to go to the registry office, not knowing that Eric is watching her. Eric scolds Luiza for not having told him that he was with Lourenço. Sandra Helena confronts Malagueta for having set up Cíntia's arrest and claims that he will pay for what he did. Monica tells Evandro where she is hiding. Eric asks Douglas if he can access his computer's security cameras. Lourenço insists on talking to Luiza.
Wednesday 6/10 (Chapter 69)
Lourenço tells Luiza that he heard stories about Mirella's accident and fears that something might happen to her. Elza and Prazeres are surprised to learn that Arlete is dating Pedrinho.
Domenico and Antonia enter Dalva's house and are startled to see her dead. Malagueta comments to Maria Pia that Eric will have problems with the police. Sandra Helena pays Agnaldo's bail. Antônia receives an email with compromising documents about Mirella's accident.
Thursday 10/7 (Chapter 70)
Sandra Helena tells Agnaldo that the two cannot be together anymore. Antônia shows Luiza the photos of documents she received through an anonymous tip, incriminating Eric for Mirella's accident. Police find the original documents about the accident in Eric's office.
Eric is surprised to learn that Mirella's death was no accident and claims that he was never aware of the documents. Athaíde tells Arlete that the police summoned Eric to provide clarification on Mirella's death. Malagueta tells Maria Pia that he framed Eric because he loves her. Julio is surprised to see Arlete with Pedrinho at the hotel.
Friday 8/10 (Chapter 71)
Júlio discovers that Arlete is dating Pedrinho and fights with the family. Eric tells Bebeth about the documents that prove Mirella was murdered. Arlete confesses to Julio that she fell in love with Pedrinho. Sandra Helena comments to Júlio and Agnaldo that she suspects Malagueta has framed Eric.
Sabine promotes Malagueta to interim vice president of the company, in Eric's absence. Athaíde comments to Lígia that Lourenço asks many questions about his time as judge. Arlete asks Antonia for information about the statute of limitations for a crime.
Saturday 10/9 (Chapter 72)
Lígia asks Athaíde if he was the one who put the evidence in Eric's folder. Malagueta wants to know if Maria Pia is involved in Mirella's death. Antônia comments to Domenico that she was intrigued by Arlete's questions. Expedito tells Domênico that Athaíde is being investigated by the Federal Police. Arlete confesses to Julio that she covered up a murder. Julius asks his mother if the crime is related to Eric.
---
Pega Pega chapters are provided by Globo and are subject to change without notice
.