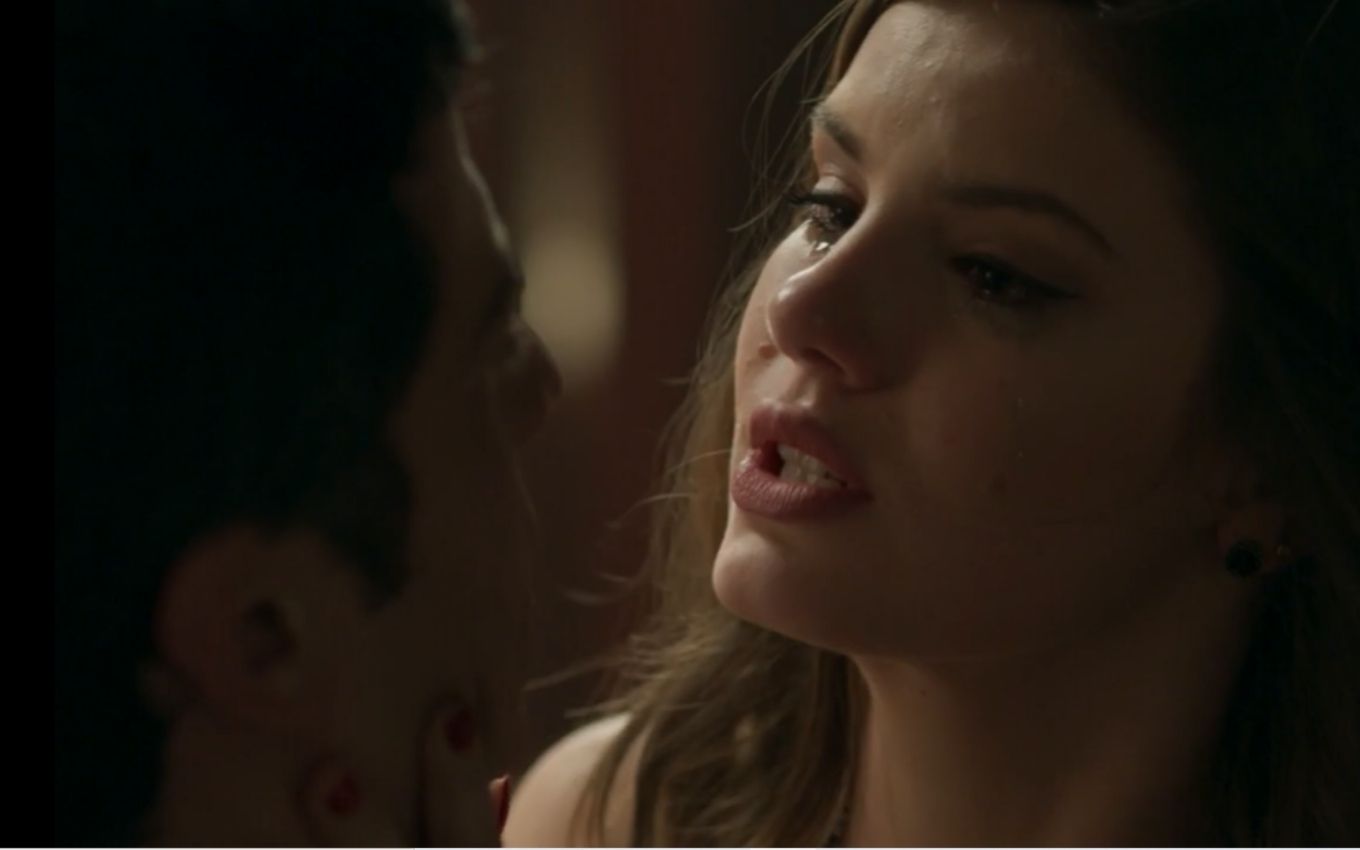 ABSTRACT: The investigation by Luiza (Camila Queiroz) on Mirella (Marina Rigueira) will be discovered by Eric (Mateus Solano). The owner of Carioca Palace will feel pressured by his wife and will end up opening the game about his great secret from the past, amid tears. Meanwhile, Bebeth's stepmother (Valentina Herszage) will reassure her husband. 'Nobody will know', he will say
Second, 9/13 (Chapter 49)
Antonia gets annoyed for having kissed Julio. Eric is bothered by the questions asked by Luiza. Arlete discovers that Madalena bought her hat. Maria Pia decides to go out wearing Madalena's hat. Athaíde finds out that Arlete wants to get her hat back and is thoughtful.
Nelito returns to work for Pedrinho. Sandra Helena makes a promise involving the dollars. Malagueta takes Maria Pia's hat home and Mônica borrows the accessory. Antonia asks Domenico out.
Tuesday, 14/9 (Chapter 50)
Domenico kisses Antonia. Malagueta takes the envelope found in Arlete's hat and sees photos and a report about an accident. Arlete despairs when she sees that the envelope is no longer in the hat. Antônia and Domenico conclude that Júlio and Agnaldo lied in their testimony.
Sabine unexpectedly appears at Madalena's house. Arlete asks Athaíde where his documents are. Julio observes graffiti on the kiosk, accusing him of being a thief.
Wednesday, 9/15 (Chapter 51)
Madalena is devastated when Sabine offers her money to get away from Dom. Antonia deduces that Isabel is avoiding her. Malagueta keeps the suitcase with the stolen money in a gym locker.
Dom tells Sabine to stay away from Magdalene and Cristóvão. Adriano reveals to Dom that Sabine isn't in good health. Arlete is shocked when she learns that the passenger in her taxi is Eric and ends up having an accident.
Thursday, 9/16 (Chapter 52)
Malagueta kisses Maria Pia. Luiza asks Pedrinho to tell her the day of Mirella's accident. Isabel reveals to Eric that she is being wanted by the police. Eric gets worried when he learns that Luiza and Antônia are after Bebeth's former nanny and gives Isabel money to get away from the city.
Pedrinho tells Luiza that, according to Athaíde, the evidence of Mirella's accident was tampered with. Monica's photo is released in the media as a police fugitive. Domênico and Antônia intercept Mônica and Evandro's bus.
Friday, 9/17 (Chapter 53)
Monica is arrested. Dom comments to Cristóvão that Sabine has a heart disease. Eric asks Luiza to stop investigating Mirella's accident. Ingrid realizes that, unintentionally, she gave Luiza Eric's folder with data on the movements of her personal accounts.
Luiza discovers that Eric has made deposits into Isabel's account. Eric asks Maria Pia if she is watching Malagueta, as he asked. Luiza asks Eric why he made deposits in favor of Isabel.
Saturday, 9/18 (Chapter 54)
Valquíria and Sandra Helena argue for Dona Marieta's inheritance. Malagueta declares her love for Maria Pia, who claims to love Eric. Mathias asks Bebeth if it's not time for Flor to go home.
Antônia reveals to Eric and Luiza that it is possible that the evidence of Mirella's accident was tampered with and that Bebeth's toy was not the reason for the tragedy. Eric is surprised to learn that Athaíde told Pedrinho about the tampering with evidence from the accident.
---
Pega Pega chapters are provided by Globo and are subject to change without notice
---
Learn all about the upcoming chapters of soap operas with the Noveleiros podcast
Listen to "#74 – José Alfredo Makes Emergency Decision in Império!" on Spreaker.
---
Subscribe to the channel TV news on YouTube and watch videos with revelations of what will happen in Pega Pega and other soap operas.
.