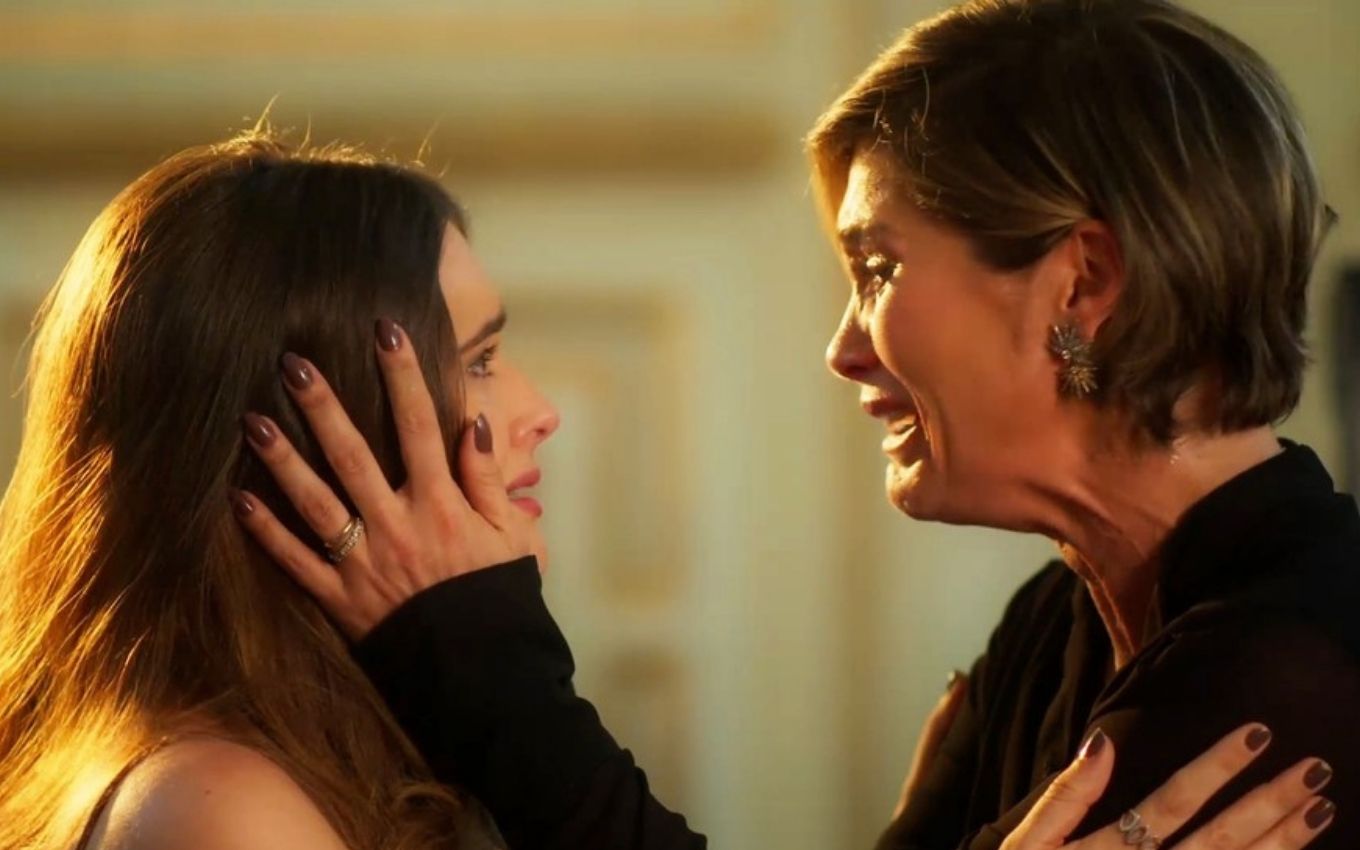 Luna/Fiona (Juliana Paiva) will make Helena (Flávia Alessandra) cry copiously when she reveals that she is the daughter the businesswoman believed was dead in Salve-se Quem Puder. The two will have a frank conversation in the church of the Virgin of Guadalupe. "It's me, mother!", the Mexican woman will deliver, also in tears in the seven o'clock soap opera on Globo.
In the scenes that will air this Monday (5) in Daniel Ortiz's serial, the owner of Empório Delícia will confront the physiotherapist when she finds her praying in the church. The madame will accuse the young woman of having got rid of the image of the Virgin of Guadalupe that she gave her.
Alexia/Josimara's friend (Deborah Secco), then, will take the opportunity to open up the game with the blonde and will claim that she left the saint to protect her father. Flávia Alessandra's character will be confused, since she saw the image right at Mário's (Murilo Rosa) house.
Helena will think the girl is deceiving her once more. "I don't know you…", will release Téo's stepmother (Felipe Seamus). Determined, Luna will face the rich woman and provoke:
Do'nt know? Don't you really know me? Look at me! Look deep into my eyes and say you don't recognize me.
Helena hugs Luna in the soap opera
The businesswoman will be very moved when she realizes that she may be facing the daughter she left in Mexico and believed to have died in the hurricane in Cancún. She will start humming the song she used to sing to the girl when she was four. The physiotherapist will then accompany the song.
"It can't be!", will shoot Helena in disbelief. "It's me, mother, it's me!", the protagonist will respond, in tears. Very moved, the two will embrace and put an end to all the secrets in the serial.
The only new soap opera on Globo, Salve-se Quem Puder is all recorded. The plot premiered on January 27, 2020, but was interrupted in March of the same year due to the Covid-19 pandemic. The serial was once again presented in March of this year and will end on the next 16th.
The rerun of Pega Pega (2017) will enter the 7pm range because the network decided to postpone the premiere of Quem Mais Vida, Melhor.
---
Learn all about the upcoming chapters of soap operas with the Noveleiros podcast
Listen to "#64 – Luna Goes From Heaven to Hell in Save Yourself!" on Spreaker.
---
Subscribe to the channel TV news on YouTube and watch videos with revelations of what will happen in Globo's soap operas.
.