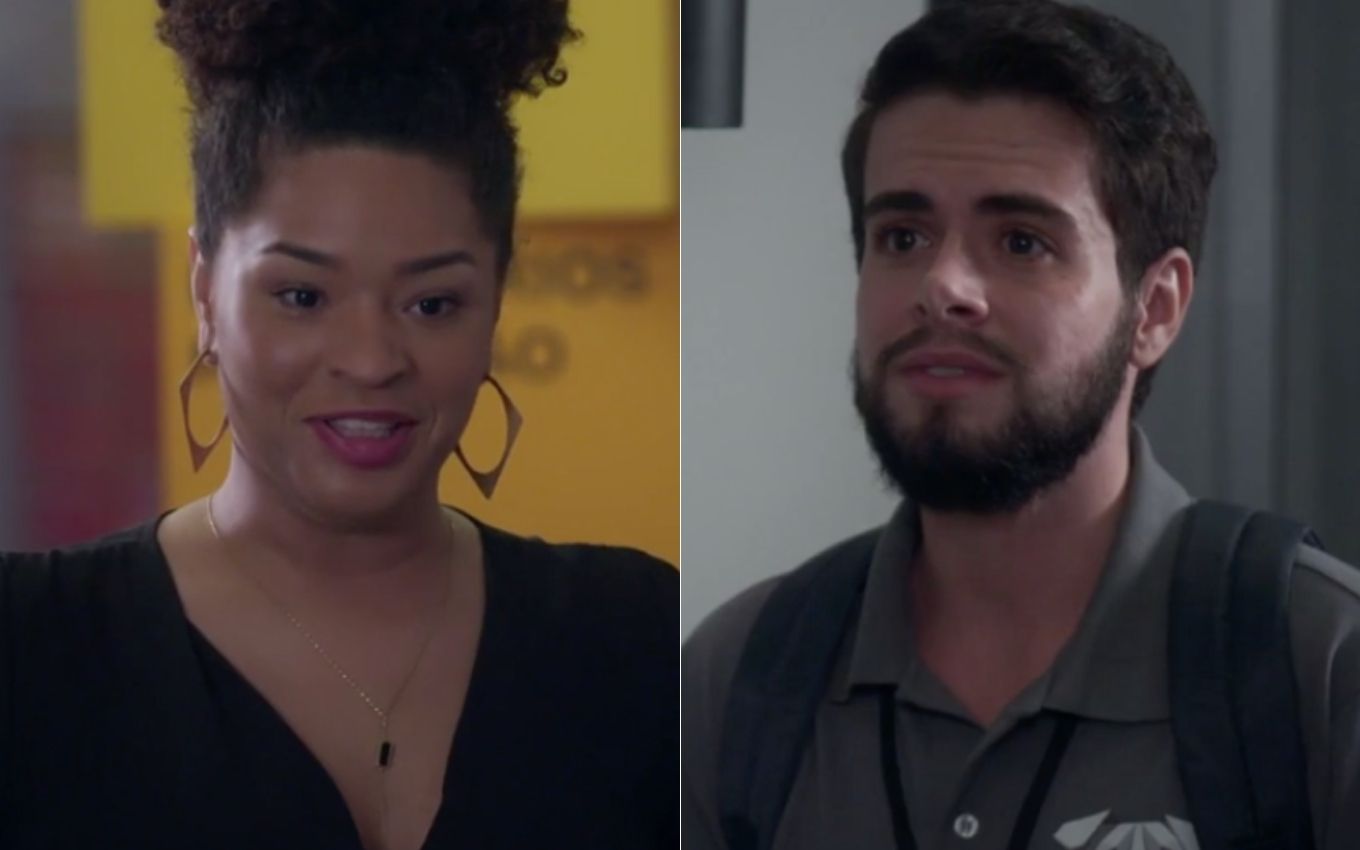 In Salve-se Quem Puder, Renatinha (Juliana Alves) will defend Catatau (Bernardo de Assis) from a transphobic attack and will assume the romance with the Labrador employee. At the end of Globo's seven o'clock soap opera, the secretary will forget Rafael (Bruno Ferrari) for good and will kiss the office boy in front of everyone. "Nobody messes with my male!"
In the scenes set to air on July 14th, Renatinho will be with Catatau in a cafeteria at the same time that his old gymnastics team — the same as Tarantino (Daniel Rangel) — is sitting at another table.
The group formed by Isaac (Conrado Caputo), Erick (Cláudio Olegário), Carol (Andressa Robles) and Tammy (Lívia Inhudes) will be regretting the coach's suspension for forcing Bia (Valentina Bulc) to compete, even though she has a pacemaker.
"Federation bastard suspends you, Isaac," will say Bia's rival for Tarantino's love. "Worse than now I'm going to answer for having defrauded that Bia could compete", complains the villain. "I think I know that boy…", Erick will interrupt, looking at Catatau's table.
The helper will be lecturing his beloved for making Kyra/Cleyde (Vitória Strada) lie to Rafael. "What you did was very wrong, Renata. Blackmailing poor Kyra wasn't nice!", the handyman will say. "I thought she was deceiving Rafa, I would imagine that Kyra was in a protection program? But I'm so relieved that Rafael forgave me", will admit the manager's ex-fiancée.
"It's Lucy, who trained with us a couple of years ago!" Carol will notice, without any malice. "Are you crazy, Carol? Lucy was short, this one is a big man", will mock the technician, laughing. "It's not the pretty one. Lucy is that guy. She was already half a truck driver, now that's what it is. Oh, Lucy! Lucy!", will provoke the prejudiced, drawing attention.
"I know these people. I used to train artistic gymnastics with them. Lucy was my name before the transition", laments Renatinha's assistant, all embarrassed. "Guys, Lucy is pretending to be a man!", will continue the little talented gymnast. "I'm not pretending, I'm a man!", will firmly counter the character of Bernardo de Assis.
"Man it's me, you're a freak!", will attack the coach. "What's this, guys,? Less," intercedes Erick. "The world is lost. And what about this beard? Is that an implant?", Tarantino's ex will laugh.
Alexia/Josimará's co-worker (Deborah Secco) won't be silent in the face of the transphobic attack and will go after the pair, throwing juice in Isaac's face and shoving a cake in Tammy's face.
He arrives! Nobody messes with my male! Two ignorant people! Prejudiced! If it's a show you want, it's what you're going to have!
Then Kyra's ex-rival will kiss Catatau in front of everyone, causing the audience to applaud the romantic act. "Long Live Love!" will be celebrated by the good gymnasts, while the transphobic duo will be booed and kicked out of the cafeteria.
The only new telenovela on Globo, Salve-se Quem Puder enters its final stretch and comes to an end on the next 16th. The plot premiered on January 27, 2020, but was interrupted in March of the same year due to the health crisis that began last year. The serial returned to be presented in March 2021. The rerun of Pega Pega (2017) will enter in the 7pm range because the network decided to postpone the premiere of Quem Mais Vida, Melhor.
---
You can hear more about Salve-se Quem Puder and all the soap operas on the air through the link below, in the 63rd episode of the Noveleiros podcast, from TV news.
Listen to "#63 – All about Kyra and Rafael's reunion in Save Yourself!" on Spreaker.
---
Subscribe to the channel TV news on YouTube and watch videos with revelations of what will happen in Globo's soap operas.
.