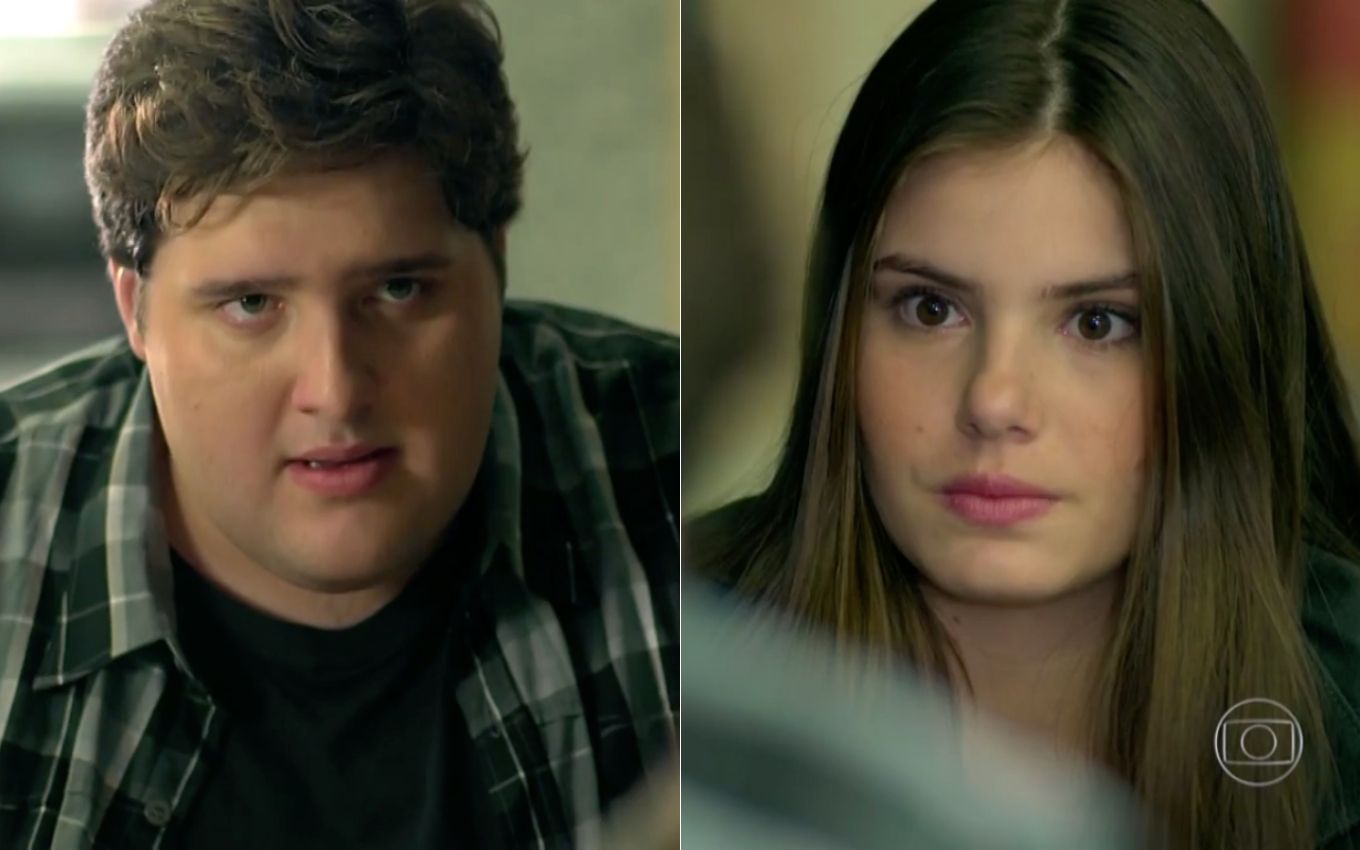 In Secret Truths, Eziel (Felipe Hintze) will break his piggy bank and beg for a night of sex with Angel (Camila Queiroz). The young woman will confess to her friend her past as a prostitute in the telenovela at eleven on Globo, and the cook's assistant will scrape off her savings to fund a program with the protagonist. "I'll pay!" the teenager will plead.
In the scenes that will air from next Thursday (16), the girl will let off steam with her classmate at her father's cafeteria. "I've been having difficult days, Eziel. I even thought about living with my father and staying in the countryside," Angel will say. "You were going to miss me, Angel," the student will say.
"Angel is nice, but I'm not modeling anymore, so it's Arlete, okay?", the brunette will reply. "Oh, are you going to give up being a model? I was doing great", recalls his friend. "Did I tell you about the rich guy?" Carolina's daughter (Drica Moraes) will ask. "I know. Boyfriend," the young man will confirm. "He wasn't quite a boyfriend. I liked him. He loved him," the "retired" call girl will lament.
"But if it wasn't a boyfriend, what was it? You did it for money?" Eziel will understand, who will receive a confirmation from his friend. "There were others later. But it was to help my family. Do you understand me?", asked Hilda's granddaughter (Ana Lucia Torre). "Of course, I also work here to help mine," will say the obese teenager.
Next, Angel will tell the story of the client who died of a heart attack during a program and how his grandmother discovered his double life. Eziel will then go after his tips hidden in a bread bag and toss the change on the table.
"This is for you. Fuck with me. I'll pay you!", will offer Giovanna's colleague (Agatha Moreira). "Eziel, you are my friend", will shock Alex's lover (Rodrigo Lombardi). "So what? You went out with strangers. Fuck with me!", the rejected person will plead. "You don't understand anything", Rogério's daughter (Tarcísio Filho) will note.
"Yes, I am. For you, I'm a stinky fat person too. I'm in love with you. Go away!", the clumsy man will shout, expelling his friend from the cafeteria. Hurt, Angel will leave without looking back.
Originally aired in 2015, Verdades Secretas returned to the air on Globo in a kind of "warm up" for its sequel, which began to be recorded and will show the plot starring Camila Queiroz seven years after the end of the version shown on open TV.
The rerun of the saga written by Walcyr Carrasco is also an attempt to stop the audience from escaping to the new season of A Fazenda, reality by Record.
Find out where to watch Secret Truths, in addition to discovering the other endings of the soap opera. O TV news it also publishes the summary of the eleventh sheet.
---
Subscribe to the channel TV news on YouTube and watch videos with revelations of what will happen in Secret Truths and other soap operas.
.