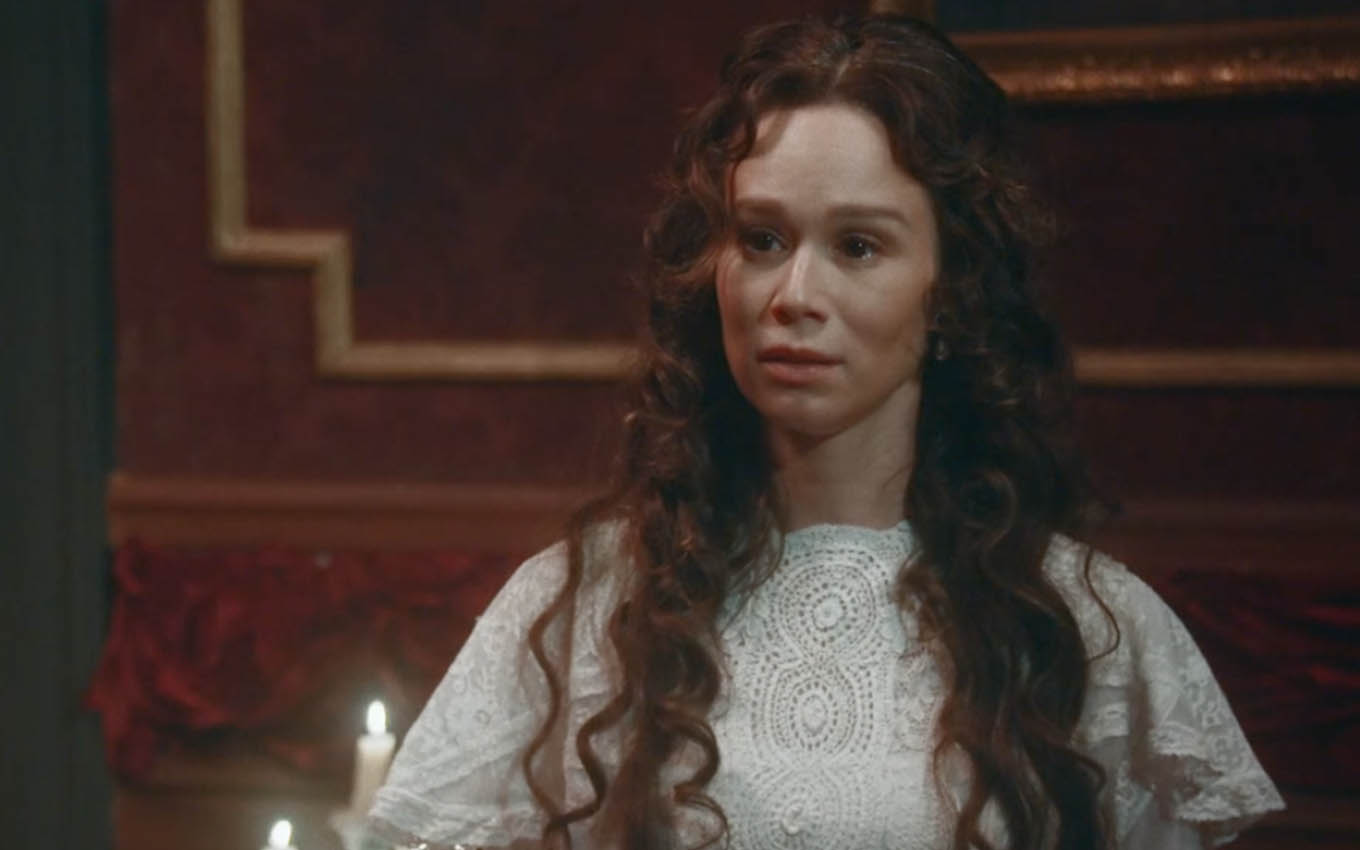 Luísa (Mariana Ximenes) will play Cupid to make Samuel (Michel Gomes) give Pilar (Gabriela Medvedovski) a second chance in Nos Tempos do Imperador. She will convince her friend to swallow his pride so as not to see him marry Zayla (Heslaine Vieira) out of mere obligation. "Don't let a heartache lead you to lose the love of your life," advises the countess on Globo's six o'clock soap opera.
The noblewoman has always felt guilty for separating the couple in the first phase in the serials by Alessandro Marson and Thereza Falcão. After all, the engineer could very well have revealed his affair with Pedro (Selton Mello) to put an end to the suspicions of Dolores' sister (Daphne Bozaski).
Mariana Ximenes' character, by the way, took a load off her shoulders when she told the whole truth to Pilar, who saved her from bleeding to death because of a miscarriage. Encouraged by the noblewoman, the doctor will apologize to her ex-boyfriend and will even steal a kiss to prove that their love is still alive.
Willing to clean her bar once and for all, Luísa will concentrate her efforts to also convince Samuel to give his arm to cheer. in the scenes that will be shown next Monday (11).
"The countess going through all this, and I absent. I don't forgive myself," the young man will say during a courtesy call. "There's no reason to feel guilty. The Baron of Mauá [Charles Fricks] gave you a position of great responsibility, and that makes me happy. But tell me, don't you have anything to tell?" the emperor's mistress will probe.
Samuel (Michel Gomes) on the six o'clock soap opera
Samuel kisses Pilar
Luísa will demand to know details about the kiss stolen by Pilar, but Michel Gomes' character will make it clear that he doesn't intend to give her a second chance:
It doesn't change anything. It may have changed for her, but not for me. The reason for our breakup wasn't Dolores' lie, but the fact that Pilar didn't believe me then, years ago. What value can it be to me that her acknowledging now that I was wrong because you told the truth? When I most needed her trust, I didn't have it. And that can't be fixed.
The princesses' governess, however, will not give up so easily. "Is that so? Have you, at some point in all these years, stopped loving her?" the woman will provoke. "I'm going to marry Zayla. Who has always been by my side, who dreams of this marriage since she was a girl and whom I don't intend to disappoint. Because I know how much it hurts", will return the young man.
"Are you going to marry her out of gratitude? Compassion? Doesn't she deserve more than that?" Luisa will reply. "I like her, I like her," Samuel will insist, before being "broken" in half by the noblewoman's arguments:
I don't doubt it. Otherwise, I wouldn't make that sacrifice. But I think you should take courage, and if you still love Pilar as I think you do, break up with Zayla and follow your heart. Don't let a hurt cause you to lose the love of your life. A great love often puts us to the test, and one of these tests, the greatest of them, is our ability to forgive the loved one.
The only new Globo soap opera on the air, Nos Tempos do Imperador takes place around 40 years after the events of Novo Mundo (2017). In addition to spoilers, the TV news also daily publishes the summaries of the six o'clock soap opera.
---
Learn all about the upcoming chapters of soap operas with the Noveleiros podcast
Listen to "#77 – Luísa makes a big revelation to Pilar in Nos Tempos do Imperador" on Spreaker.
---
Subscribe to the channel TV news on YouTube and watch videos with revelations of what will happen in Nos Tempos do Imperador and other soap operas.
.