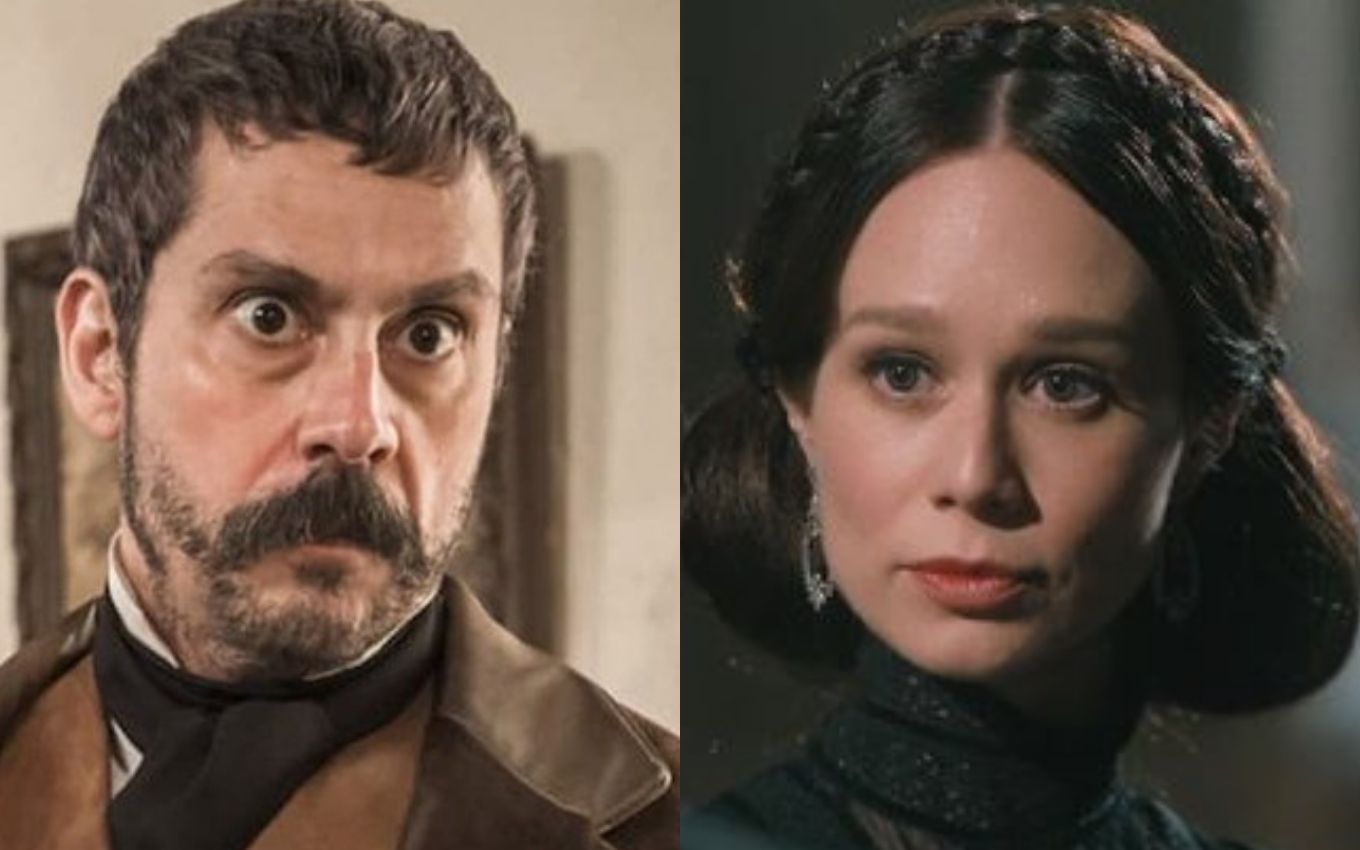 Tonico Rocha (Alexandre Nero) will arouse the wrath of Luísa (Mariana Ximenes) in Nos Tempos do Imperador. The villain will insinuate that the Countess of Barral is having an affair with Samuel (Michel Gomes), and will be slapped in the face by Dom Pedro 2º's lover (Selton Mello) on Globo's six o'clock soap opera.
In the scenes planned to air in next Tuesday's chapter (14), the politician and the princesses' governess will be at the inauguration of the Quinzinho casino (Augusto Madeira). When he sees Luísa in the hall, he will take her by the arm and force a dance.
"Just one dance, Countess. It won't cost you anything. A deputy, like me, deserves an ounce of consideration. Come," will say the bad guy. Even unwilling, she will accept the invitation. "You teach the princesses," begins Tonico.
Pilar's friend (Gabriela Medvedovski) will quip: "Dancing, it's okay. Talking would be a little too much." Colonel Ambrósio's son (Roberto Bomfim) will mention that the countess has a reputation for "hair in her nostrils" in the Recôncavo Baiano. "I'll take it as a compliment," the girl will counter.
Pedro's arch-rivals will then dump all their prejudice and upset Luísa. "He even managed to make the emperor be a friend of his slave. And Pilar? She's in your house, isn't she? That's where…", the congressman will say. The countess will cut you off and claim that the aspiring doctor is your guest. "And what does the deputy have with that?" he will ask.
"It doesn't look good for a woman without a husband with certain friendships. This Samuel goes to your house, does he? Or is the little black boy having fun with the countess too?", the villain will question. Without thinking twice, Luísa slaps Tonico in the face.
The only new Globo soap opera on the air, Nos Tempos do Imperador takes place around 40 years after the events of Novo Mundo (2017). In addition to the spoilers, the TV news also daily publishes the summaries of the six o'clock soap opera.
---
Learn all about the upcoming chapters of soap operas with the Noveleiros podcast
Listen to "#73 – José Alfredo finds out Maurílio is dead in Império!" on Spreaker.
---
Subscribe to the channel TV news on YouTube and watch videos with revelations of what will happen in Nos Tempos do Imperador and other soap operas.
.