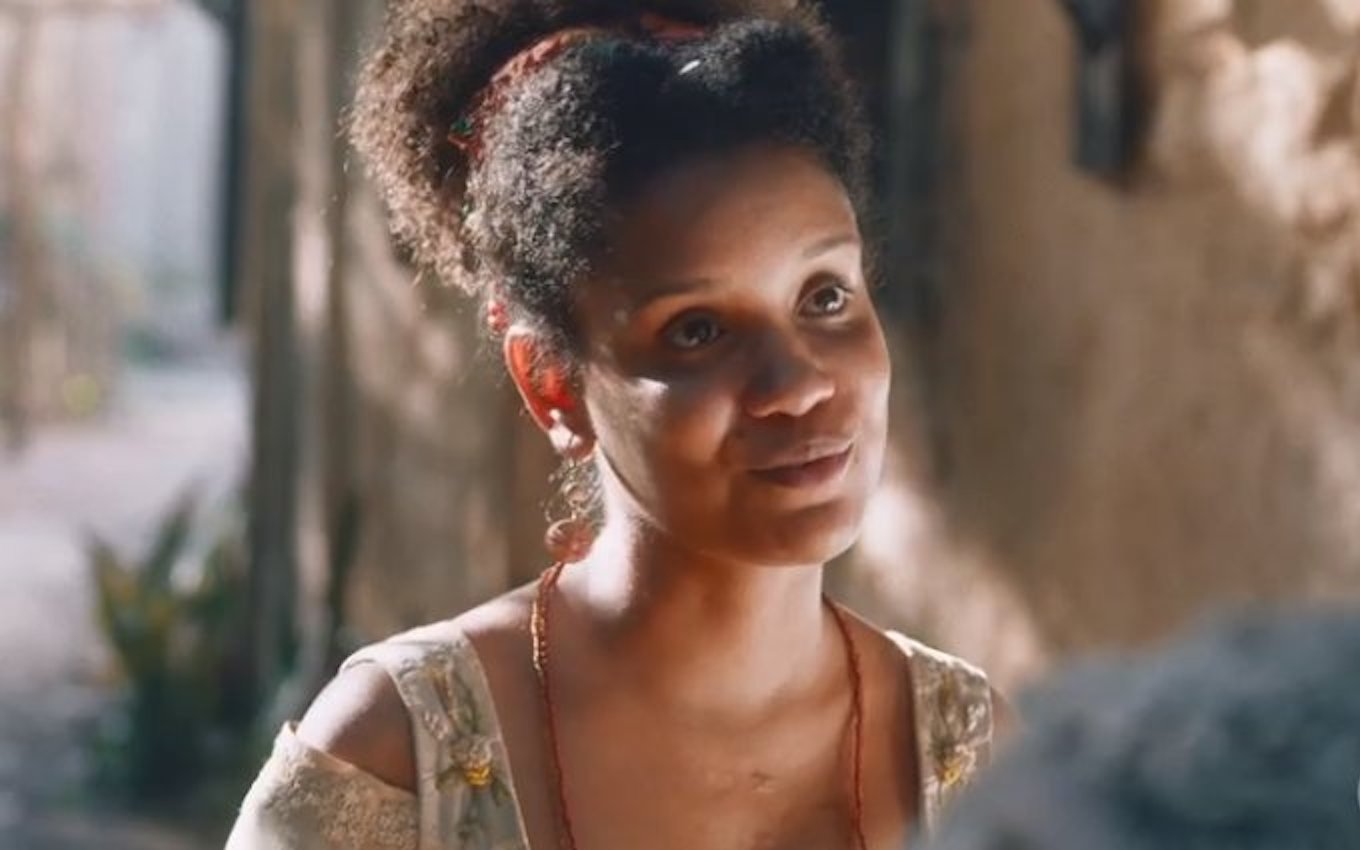 Zayla (Heslaine Vieira) will be threatened by Guebo (Maicon Rodrigues) after the two kiss in this Friday's (8) chapter of Nos Tempos do Imperador. The rebel will say that he will tell Samuel (Michel Gomes) about the betrayal and put an end to their engagement. The princess of Little Africa is going to despair in the six o'clock soap opera on Globo.
Obsessed by the engineer, the young woman will respond when she is taken by surprise by her friend, who will give her an intense kiss. However, she will resist assuming that she likes him. Next week, the boy will give her an ultimatum: either she will tell her what happened or he will open the game with the Mathematics teacher.
The young woman has been demonstrating that she is jealous of Guebo, but still stamps her foot that she is going to marry Samuel. Their romance was shaken by the return of Pilar (Gabriela Medvedovski) to Brazil, and the situation will get even worse in the face of threats from the couple's friend.
The seamstress will start running away from Guebo like the devil on the cross, and her parents and even the engineer will begin to realize that something is strange. One day, on her way to work, Zayla will be approached by the capoeirista. "I have nothing to talk to you about," Pilar's rival will snarl.
He'll bar her way, and she won't be able to get out. "It's no use running away! You like me too. I felt it in that kiss", will affirm the character of Maicon Rodrigues. "I like it! The same way I liked it when we were kids," the girl will retort.
Samuel (Michel Gomes) in the soap opera scene
attraction will hit hard
"So you've always liked me, the same way I've always liked you, as a man and a woman. But only after that kiss did you understand that, and it's no use saying no", says Guebo.
She will be angry, even though in the script for next Monday's chapter (11), the authors ask the actress to make it clear in her eyes that this is not the case. Zayla will mouth off: "You're dreaming! I'm going to marry Samuel." Guebo will then shoot her in the face:
You can get married, but you won't be happy with him because you love someone else! And he doesn't love you either! Never loved you and you know it! This marriage is a childhood invention of yours, and Samuel only boarded this canoe because he lost Pilar! And because he's a slacker!
At this point, they will stare at each other, extremely attracted to each other. "Get off! Stop tormenting me! Leave me alone", will release Zayla after leaving the trance in which he will have entered for a few seconds. "If you want, I'll tell our Samuel," the boy will suggest. "Don't you dare!" Don Olu's daughter (Rogério Brito) will shout.
He will question what she is afraid of. "I'll kill you! You wouldn't have the courage," the genie will cry. He will doubt and announce that if Samuel truly loves her, he will not doubt the fidelity of the bride. "You have no idea what I have the courage to do. Try moving a finger to stop my marriage, you'll know," the young woman will growl.
The only new Globo soap opera on the air, Nos Tempos do Imperador takes place around 40 years after the events of Novo Mundo (2017). In addition to spoilers, the TV news also daily publishes the summaries of the six o'clock soap opera.
---
Learn all about the upcoming chapters of soap operas with the Noveleiros podcast
Listen to "#77 – Luísa makes a big revelation to Pilar in Nos Tempos do Imperador" on Spreaker.
---
Subscribe to the channel TV news on YouTube and watch videos with revelations of what will happen in Nos Tempos do Imperador and other soap operas.
.