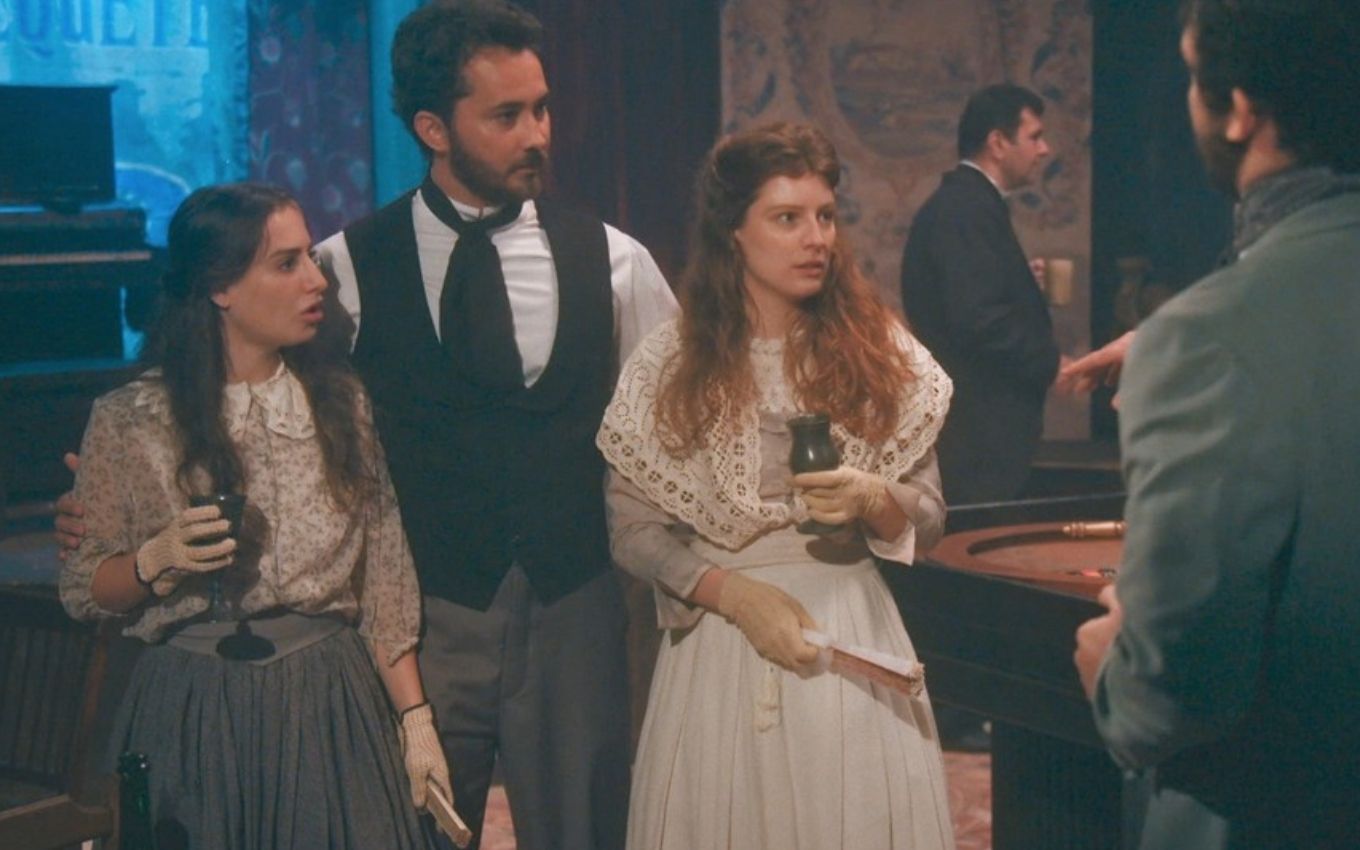 Princesses Isabel (Giulia Gayoso) and Leopoldina (Bruna Griphao) are going to go bad in Nos Tempos do Imperador. The girls will flee from the palace with Prince Pierre (Gabriel Falcão) to the Casino Perequeté, but there they will be harassed by boys, there will be a fight and they will end up in jail in the telenovela at 6 pm on Globo.
In the scenes planned to air in this Saturday's chapter (25), the US Navy soldier will convince his cousins ​​to disguise themselves as servants so that they can flee Quinta da Boa Vista to enjoy the nightlife in Rio de Janeiro. "Come on my muy [muito em tradução literal] shrewd commoners? The night is ours and we'll have fun like never before!" he will say.
The young monarchs will go to Quinzinho's casino (Augusto Madeira). However, the fun of the heiress to the throne and the youngest daughter of Teresa Cristina (Leticia Sabatella) will be interrupted by inconvenient young men.
Revolted by the harassment, Isabel and Leopoldina will throw glasses of champagne in the men's faces. In order to defend his cousins, the future husband of Dom Pedro 2º's eldest daughter (Selton Mello) will throw a chair at the boys and chaos will ensue.
The fight will be broken up by Borges (Danilo Dal Farra), who will also be there. The policeman will announce the arrest of Pierre, and Isabel will despise Mr. Lupita (Roberta Rodrigues). "Asshole?! This girl has to learn to respect authority. You two are in jail too!", the police chief will say.
The only new Globo soap opera on the air, Nos Tempos do Imperador takes place around 40 years after the events of Novo Mundo (2017). In addition to spoilers, the TV news also daily publishes the summaries of the six o'clock soap opera.
---
Subscribe to the channel TV news on YouTube and watch videos with revelations of what will happen in Nos Tempos do Imperador and other soap operas.
.