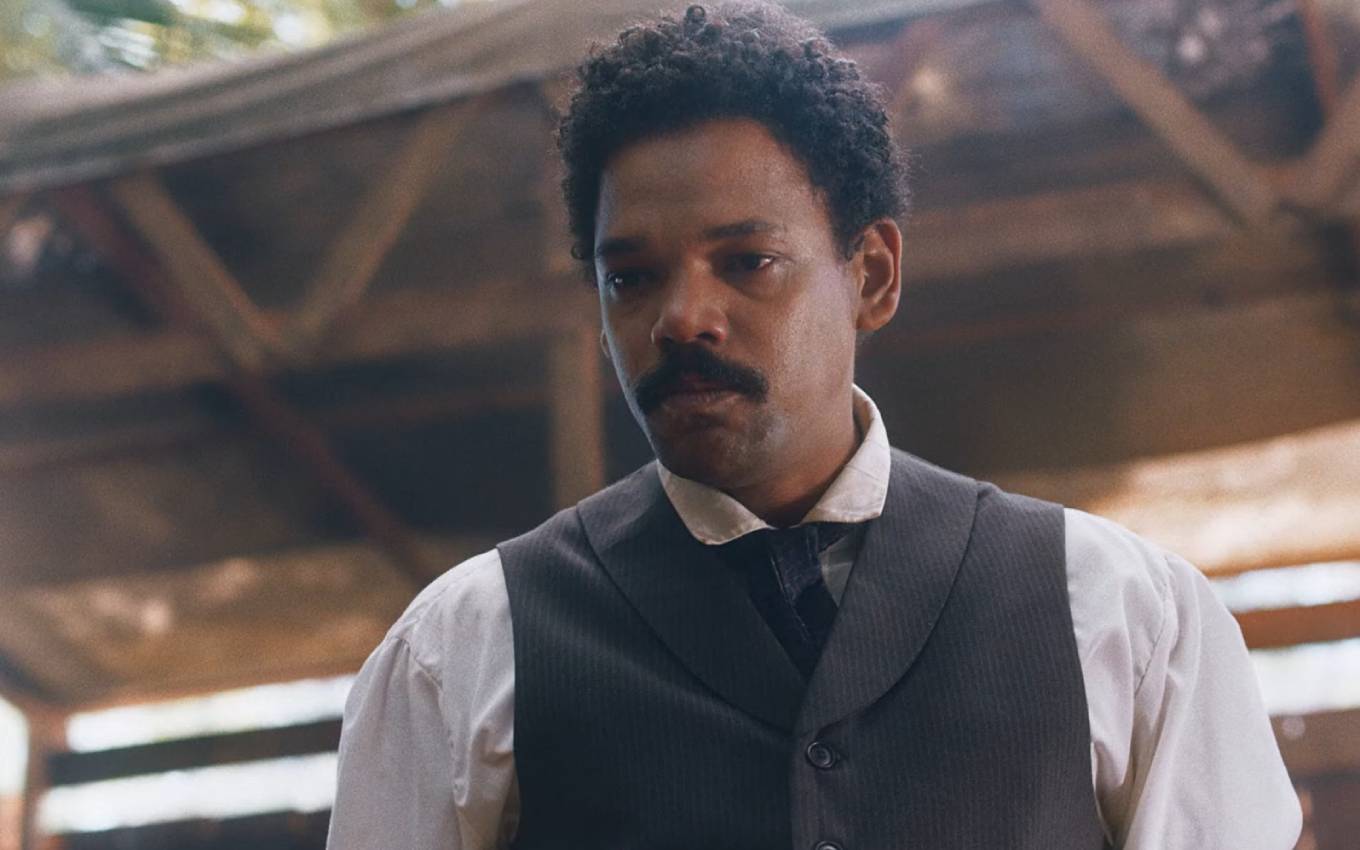 Guebo (Maicon Rodrigues) will rub in Samuel's (Michel Gomes) face that Zayla (Heslaine Vieira) betrayed him in Nos Tempos do Imperador. The warrior will reveal that he and the girl have kissed, which will make her desperate. "I didn't tell you anything because I didn't want you to fight with Guebo," the seamstress will confirm in Globo's six o'clock soap opera.
No chapter scheduled to air next Tuesday (12), the engineer will be on his way to the casino next to the bride when he meets the rebel in the middle of the street. "We have just set the date for our wedding," will announce the former slave. However, his rival will not be happy with the news.
"There shouldn't be any wedding! You don't love Zayla, and she doesn't love you either!", will retort Gebo. Angered, he will reveal that he is in love with his childhood friend. "Zayla got it into his head that he was going to marry you, but that was stubbornness from childhood. It turns out that Zayla and I love each other. Didn't she tell you that we kissed?", the warrior will shoot.
'Equal to Pilar'
Samuel will be perplexed and demand that the villain explain herself. "He grabbed me! I didn't say anything because I didn't want you to fight with Guebo", will argue the princess of Little Africa.
However, Guebo will contest this version and claim that the girl loves him too. "You loved it! This marriage will never work out, you are in a scam,
they will never be happy!", will finish off the character of Maicon Rodrigues, who will come out soon.
In the meantime, the bride and groom will continue the discussion. "You kissed Guebo and you still want to marry me?", asked Samuel, indignantly. "He was the one who kissed me! You're doing the same thing to me as Pilar [Gabriela Medvedovski] made to you. Are you going to believe in Guebo or in me?", countered Zayla, surreptitiously.
When remembering that the engineer was abandoned by his ex-fiancée in the past because of a lie, she will leave him stirred. "Why did Guebo do that?" asks Dom Pedro 2º's protege (Selton Mello). "I don't know, he went crazy. I never dreamed that Guebo was in love with me", the girl will say.
"I was invited to be our best man at our wedding, and he declared himself, said he loved me and gave me a kiss. I didn't want you two to fight over me! Please tell me you believe in me!" daughter of Olu (Rogério Brito). However, your fiance will remain with a flea behind his ear in relation to what happened.
The only new Globo soap opera on the air, Nos Tempos do Imperador takes place around 40 years after the events of Novo Mundo (2017). In addition to the spoilers, the TV news also daily publishes the summaries of the six o'clock soap opera.
---
Learn all about the upcoming chapters of soap operas with the Noveleiros podcast
Listen to "#77 – Luísa makes a big revelation to Pilar in Nos Tempos do Imperador" on Spreaker.
---
Subscribe to the channel TV news on YouTube and watch videos with revelations of what will happen in Nos Tempos do Imperador and other soap operas.
.