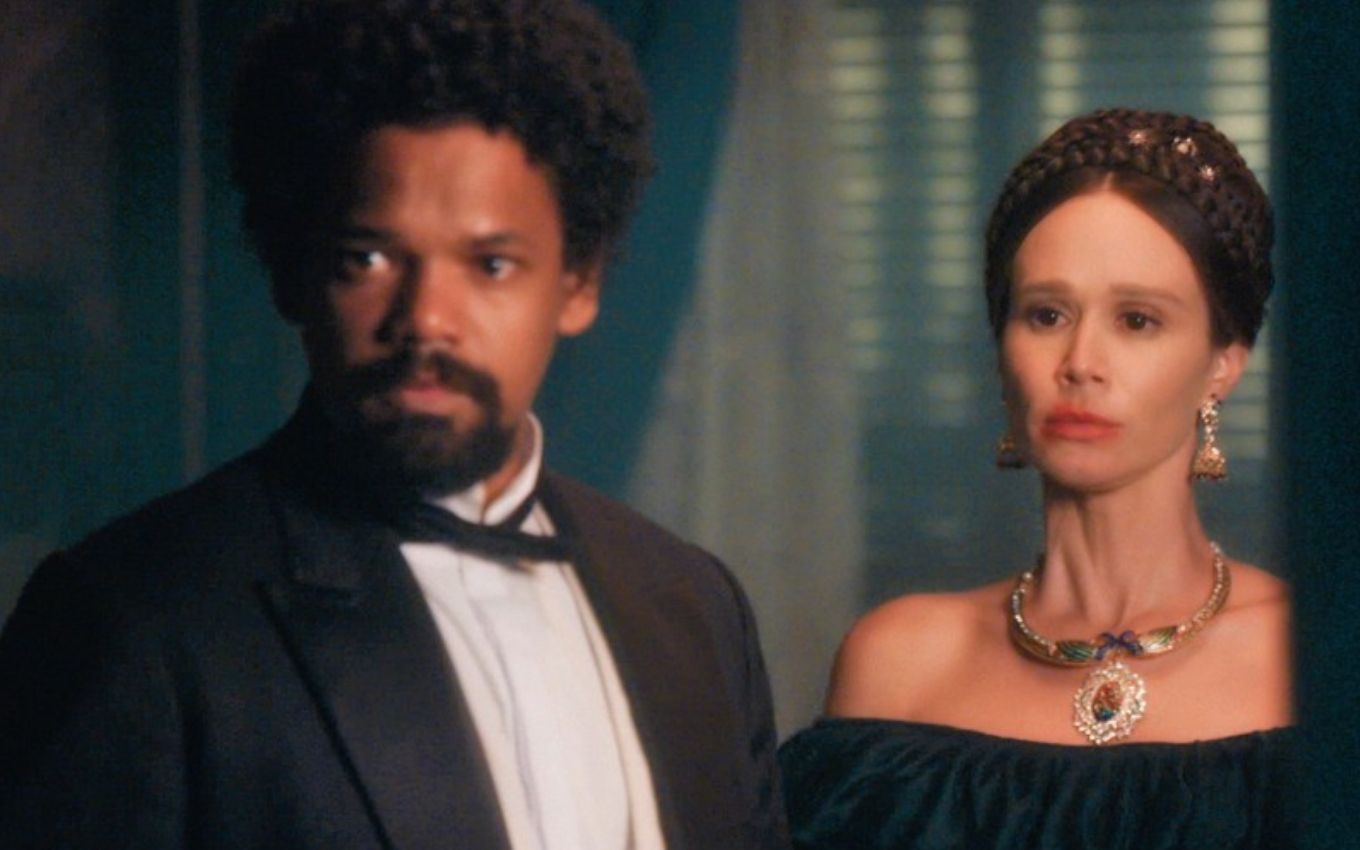 In In Times of the Emperor, Pilar (Gabriela Medvedovski) will make a drastic decision after catching Luísa (Mariana Ximenes) and Samuel (Michel Gomes) together at a suspicious moment. Seized by jealousy, the aspiring doctor will believe that her fiance is having an affair with the countess of Barral and will accept the scholarship to study in the United States in the six o'clock soap opera on Globo.
In the scenes planned to air from of this Tuesday's chapter (14), Luísa and Dom Pedro 2º (Selton Mello) will be enjoying the romantic atmosphere, when Samuel, very worried, will interrupt the couple to warn about the arrival of Teresa Cristina (Leticia Sabatella).
"The empress is coming here. She saw you," the musician will warn. The monarch will manage to hide from the woman, but Pilar will enter the room and notice that the groom is too close to her friend, who will also have smudged her lipstick because of Pedro's kisses.
A while later, Eudoro's daughter (José Dumont) confronted Luísa: "The lady had a smudged mouth of carmine. As if she had just kissed someone." The noblewoman, in turn, will invent a lame excuse: "In the confusion with Tonico [Alexandre Nero]. When I slapped him, he tried to take my hand. It must have bumped into my face."
Suspicious and jealous, Pilar will easily fall into Tonico's trap. Angry at having been slapped in the face by the countess and determined to get revenge on his ex-fiancée, the villain will convince Dolores (Júlia Freitas) to lie to his older sister and say that Samuel is having an affair with the character of Mariana Ximenes.
The young woman will connect the dots and convince herself that she was betrayed by her Arabic teacher. She will then go after Teresa Cristina at Quinta da Boa Vista, will inform her that she is going to study Medicine at the College in Boston and will ask for her boarding urgently. "As soon as possible," he will cry to the empress.
The only new Globo soap opera on the air, Nos Tempos do Imperador takes place around 40 years after the events of Novo Mundo (2017). In addition to the spoilers, the TV news also daily publishes the summaries of the six o'clock soap opera.
---
Learn all about the upcoming chapters of soap operas with the Noveleiros podcast
Listen to "#74 – José Alfredo Makes Emergency Decision in Império!" on Spreaker.
---
Subscribe to the channel TV news on YouTube and watch videos with revelations of what will happen in Nos Tempos do Imperador and other soap operas.
.