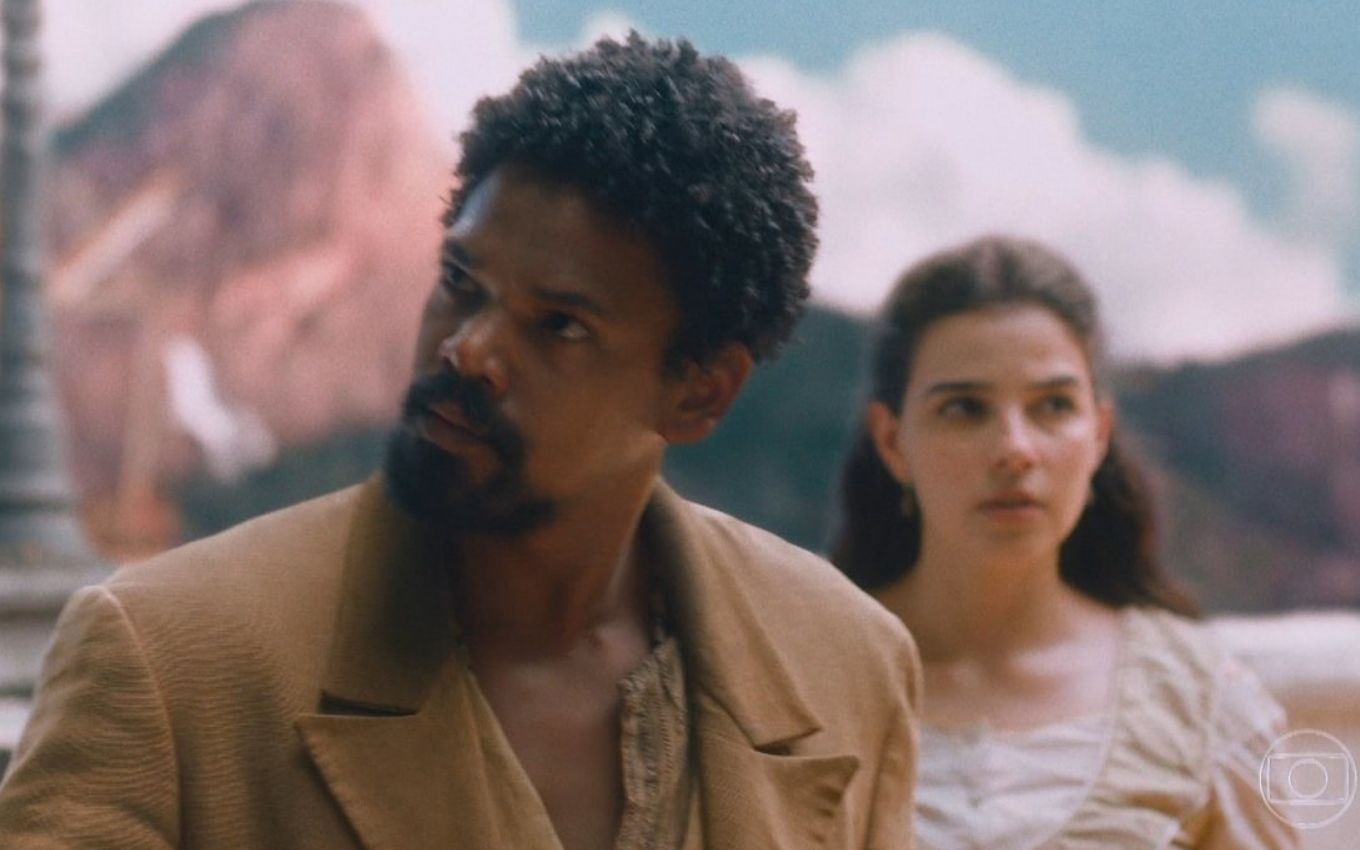 Jorge/Samuel (Michel Gomes) will be humiliated by his color in Nos Tempos do Imperador. The musician will mark the date of his wedding with Pilar (Gabriela Medvedovski) and will decide to celebrate in a noble bakery in Rio de Janeiro. However, the maitre d' will expel the boy. "We don't allow blacks in our establishment", the employee will warn in the telenovela at six on Globo.
In the scenes planned for air on Thursday (9) in the serial by Alessandro Marson and Thereza Falcão, the couple will be excited when entering the bakery. "My love, this place must be expensive," the aspiring doctor will observe. "Whatever. We set the date of our wedding. We deserve a commemoration at the same time. It is important for me to be able to offer a special occasion to the woman in my life", will claim the ex-enslaved.
Afterwards, the maitre d' will approach the table. "Good night, sir. We would like…", will try to ask Luisa's protege (Mariana Ximenes), who will be interrupted. "Good evening. You are welcome here, but your companion is not", will release the man.
Dolores' sister (Júlia Freitas) will rise up indignantly and ask: "What is the problem with my companion? By the way, my fiancé. With a wedding date set." "Customers are bothered. That's why we don't allow blacks in our establishment", the employee will argue. Dom Pedro 2º's Arabic teacher (Selton Mello) will be embarrassed and will ask him to leave.
"No! We're not doing anything wrong. They are! Bring the menu!", Pilar will demand. "Miss, listen to your fiancé. It will be better for everyone if you leave", will insist the maitre d'. "And why? Tell me! Do we have money to pay the bill like anyone else here?", the young woman will ask. Samuel will then provoke:
The problem is exactly that. Me being here, as a customer, on equal terms with everyone. That's what bothers them. Now, if I were here cleaning your tables, washing your floors, shining your shoes… Then yes, I would be in my place. Isn't that true, 'gentlemen'?
Pilar and Samuel in the six o'clock soap opera
united against prejudice
The man, however, will not relent and will stress: "For the last time: leave, or I'll call the police." Afterwards, the couple will appear on the street talking. Eudoro's daughter (José Dumont) will remain possessed and will say that she should have let the maitre d' call the authorities.
"And you'd be stuck with me. Pilar, are you sure you want this for your life? There isn't and will never be a place we go that people don't say, 'The clean, white girl next to this black man?'" , the musician will notice.
"Listen, I love you. Were you blue or green, I would still love you", will assure the girl. "But I'm black. That will never change. And even if slavery ends, this narrow-minded mentality will remain for a long time. We'll have to fight hard not to be seen with indifference, anger, fear, contempt!" brother of Tonico (Alexandre Nero).
"I refuse to accept any injustice! You being treated badly because you're black, I can't do what I want because I'm a woman. It's wrong! We have to fight against all of this", the future doctor will point out. "If you're on my side, so we can fight together, I don't care about anything else," the boy will agree. "And I will be, my love. Always!", the Bahian woman will say, before kissing her fiance.
The only new Globo soap opera on the air, Nos Tempos do Imperador takes place around 40 years after the events of Novo Mundo (2017). In addition to the spoilers, the TV news also daily publishes the summaries of the six o'clock soap opera.
---
Learn all about the upcoming chapters of soap operas with the Noveleiros podcast
Listen to "#73 – José Alfredo finds out Maurílio is dead in Império!" on Spreaker.
---
Subscribe to the channel TV news on YouTube and watch videos with revelations of what will happen in Nos Tempos do Imperador and other soap operas.
.