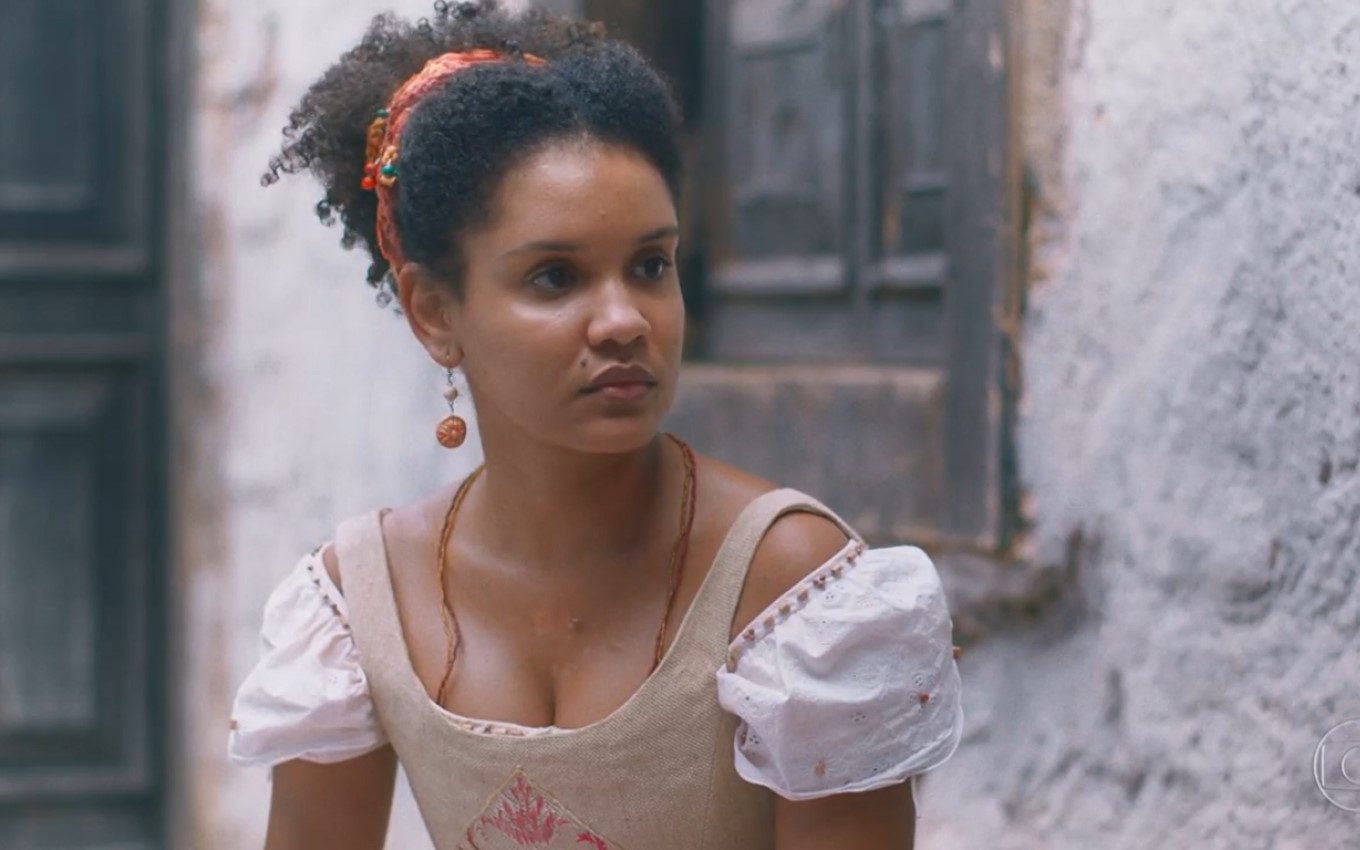 Zayla (Heslaine Vieira) will discover the great past secret of Samuel (Michel Gomes) in Nos Tempos do Imperador. The seller will be shocked to learn that the ex-fiancé is named Jorge and is the ex-slave sought by Tonico (Alexandre Nero), wrongly accused of killing Colonel Ambrósio (Roberto Bomfim) in the six o'clock soap opera on Globo.
In the next chapters of Alessandro Marson and Thereza Falcão's serial, the engineer will end his engagement with Dom Olu's daughter (Rogério Brito) and return to the arms of Pilar (Gabriela Medvedovski). Angered, the young woman will promise to get revenge on the good guy.
Meanwhile, in another nucleus, Tonico will decide to go back to looking for Jorge for his father's murder. The deputy will go after Justina (Cinara Leal) to question if she remembers the man's appearance. Worried, Luísa's maid (Mariana Ximenes) will soon report to Samuel about an episode.
The engineer will talk to Don Olu and Cândida (Dani Ornellas). A while later, Little Africa's leaders will emerge talking about the boy's situation, but Zayla will overhear the hidden conversation. "I was very worried, Olu, with this story of Tonico going through his father's death, looking for the trace of… Jorge," she will say.
"Samuel said he's confident he's not in danger," the king will opine. "Maybe. What if I said that so as not to worry Pilar? I don't know, Olu, but there's something telling me he's in danger, yes," the spiritual leader will quiver.
"What danger? As long as Samuel has that fake manumission letter, he'll be safe," says Olu. Zayla won't hide her amazement at what she's just heard about her ex.
The only new Globo soap opera on the air, Nos Tempos do Imperador takes place around 40 years after the events of Novo Mundo (2017). In addition to spoilers, the TV news also daily publishes the summaries of the six o'clock soap opera.
---
Learn all about the upcoming chapters of soap operas with the Noveleiros podcast
Listen to "#78 – Pilar Goes From Hell to Heaven in In Times of the Emperor!" on Spreaker.
Subscribe to the channel TV news on YouTube and watch videos with revelations of what will happen in Nos Tempos do Imperador and other soap operas.
.