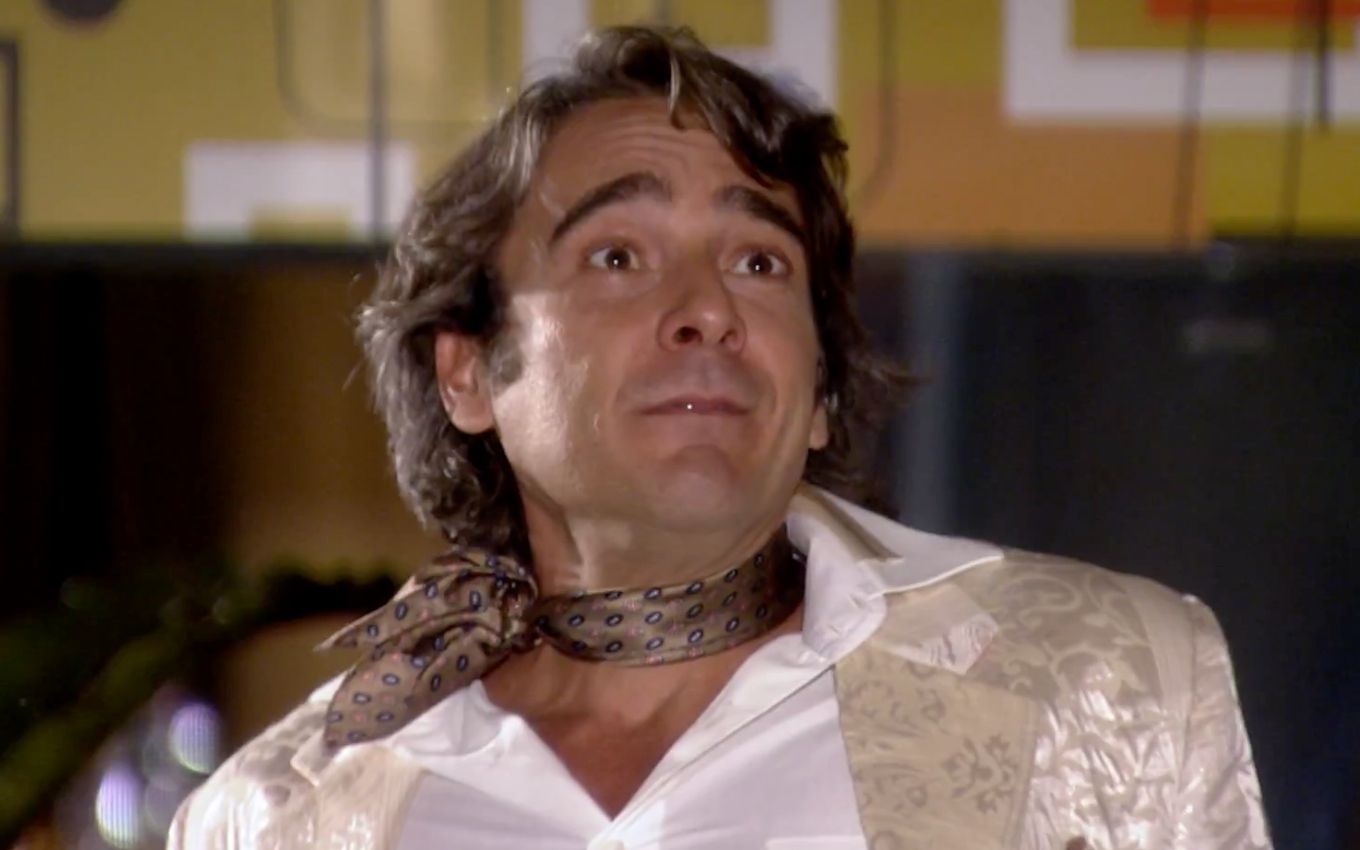 Jacques Leclair (Alexandre Borges) "will be scared to death" by being targeted by Ariclenes' weapon (Murilo Benício) in Ti Ti Ti. Luti's father (Humberto Carrão) will be angry with his rival on the cover of Moda Brasil and will take revenge . He will discover that the dressmaker is in Suzana's apartment (Malu Mader) and will invade the place with a revolver. The protagonist will make André Spina plead for life: "I have four children to raise. Pity, Ari", he will shout.
The newest match of rivals will happen in the next chapters of the replay of Vale a Pena Ver de Novo. At this point in the plot, the journalist will have discovered that Victor Valentim is a farce of her ex-husband and will bar the Spanish fashion designer from Moda Brasil magazine. Jacques Leclair will have the space to publicize the new collection of his brand.
Marta's friend (Dira Paes) will discover the "stab in the back" and will decide to take revenge. He will know that Valquíria's father (Juliana Paiva) is in Suzana's apartment and will leave for his ex-wife's house with a gun.
"You can start praying, André, because your days on Earth will be over tonight", shouted the trambiqueiro, when he invaded the property with an old revolver. "Ari, stop it. Drop it!", Suzana will reply.
"I'm going to kill this dog, something I should have done a long time ago. Kneel!", Will complete Chico's colleague (Rodrigo Lopez). "I have four children to raise. Pity, Ari", confessed the eccentric, who will kneel on the carpet in Suzana's living room.
Ariclenes will be mad with hatred in the soap opera
Just a scare
Desirée's neighbor (Mayana Neiva) will fire the revolver, but the weapon will not work. "He shot! He was going to kill me," will shout Julia's nephew (Nicette Bruno), shocked by the childhood enemy's audacity.
Suzana will notice that the pistol is a relic of her family and does not work. She will confiscate her ex-husband's artifact. "If you go out with him, it will be a stab in the back. After everything we've talked about, if you give him space in your magazine …", threatens Ariclenes.
Calmer, Cecília's son (Regina Braga) will make fun of the poor man and will rub in his face that the next collection signed by Jacques Leclair will be an explosion of criticism and sales.
"Success is scambau. You prepare yourself, André. When Victor Valentim arrives, there will be no clothes left for you!", Says Ariclenes, in a risky forecast for the future. But the hustler's show won't last long, and the editor-in-chief will push her ex-husband out the door.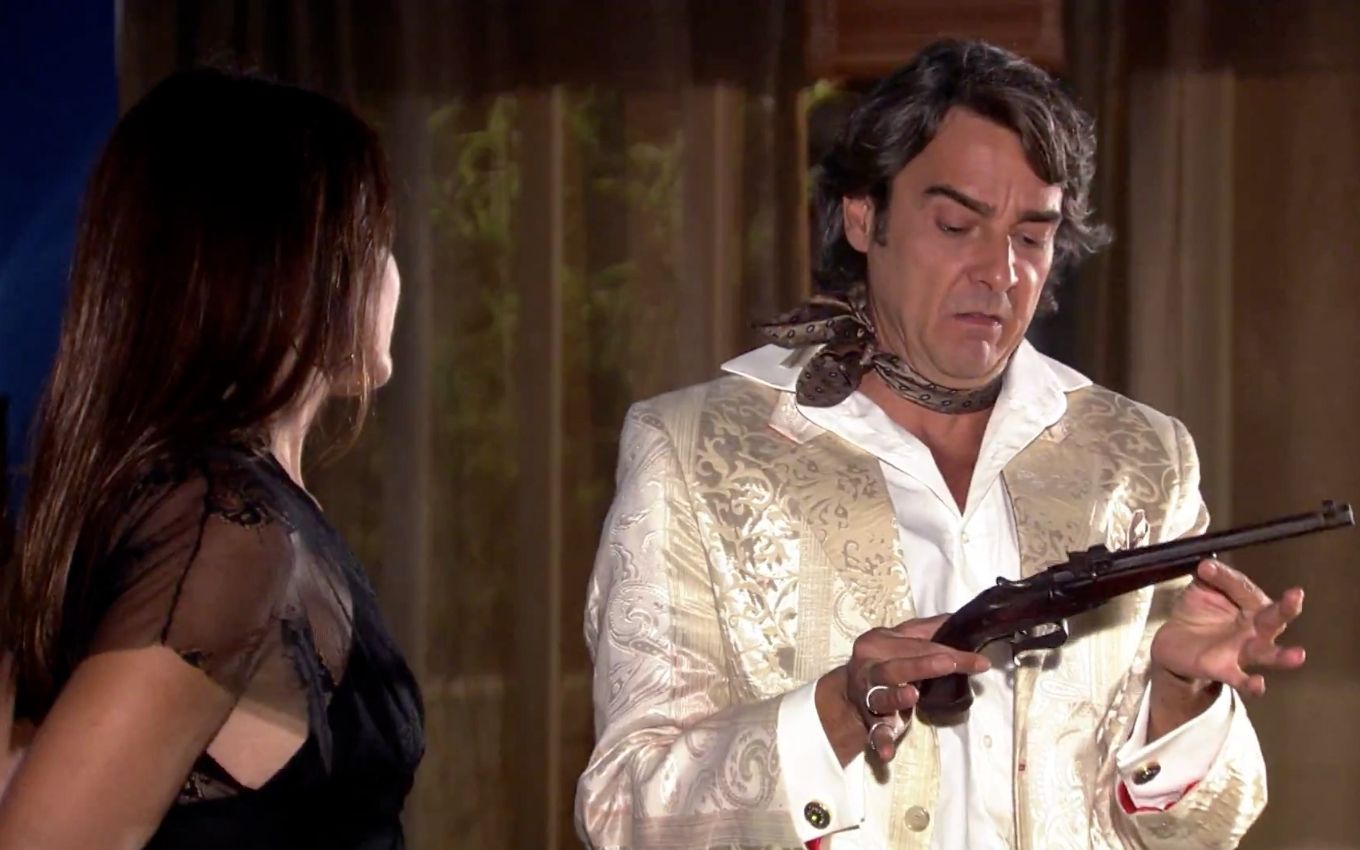 Jacques will freak out with gun fire
Lucky for the time
"For an instant, I saw my whole life pass before me …", Lipe's father (Davi Lucas) will confess. "Ari is crazy, but he is not a murderer, no. This is just a family heirloom. It doesn't work", reassures Suzana. He will place the revolver in the hands of the seamstress.
"And I fell straight… When he pulled the trigger, I froze", will release the dressmaker. He will retrace Ariclenes' steps, but this time the pistol will fire. "So the gun works!", The stylist will shout, frightened. He will pass out from fear when he realizes that he was almost killed by Ariclenes.
The show that Globo reiterates in the afternoon at Vale a Pena Ver de Novo is a reinterpretation of two classic novels by Cassiano Gabus Mendes (1929-1993): Ti Ti Ti (1985) and Plumas e Paetês (1980). Originally aired between July 2010 and March 2011, the plot was written by Maria Adelaide de Amaral and Vincent Villari.
---
Find out everything that will happen in the next chapters of the soap operas with the Noveleiros podcast
Listen to "# 54 – Is it worth watching the Empire replay?" in the Spreaker.
---
Subscribe to the channel TV News on YouTube and watch videos with revelations of what will happen in your favorite soap operas!
.