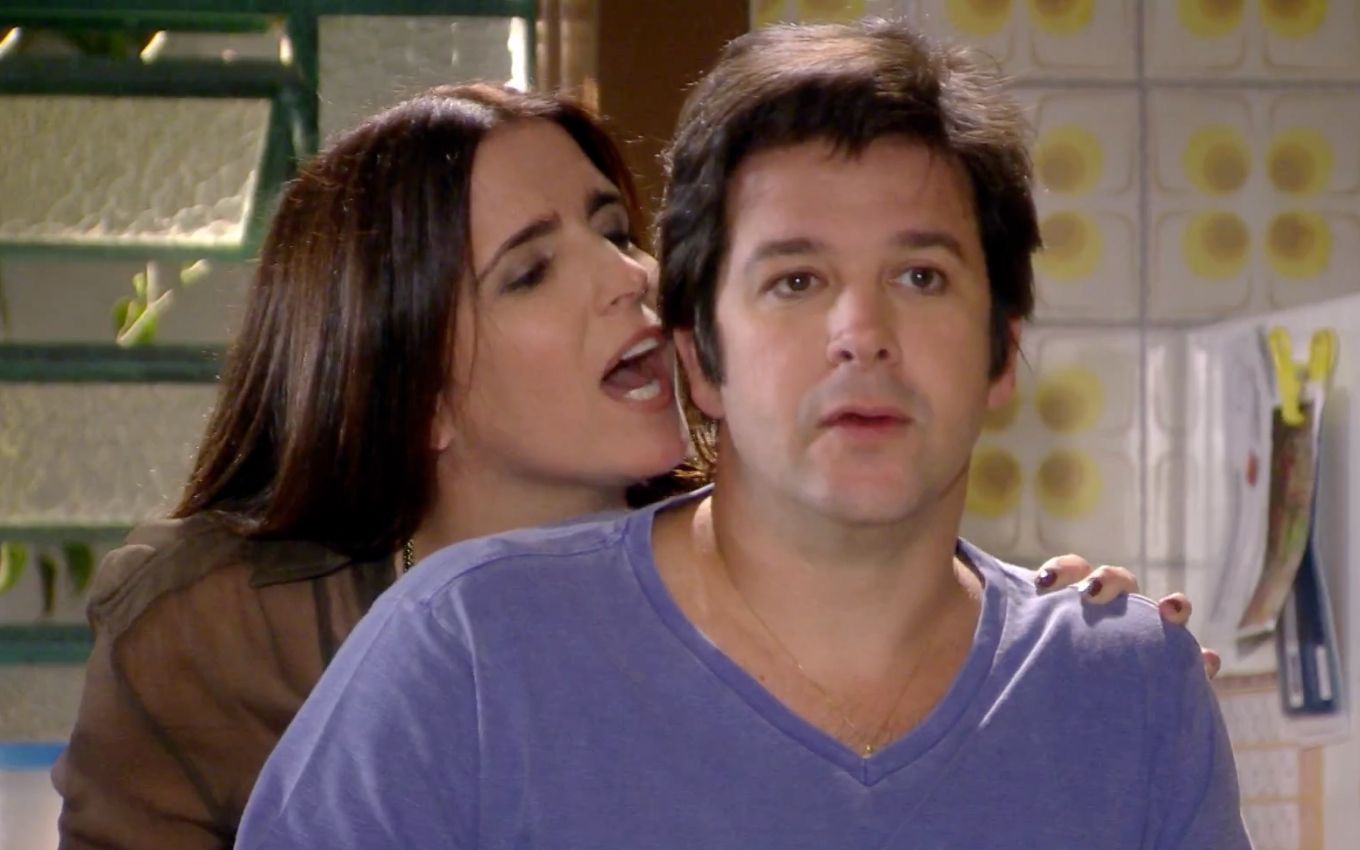 Suzana (Malu Mader) is increasingly in love with Ariclenes (Murilo Benício)'s alter ego in Ti Ti Ti. In a romantic evening with her ex-husband, the journalist will ask him to satisfy her fetish of having sex with the Spanish couturier: " dresses in [Victor] Valentine?" the woman will beg.
the weather will heat up next chapters Worth Seeing Again. The ex-couple will end up together at a dinner, and the protagonist will take the opportunity to flirt with the editor.
"Why don't you give yourself to me, Suzaninha? I know you still love me and are in love with me. Don't you like it?", Ariclenes will ask. Mad about Jacques Leclair's (Alexandre Borges) rival, Luti's mother (Humberto Carrão) will ask her ex-husband to fulfill her wish: "Do you dress as a Valentine?".
"Oh Suzana, for God's sake. was here in a good way, and you bring someone else. Why Victor Valentim at this moment?", the canastrão will ask. But the journalist will try to bend her ex-husband with several kisses.
"It's not just anyone, come on… Please. Just a little bit, I promise you won't regret it. Go, please. Speak up. 'I love you, Suzanita'. Just a little bit, I promise," will implore Stela's friend (Mila Moreira).
Victor Valentim seduces Suzana
ardent encounter
Ariclenes will agree to satisfy Suzana's desire and, improvising, will incorporate Victor Valentim: "Suzana… what a surprise to find you here in Ibiza. It's a pleasure to welcome you at home", the couturier will begin, speaking in Portuguese.
"It's my pleasure to meet you again, Dom Valentim", will sigh Help's boss (Bety Gofman). The two characters will kiss and end up on the couch. But before the weather heats up, Chico will appear by surprise.
"Chico, you're in the way…", Ariclenes will say, irritated. Nicole's boyfriend (Elizangela) will insist on the conversation and ask the protagonist to evaluate her look for a date with the seamstress.
The character played by Murilo Benício will chase the clueless from his home and will try to get back to making out with the journalist. But Suzana will not be willing: "I can't, it broke the mood. That crooked mustache, that beret. Sorry, it broke the mood completely… Chico cut the slack. It's next time!", concluded the editor, already leaving the house. of the ex-husband.
The serial that Globo reruns in the afternoon at the Vale a Pena Ver de Novo session is a reinterpretation of two classic novels by Cassiano Gabus Mendes (1929-1993): Ti Ti Ti (1985) and Plumas and Paetês (1980). Originally aired between July 2010 and March 2011, the plot was written by Maria Adelaide Amaral and Vincent Villari.
---
Learn all about the upcoming chapters of soap operas with the Noveleiros podcast
Listen to "#63 – All about Kyra and Rafael's reunion in Save Yourself!" on Spreaker.
---
Subscribe to the channel TV news on YouTube and watch videos with revelations of what will happen in your favorite soap operas!
.