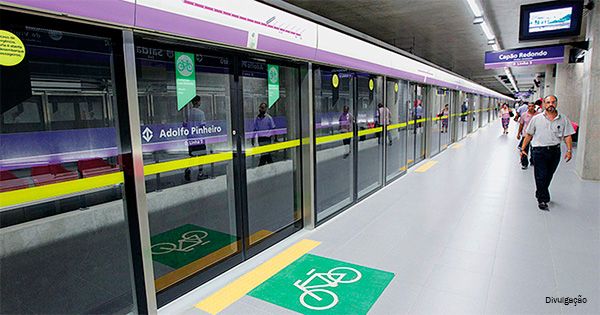 20 canvases divided into 10 panels with photographs tell a retrospective of what has been presented at the gallery since its opening in 2017
São Paulo State Government/Disclosure
Japan House São Paulo presents a traveling exhibition at the Eucalyptus station, line 5-Lilac of the São Paulo subway

In order to spread Japanese culture, the Japan House Sao Paulo presents a traveling exhibition at eucalyptus season, on line 5-Lilac of the subway. The exhibition has 20 canvases, divided into 10 panels with photographs that contain a brief retrospective of the exhibitions presented at Japan House since the opening, in 2017, until January of this year. Claudio Kurita, Operations and Events Director, says that the intention is to attract the public that has not yet managed to visit the space on Avenida Paulista. "We have several exhibitions that work on various themes from fashion, design, and we work with all these exhibitions, with these photos there in the subway, encouraging people to stop for a while, admire this retrospective and also inviting people to go to Japan House," he says.
One of the exhibits at Japan House is called Balance. There are more than 9,000 balloons produced by the Japanese duo Daisy Balloon and Takashi Kawada, art director and graphic designer respectively. The balloons are covered with a layer of polarized film that causes a spectrum of colors similar to the aurora borealis to reveal itself in the surrounding space as soon as light falls on them. All this creates an immersive effect, through the spaces where the visitor can walk. It is the first time that Gisele Carvalho Barros has visited Japan House and liked what she saw. "I have some friends who had already been to some exhibitions here. And now I came, especially, to check out this exhibition that caught my attention, which is the balance", he said.
On the upper floor of the house, the exhibition "Parade a dripping drop, a bead, a tale" was created by artist Yuko Mohri. They are kinetic and sound sculptures with highly improbable elements, such as dusters, tablecloths and musical instruments. It is about finding beauty in everyday objects, as the Japanese philosophy preaches. The balance show runs until the 28th of November and the Parade until the 14th of November. Japan House is open Tuesday through Friday from 10 am to 5 pm, and on Saturdays, Sundays and holidays from 9 am to 6 pm.