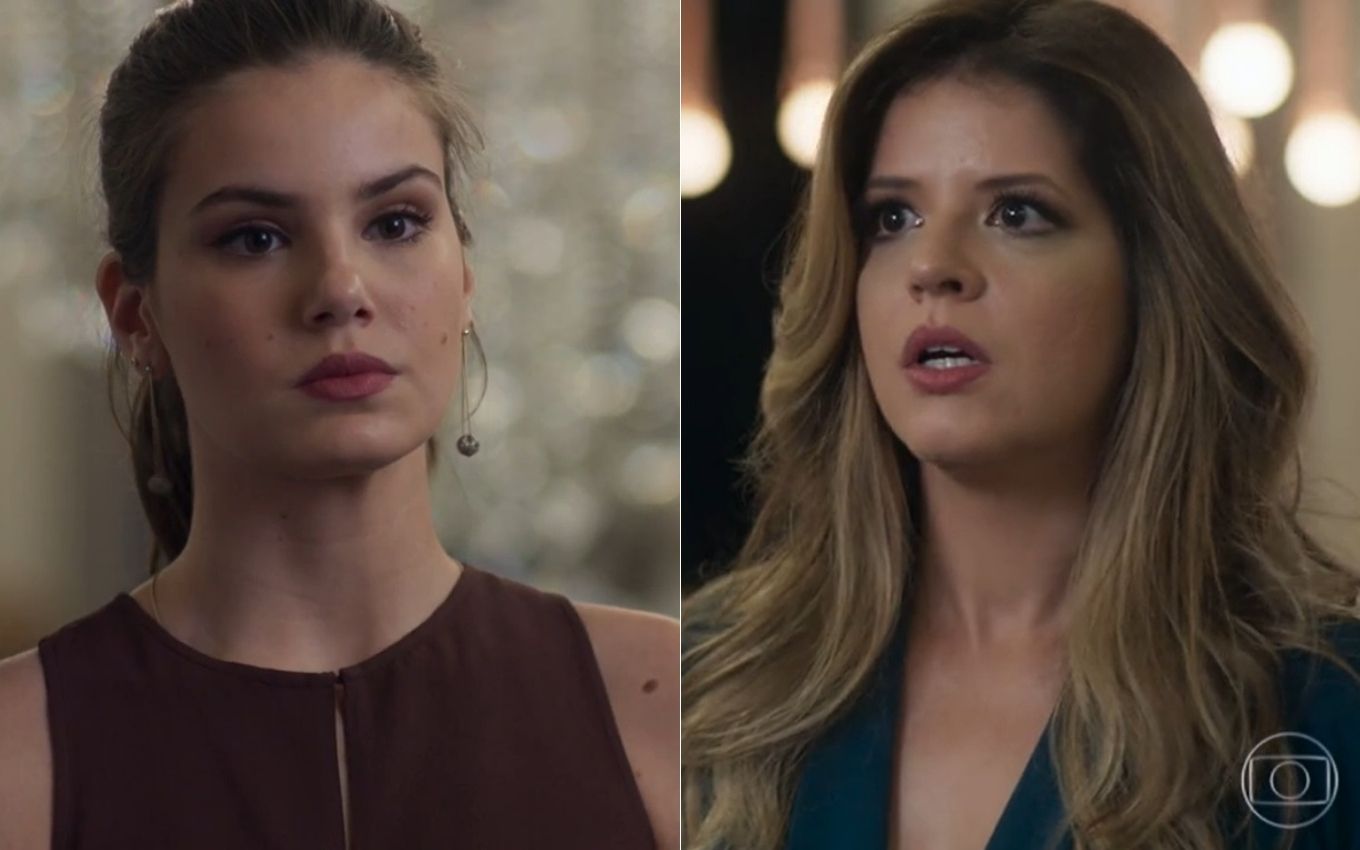 The return of Maria Pia (Mariana Santos) after a season in Switzerland will stir the nerves of Luiza (Camila Queiroz) in Pega Pega. The young woman will feel jealous when she sees Eric (Mateus Solano) praising the executive's new appearance. She will mark territory and say that her rival is unbalanced and hysterical in Globo's seven o'clock soap opera.
In Claudia Souto's serial, Lígia's daughter (Angela Vieira) will draw attention when she returns to Brazil, blonde, thinner and with provocative clothes. Upon arriving at the company, she will leave Eric and Malagueta (Marcelo Serrado) with their jaws dropped.
"You're very… You're beautiful. This time in Geneva did you very well. It's amazing, isn't it Vitor?", Bebeth's father (Valentina Herszage) will notice. "Okay… It's another one…", the ex-concierge will stammer, astonished. "He lost his speech with Maria Pia's transformation", the rich man will have fun. "It's really beautiful", will praise the son of Timóteo (Cacá Amaral).
Later, Mariana Santos' character will appear in the lobby of the Carioca Palace with Malagueta. They will end up meeting Eric and Luiza on the spot, at the scenes that will air on Saturday (11). "Maria Pia", the granddaughter of Pedrinho (Marcos Caruso) will be surprised. "Wow, how long", will comment the Executive.
Eric and Luiza in the lobby of Carioca Palace
barb exchange
The business student will say the woman looks beautiful. "Wow, coming from you it's like I've won an award," the blonde will blurt out. "Maria Pia was hiding the game there in Geneva to come back looking so beautiful", will joke the character of Mateus Solano.
"Very different from the last time we saw each other… Unbalanced, hysterical", will offend the little girl. "I was going through a very difficult time," the antagonist will justify, referring to when she threatened to throw herself off the hotel balcony on Eric's wedding day.
"I hope this change of yours was from the inside out and not just superficial," the young woman will shoot, who will leave with a huff. Embarrassed, the businessman will go after his beloved. "What was that in there? The rude way you treated Maria Pia," the rich man will find strange. Pedrinho's heiress will mock:
That's the least that woman deserves. This woman makes a fuss at our wedding, she comes back all beautiful, and you keep praising her. Want me to do what? Do you want me to clap my hands with you?
"Look how you're behaving. I'm happy, yes, a longtime friend came back, recovered from a difficult moment", will claim the hotel owner. "I'm very good, but Maria Pia has the power to awaken in me a Luiza that even I'm afraid of", the girl will say.
Pega Pega (2017) won a "special edition" to fill the hole left after the final stretch of Salve-se Quem Poder. Como Mais Vida, Melhor, the next unpublished soap opera in the 7pm range, was postponed because it is being recorded with security protocols that slow down the execution process.
---
Learn all about the upcoming chapters of soap operas with the Noveleiros podcast
Listen to "#73 – José Alfredo finds out Maurílio is dead in Império!" on Spreaker.
---
Subscribe to the channel TV news on YouTube and watch videos with revelations of what will happen in Império and other soap operas.
.