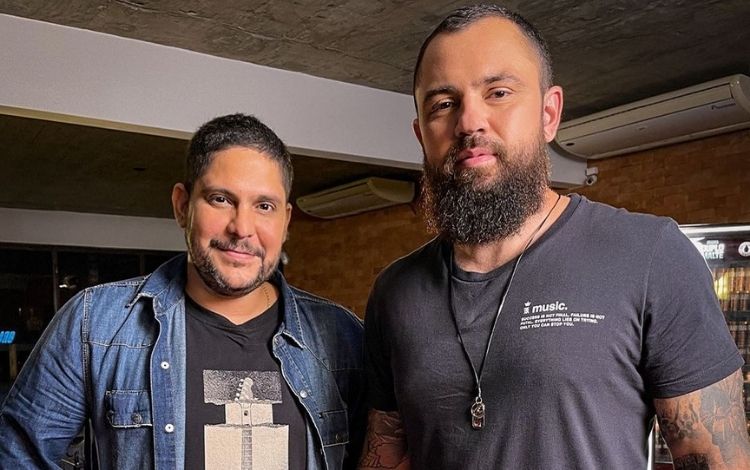 Duo also spoke about the launch of a DVD, difficulties of the cultural sector in the pandemic and how the web series was made with unpublished career stories
Reproduction / Instagram / jorgeemateus
Jorge and Mateus have used their time at home to enjoy with the family

With a career spanning more than 15 years, the country duo Jorge e Mateus remains at the top – one of the main references of the genre. The artists are preparing to release a new DVD on April 23 and, in addition, they will star in a web series with curiosities from the duo that is available on YouTube. Recently, they also caused a stir on social media by posting an old video of Juliette, do "BBB 21", singing There It Was, one of the greatest hits of the artists' career. "I followed this edition of 'BBB' a little because the Rodolffo, who is our friend, was there. I think Juliette has great potential for music and, after all, you can see that she really likes to sing. I feel that she has two things that are essential: a good voice and a taste for music ", said Jorge in an interview to Young pan.
One of the great differentials of the duo is that, when Jorge and Mateus broke out all over Brazil, many people who were not country fans started to listen and enjoy the musical genre. "I believe that this may have happened due to the fact that we present a different sound, a sertanejo with a more pop feel at times, which differs from the traditional one. This has been changing a paradigm. There's the question of Mateus's guitar too, because people who like other musical styles connect the guitar to a more pop sound, maybe even to a rock'n roll or a 'sertanejo-rock' ", analyzed Jorge.
More than a year stopped
The past year has not been an easy one for artists due to the pandemic of Covid-19, which hit the cultural sector hard. Jorge commented that he never imagined that he would be forced to go more than a year without doing shows. "Our environment is suffering. There were many changes, many changes, necessary adjustments, unfortunately. We miss everything, normal days and good news, our audience, the routine. We are saddened by the fact that we do not produce, that we do not work. Waking up and not knowing what day we will be able to do our job again is the worst part of this whole pandemic story. Not being able to work the way we like, which is singing for people ", commented Jorge. There is still no prediction of return, and the singer has been trying to enjoy this break in a positive way. "It is a rest for people to live and enjoy our families. Unfortunately, it was a pandemic that led us to have that time. "
Mateus adds that he hopes that this difficult phase will serve as a learning experience. "The desire for things to return to normal is immense, but we also wish that, in the end, we have a great lesson. Let us rethink and value certain things that are important when everything is normal, "he told Young pan. Without shows and with more free time, one of the projects that emerged for a duo during this pandemic period was to record the web series "Bastidores Brahma", in which they tell curiosities, news about their careers and recall the trajectory that led Jorge and Mateus to success. "It has a lot of unprecedented history. Some of them about the compositions, the arrangements, the production. We comment on the lyrics, the meaning of some songs, all in a good-natured and light way. It is a very well done project that is available on YouTube ", concluded Mateus.