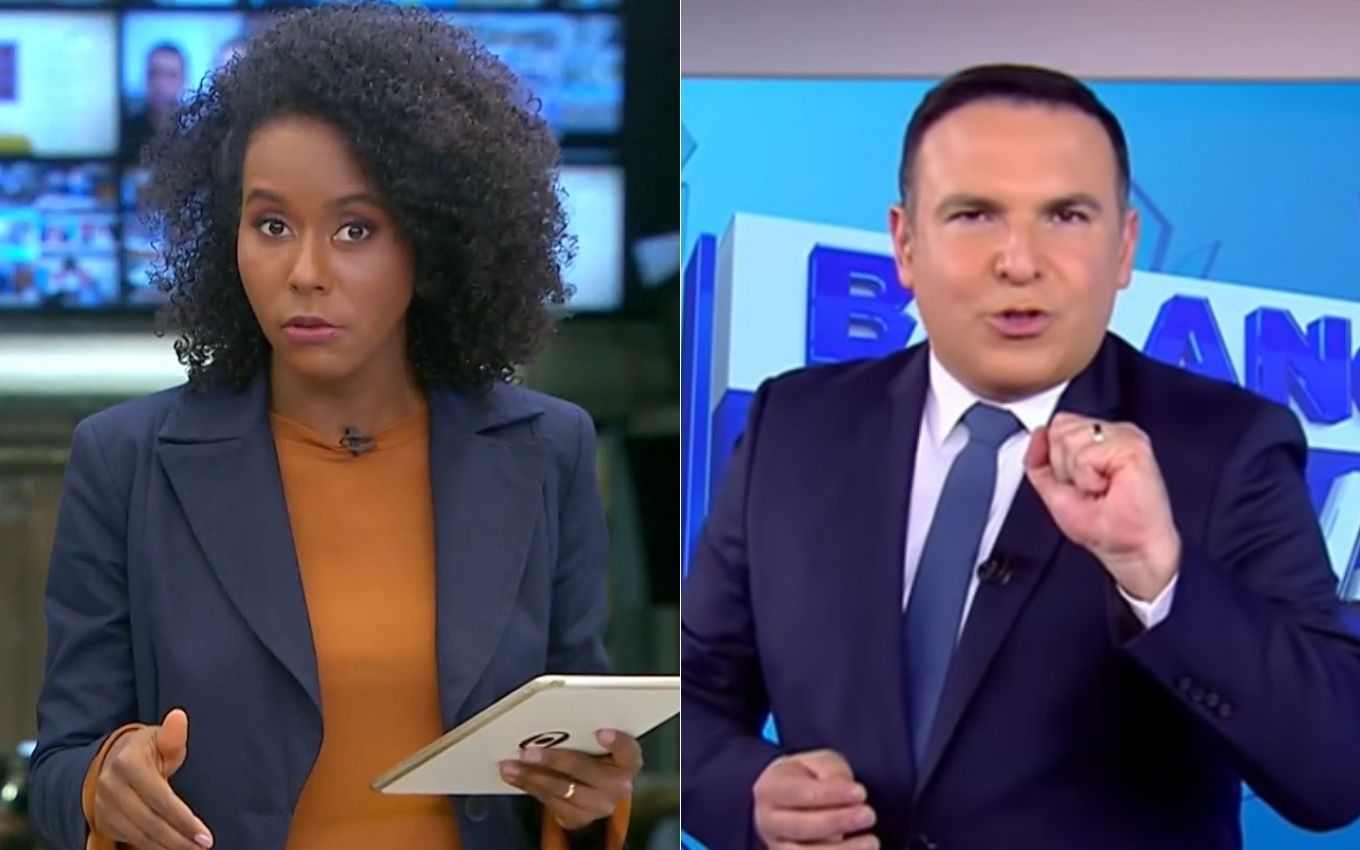 After a day of "breathing" with football on Globo, Jornal Hoje again lost to the Balanço Geral SP, by Record, in Greater São Paulo. Shown in traditional time on Wednesday (30), the news recorded 8.8 points, while the competitor presented by Reinaldo Gottino scored 9.2 in the direct confrontation of the time.
Between June 15 and 28, JH lost ten times in a row to BG because of the intense coverage of Edir Macedo's station in the case of Lázaro Barbosa, who became known as "Brasilia's serial killer". In the first week of this period, César Tralli covered the vacation of titleholder Maria Júlia Coutinho. Globo Esporte lost nine times.
On Tuesday (29), Maju's newscast was aired earlier, on the SP1 track, and was only 25 minutes long. The new schedule benefited the attraction, which won the Balance Sheet by 12.6 to 8.3. During the JH timetable, Globo broadcast the game between England and Germany for the Euro Cup and defeated Record by 12.5 to 11.5.
The next day, however, the traditional audience leader lost again. The difference to the weeks of coverage of the Lázaro case is that SP1 (9.7 x 6.1 from Record) and Globo Esporte (9.9 x 8.3) managed to stay in the lead with ease against the General Balance Sheet — with that, Gottino's program lost in the overall average by 8.0 to 9.0 against Globo.
O gossip board Poison Time, shown from 2:48 pm to 3:20 pm, was isolated leader at Ibope and defeated the competitor by 9.0 to 8.2, with peaks of 10.0 points.
See below the hearings for Wednesday, June 30, in Greater São Paulo:
Average of the day (7h/0h): 13.5
Good morning São Paulo
6,8
Good morning Brazil
7,9
More you
7,5
Meeting with Fatima Bernardes
6,8
SP1
9,7
Globe Sports
9,9
Newspaper Today
8,8
Afternoon Session: Mom went on vacation
8,8
You You You
12,4
Workout
13,3
Our lives
16,0
SP2
19,8
save yourself who can
22,9
National Newspaper
24,0
Empire
26,0
Brazilian Championship: Corinthians x São Paulo
23,0
Globo Newspaper
8,1
conversation with bial
5,8
Owl 1: Home Sweet Hell
4,6
Owl 2: The Moving Forest
3,5
Hour 1
3,6
Average of the day (7h/0h): 7.1
Morning General Balance (average from 5am-8:30am)
1,8
Speak Brazil
4,4
Nowadays
4,8
JR 24h (morning)
4,7
General balance
8,0
Proof of love
4,8
JR 24h (afternoon 1)
4,9
City Alert
7,8
JR 24h (afternoon 2)
6,1
Journal of Record
11,0
Genesis
13,3
very top
9,5
Power Couple Brasil
7,0
JR 24h (dawn)
4,0
Speaks, I hear you
1,5
Religious
0,6
Average of the day (7h/0h): 5.2
First Impact
2,9
Come here
2,8
Good Morning & Co.
4,8
gossiping
4,8
Family Cases
5,2
indomitable heart
7,9
true loves
7,4
SBT Brazil
6,8
wheel to wheel
6,6
Chest Award Coupon
6,7
Chiquititas
7,4
To Win It's Just Spinning
5,6
Mouse program
4,7
the night
3,3
Operation Mosque
2,1
Reporter Connection (Replay)
2,0
SBT Brasil (re-presentation)
1,8
First Impact
2,0
---
Source: Broadcasters
Each point is equivalent to 76,577 households in Greater SP
.