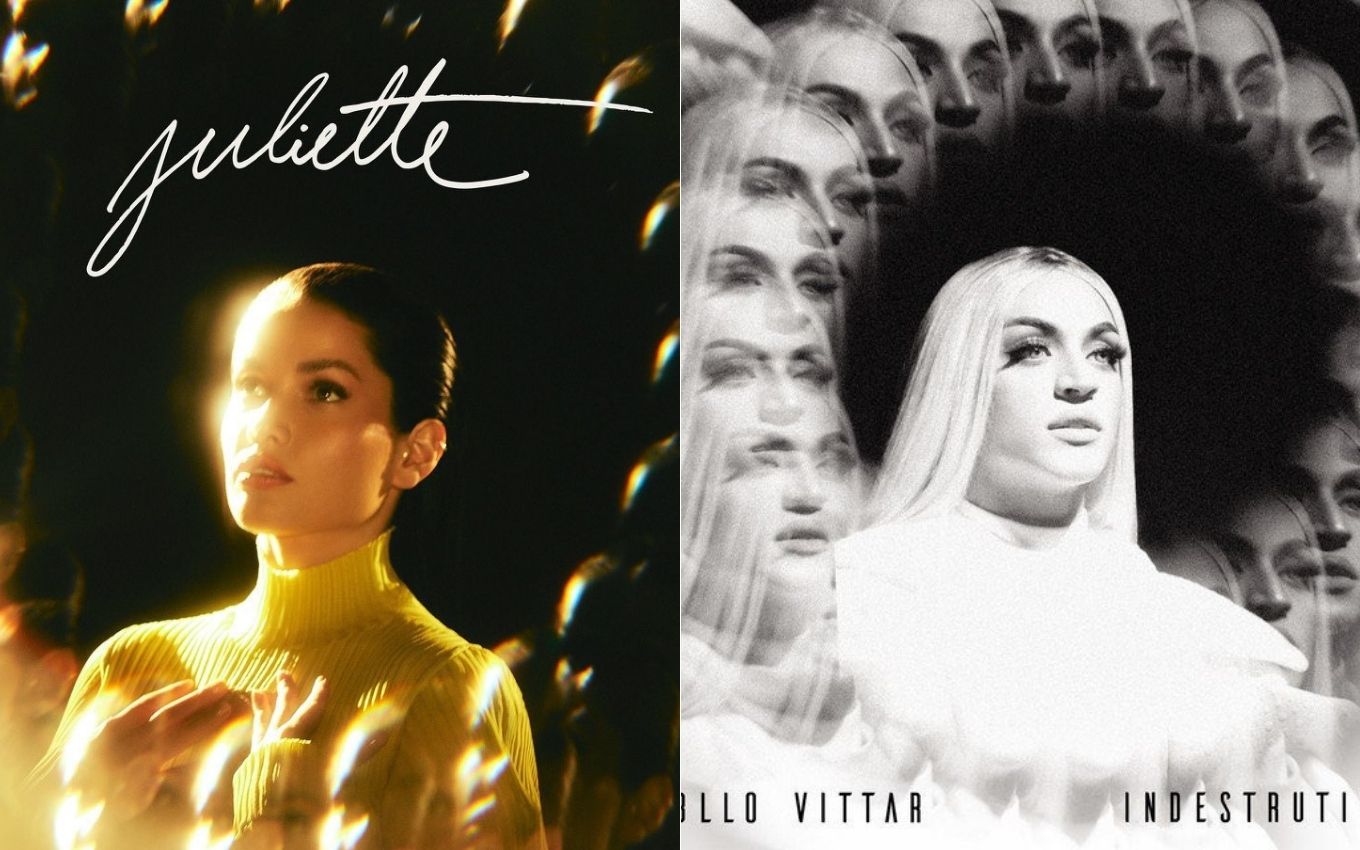 On the eve of the official release of her first musical album, Julitte Freire erased the cover she had released on social networks this Wednesday (1st), after being accused of plagiarizing Pabllo Vittar. The BBB21 winner shared a new artwork three hours after the release of the first one, which resembled the cover of Indestructible, the drag queen's single.
This Wednesday morning, Juliette shared the cover of her eponymous EP, which will feature six tracks. In the yellowish image, the influencer appears in the center, looking up and with her face multiplied in a circle around her. This effect is called a prism. The signature of the champion of Big Brother Brasil 21 appears over her face.
"It's time to take on my best face. Meet the cover of my dream! Music has always been my refuge, it takes me to beautiful places… Here I am! My EP will be available tomorrow on all streaming platforms", wrote the "queen of cacti".
On social media, however, several netizens compared the cover of Anitta's friend with the cover of Indestructible, a song by Pabllo Vittar, which used the same holographic effect.
Supposedly due to the repercussion of the plagiarism accusations, the debuting singer deleted the first release and uploaded a new post on her social media profiles. The new cover also has a prism effect, but only in a shading by the artist.
O TV news questioned Juliette Freire's press office about the apparent change, but received no response until the publication of this text.
Juliette's photoshoot was artistically directed by Giovanni Bianco, who has worked with great names in music, such as Madonna, Anitta, Jennifer Lopez and Nicki Minaj.
Check out some reactions on Twitter about Juliette's cover:
My people, the EP is ready! With artistic direction by Giovanni Bianco, Juliette publishes the cover of her first project as a singer. Self-titled, the set of 6 tracks arrives on digital platforms tomorrow, September 2nd. https://t.co/BIQNPgTeOO#EPJuliettepic.twitter.com/EFX5KNsKns

— BCharts (@bchartsnet) September 1, 2021
Now! Juliette is accused of "copying" Pablo Vittar's album cover pic.twitter.com/BNOFi3qHLY

— Gossiped (@gossip_) September 1, 2021
Pabllo fans because of this cover pic.twitter.com/CkSKba9den

— Wesley B 🤫 (@NitterBardi) September 1, 2021
to nossa camilla cabello pic.twitter.com/9Evck3co3H

— 𝕬𝖌𝖔𝖘𝖙𝖔𝖘𝖎𝖓𝖍𝖔 (@_Augustinh0) September 1, 2021
The Internet managed, in a matter of hours, to make Juliette change the cover of the EP. It's not giving anymore, no… pic.twitter.com/aGrrsPiXbZ

— Bruno Di Maio 🏳️‍🌈 #ForaBolsonaro 🏳️‍🌈 (@BruDiMaio) September 1, 2021
Internet, YOU ARE UNBEARABLE!

After attacks and accusations, Juliette changed the cover of her EP, "Juliette". The launch will take place tomorrow (02).

What did you think of the new cover? #EPJuliettepic.twitter.com/XrbDZRDStm

– Famous Portal | PFBR (@oficialPFBR) September 1, 2021
Juliette had to change the cover of her first project because of hate… and hate without any foundation, right? Because this photographic effect has been used decades ago HAHAHAHAHA Hey, guys… you want to patent effects that anyone can do on the internet, mom? pic.twitter.com/EiFLX2c3Xe

– Dan (@pqp_dann) September 1, 2021
.