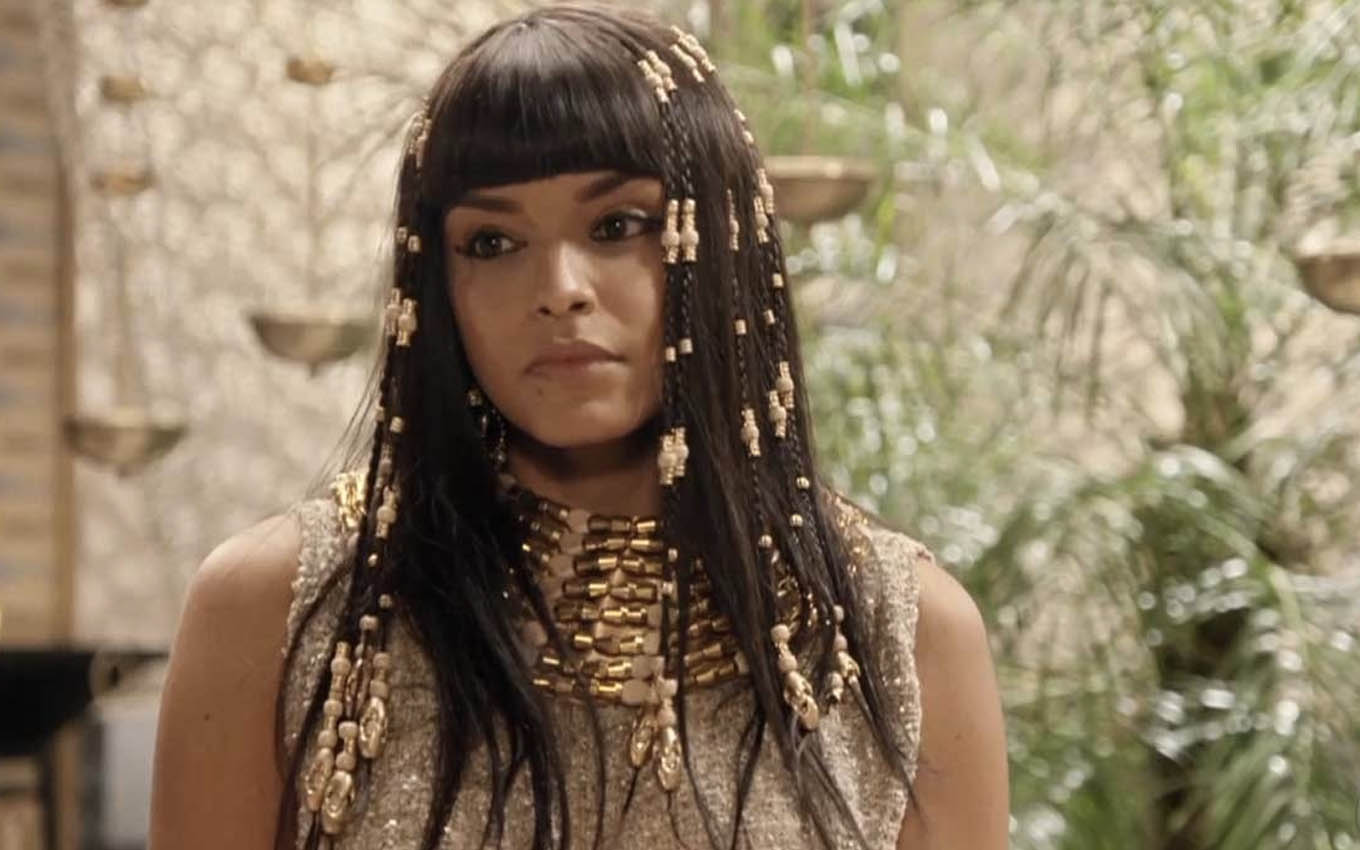 The wigs and gold that cover Kamesha from head to toe helped Kizi Vaz "black" the court of Sheshi (Fernando Pavão) in Genesis. The actress jokes that the queen's crown not only suited her well but empowered her to show an Egypt different from what the viewer is used to seeing on TV — and far less white than in previous Record productions.
"I discovered the talent to be a black queen in power. I loved the characterization and, in fact, it brings strength to the character. Me and all the black actors were very happy with the representation within the plot. We have to keep in mind that blacks are a large part of this country and of history as a whole", points out the artist to the TV news.
Despite slipping into other historical issues, the telenovela corrects inaccuracies in other series and biblical serials such as Os Dez Mandamentos (2015), in which Maria Ceiça was the only black actress featured in Seti's court (Zécarlos Machado).
This time, blacks are the majority for the palace, like General Potiphar (Val Perré) and his wife Neferíades (Dandara Albuquerque), as well as the priest Pentephres (Nando Cunha) and Amanishakheto (Isabel Fillardis), the queen of Nubia –to where Kamesha was exiled by Sheshi on the false charge of high treason.
I felt represented by all these actors, plus many others. I always talked with Nando, who became a great friend, about the strength we have within the soap opera. We've been put away for a long time, now we're coming in full force and getting closer and closer. Nobody is going to stop us, whether in art or any professional field.
REPRODUCTION/INSTAGRAM
Kamesha (Kizi Vaz) in Genesis
Is Kamesha innocent?
The serial will finally reveal this Thursday (23) that Kamesha is innocent, but Kizi confesses that he had already received the name of the true traitor beforehand. "I practically read the entire script before I started recording. So, I already knew everything, I couldn't even play detective", he assures.
The interpreter also already knew the story of José (Juliano Laham). "I was born into an evangelical family and I was very moved to help tell this story, which is one of the ones I love most in the Bible. I felt touched at various times," she says.
Kizi explains that spirituality was essential so that, unlike Kamesha, she was not disoriented about what to do with her own life:
I am a woman of great faith, and my belief never left me adrift. God has a purpose in my life, as he does in everyone's life, and knowing that gives me security. It strengthens me so I don't fall into places that will leave me lost. Even in difficult times, God is always leading me with wisdom and learning.
REPRODUCTION/TV GLOBO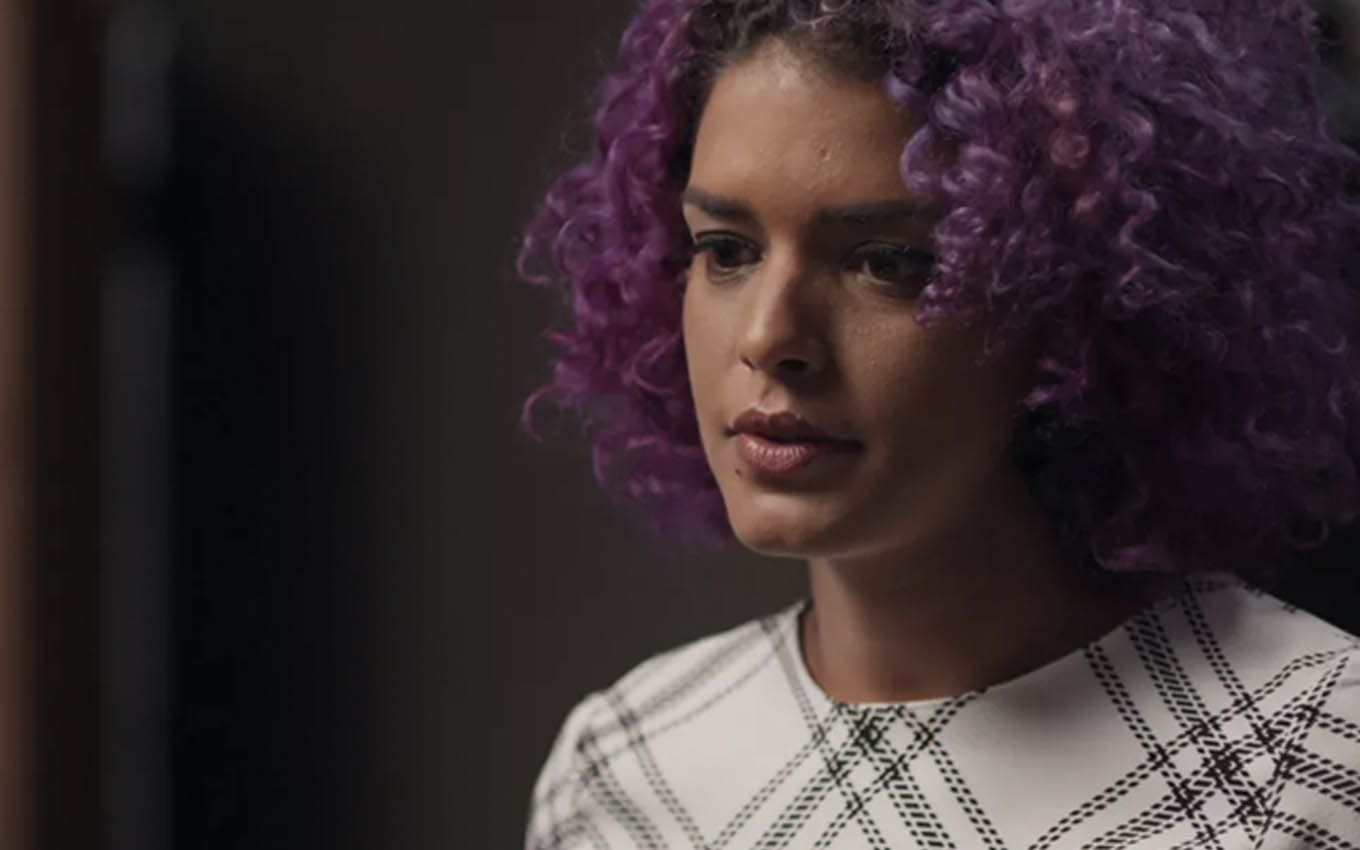 Kizi was also on the air in Ilha de Ferro
against neutrality
Amidst discussions about the role of the artist in society, Kizi echoes those who do not choose a neutral position on social networks. "I always try to position myself in favor of freedom, charity, love, art and transformation", argues the actress, who maintains the social project Curta Arte Caxias in Baixada Fluminense.
I believe that the artist has a great role, to use the visibility we have to help make people think better about what attitude to take in a society that tries to silence us. It's not an obligation, but we can make a difference in the face of causes that are overlooked. We can't pretend everything is normal.
The interpreter, who was also on the air in Ilha de Ferro during the pandemic, is still trying to make a difference in raising her son Pedro Luiz, 13, by educating him for diversity:
He is my best friend, my confidant in life. Born into art, living with people from various tribes and religions. I have always taught that we are all equal and that we are no better than anyone else. Educating is a very difficult task, but I see that at the same time it is very pleasurable. The only problem is that the teenager wants to become an adult very quickly, then it gets complicated (laughs).
---
Learn all about the upcoming chapters of soap operas with the Noveleiros podcast
Listen to "#76 – José Alfredo Rises from the Underworld in Império!" on Spreaker.
---
Subscribe to the channel TV news on YouTube and watch videos with revelations of what will happen in Genesis and other soap operas.
.