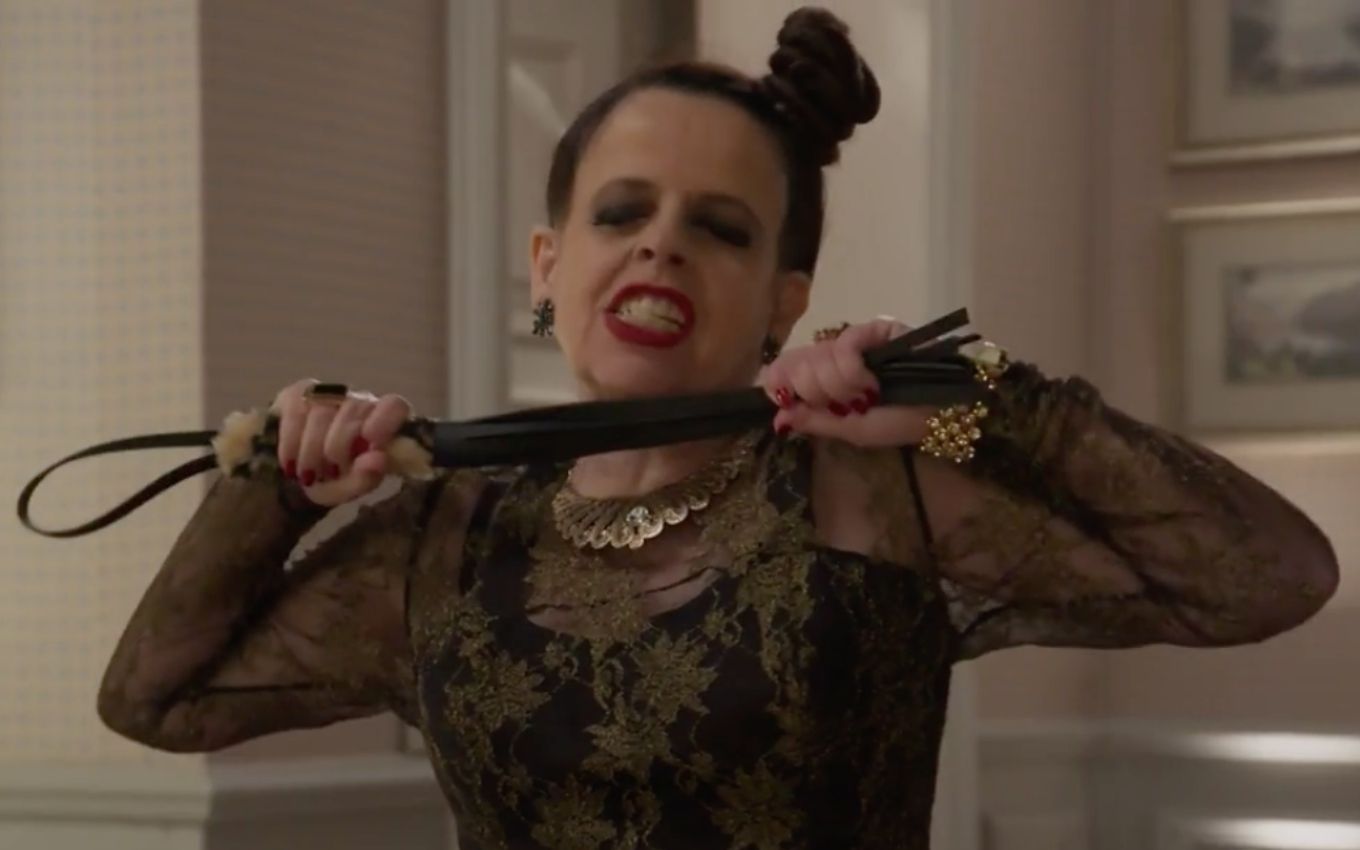 After casting a spell with Leozinho's underwear (Gabriel Godoy), Safira (Cristina Pereira) will seduce Fedora's husband (Tatá Werneck) and drag him to his bed in Haja Coração. In Globo's seven o'clock soap, Teodora's cousin (Grace Gianoukas) will play bass to satisfy her sexual desires.
At the Abdala mansion, Aparício (Alexandre Borges) will be talking to Ariovaldo (Duda Mamberti) when he hears a strange cackle. "What's that? It will say that Fedora has filled the house with animals again!", Complains the businessman. "Look, it's a chicken!", The butler will warn in scenes that will air on February 13th.
Meanwhile, the patricinha will be screaming from the bathroom of her room, where she will have been locked by Leozinho. "Someone open the door! Help me here!" She will shout from the suite. With the screams, Agilson (Marcelo Médici) and Lucrécia (Claudia Jimenez) will arrive to help her niece. "But what is this, my God? Are you stuck?", Asks the blogger's aunt.
"Leozinho arrested me here", explains Teodora's heiress. "Hey, Fefê, what did you do?", Will ask Aparício's brother. "Uncle, is it possible for you to open the door for us not to be talking between the glass? I don't know why Leozinho did this", will answer Tancinha's enemy (Mariana Ximenes).
"What was that noise? Was it a cackle? For God's sake, I'm terrified of chicken, huh!", Gigi will be scared. "No, it's Safira, who has now been able to cackle around the house," explained Lucrécia. "What about Leozinho? Where is he?", Will ask Fedora.
Then, in the mansion room, Aparício will try to capture the chicken, and the young woman will notice that the bird has Leozinho's underwear and panties attached to it. "What underwear, daughter? There are two pieces of cloth!", Rebels Rebeca's beloved (Malu Mader). "I recognize habib's underpants," the spoiled girl will insist, picking up the bug. "Fefê, don't let go of this monster, greater spell face! ", warns Agilson.
"Spell? Look, she has habib's underwear tied around her neck!", The blonde will shout. "And it's Safira's underwear! It's not that this woman really did a spell!", Camila's mother (Agatha Moreira) will confirm. "Oh, my São Sinfrônio, now there is even witchcraft in my house", Aparício will lament.
Leozinho (Gabriel Godoy) in bed with Sapphire
Sadomasochism
Unbeknownst to the family, Safira will be practicing sadomasochism with Leozinho in his room. The crazy woman will handcuff him to the bed and use a whip to dominate him. "So, prisoner, ready to serve me?", Asks Teodora's cousin. "Ask for what you want. Ask, don't. Send, send me, go, my Lebanese flower, go!", Will answer the bewitched.
"Free Leozinho, you sorceress!", Shouted Fedora, from the corridor. "Did they find out?", The crazy one will be scared. "Let them scream, my jailer, nothing will stop us from being together! Hit!", Will continue the dominated, receiving more lashes.
The family will be forced to break down the bedroom door, and Fedora will come face to face with her embarrassing husband in Sapphira's bed. The heiress will then expel her second cousin from the Abdala mansion.
Haja Coração was first shown in 2016 and is an adaptation of Sassaricando (1987), a plot written by Silvio de Abreu. In addition to the spoilers, the TV News publishes daily summaries of the chapters of the replay of Globo's soap opera.
The booklet is by Daniel Ortiz, the same author of the unprecedented Salve-se Quem Puder, which has just been recorded and is scheduled to be shown again on March 22 with a summary of what has already aired in 2020.
---
Find out everything that will happen in the soap operas with the Noveleiros podcast:
Listen to "# 45 – All about Juliano and Natália's wedding at Flor do Caribe!" in the Spreaker.
---
Subscribe to the channel TV News on YouTube and watch videos with revelations of what will happen in Haja Coração and other soap operas.
.