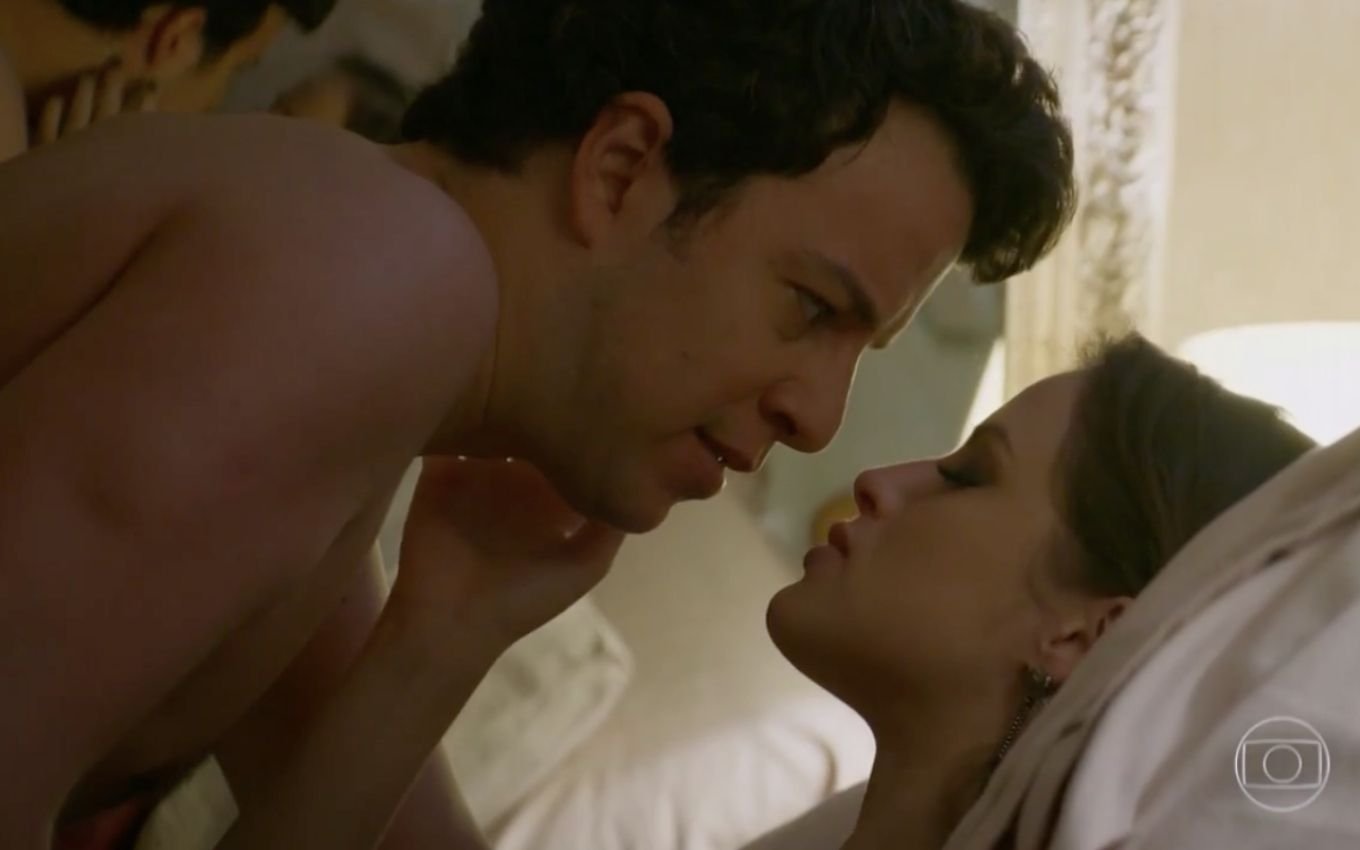 To try to escape from her love for Giovanni (Jayme Matarazzo), Camila (Agatha Moreira) will have sex with Enéas (Johnnas Oliva) in Haja Coração. However, the demoniac will take a shock of reality and will be betrayed by calling the mauricinho by the name of Francesca's son (Marisa Orth) in Globo's seven o'clock soap opera.
The bad girl will arrive at her apartment with Enéas and make fun of Camila "good". "Are you sure you want to live here again?", Will question Bruna's partner (Fernanda Vasconcellos). "It's my apartment, right? And I can't stand being in that mansion of horrors any more!", Fedora's cousin (Tatá Werneck) will say, complaining about the Abdala family.
"At least there you were being taken care of", Henrique's brother (Nando Rodrigues) will point out. "Watched, you mean. I'm going to ask Ariovaldo [Duda Mamberti] get my things. Hey, look, my wines are all here. That boring one didn't drink either, annoying girl ", will complain the young woman, who was bitter again.
"She wasn't … I mean, you weren't boring, much less embarrassed", will defend Aparício's assistant (Alexandre Borges). "What is that? Are you going to say that even you liked that other Camila better? Look, as far as I know, that one was in love with Giovanni and not with you", will pin the rebel.
"And you happen to be in love with me? At least, the other Camila respected me", strikes the photographer's doormat. "Did you decide to wash dirty clothes now? I can't do anything if you didn't like any of the Camilas. You lost me until praquele marginal! ", Lucrécia's daughter (Claudia Jimenez) will shoot.
"What did you bring me here for? To humiliate me, is that it? I didn't even have a chance to get close to you! You ran after Giovanni", Johnnas Oliva's character will recall. "So, okay, so prove that you can have a chance with me", will provoke Aparício's niece.
Without reaction, Enéas will be kissed by Camila and will be in shock. "Enéas, let's go match? It can be better, okay? I'm going to get a champagne because I need to drink, "the bore will warn." I was nervous. We haven't been together in a long time, I didn't expect you to kiss me ", justified the boy.
The crush will offer to open the bottle, and the noise will make Camila snap. The revolt will begin to remember romantic moments with Giovanni. "What is it, Camila? Are you okay", asks the young man. "No, I'm not doing well. Serve this champagne right away because I need to get these things out of my head, go," will demand the photographer.
Giovanni will be wanted by his ex-girlfriend
Illusion
After a while, Camila will take Enéas to her bed, but she will not be able to completely surrender. "Are you better now?", Asks the young man, worried. "I'm getting better, after two cups," replied the arrogant. "So come here, I know I can make you happy", promises the Grand Bazzar employee, kissing the girl with intensity.
To his sadness, however, the beloved will continue to remember the son of the market vendor and will make the biggest faux pas. "Oh, Giovanni, I miss you so much", Agilson's daughter (Marcelo Médici) will say, without realizing it. "Did you call me Giovanni?", Asks the "betrayed", starting an ugly fight.
"You called me Giovanni, you said you missed him!", The assistant will shout. "No, I didn't say any of that! You heard me wrong", will deny the confused. "Could it be that despite not remembering anything, you still feel something for him?", Asks the disappointed one. "I feel hate, contempt, disgust. Leave me alone. Leave my house!", Expels Camila.
Hurt, Enéas will call Bruna and warn that he will give up the plan to separate the good guys. Meanwhile, Camila will go after Giovanni to talk in the scenes that will air from next Tuesday (16).
Haja Coração was first shown in 2016 and is an adaptation of Sassaricando (1987), a plot written by Silvio de Abreu. In addition to the spoilers, Notícias da TV publishes daily summaries of the chapters of the replay of the Globo TV soap opera.
The booklet is by Daniel Ortiz, the same author of the unprecedented Salve-se Quem Puder, which has just been recorded and is scheduled to be shown again on March 22 with a summary of what has already aired in 2020.
---
Find out everything that will happen in the soap operas with the Noveleiros podcast:
Listen to "# 45 – All about Juliano and Natália's wedding at Flor do Caribe!" in the Spreaker.
---
Subscribe to the channel TV News on YouTube and watch videos with revelations of what will happen in Haja Coração and other soap operas.
.