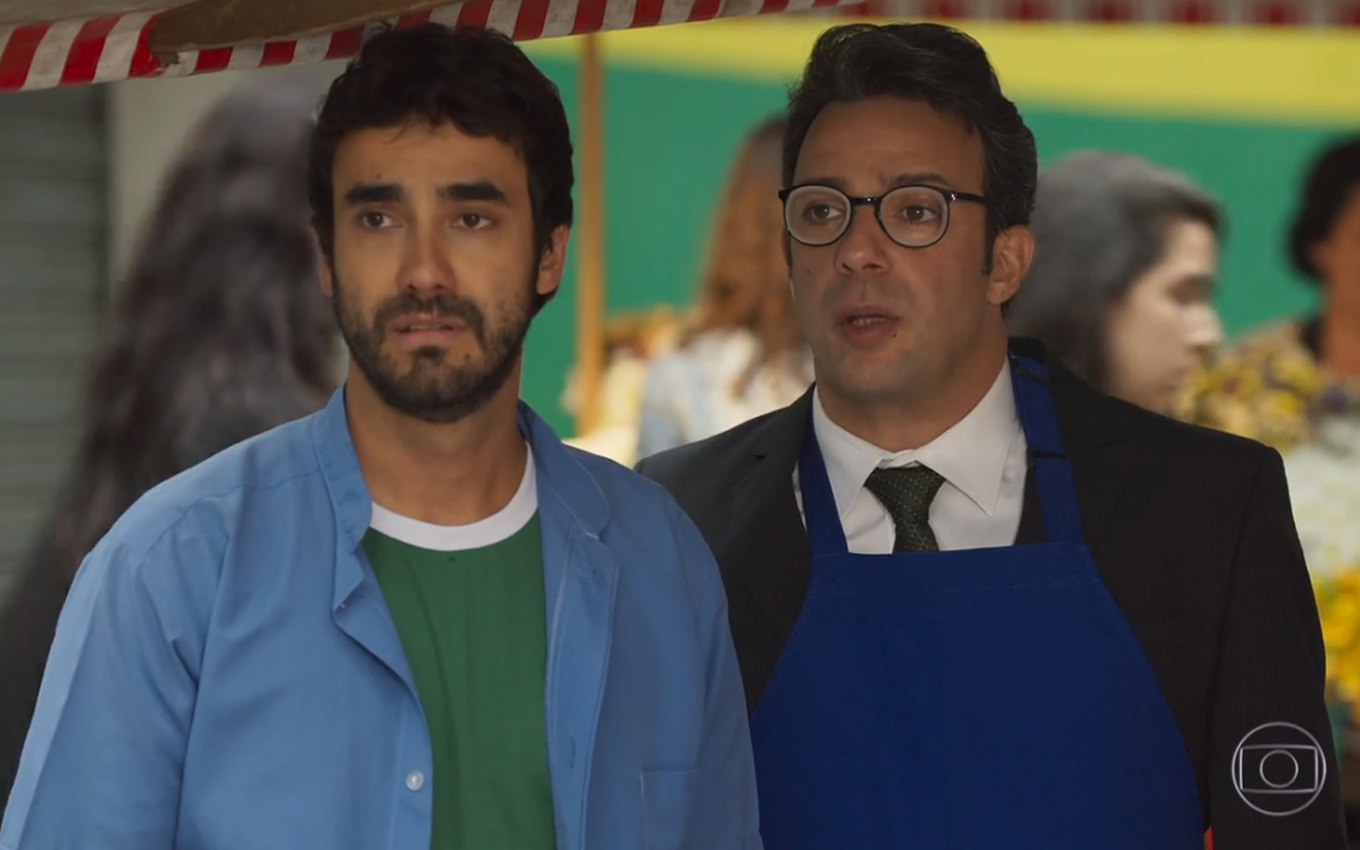 Gigi (Marcelo Médici) and Leozinho (Gabriel Godoy) will make an awkward debut as marketers in Haja Coração. Ashamed and without knowing how to behave in the tent, the scammers will have funny and tense moments in the seven o'clock soap opera. They will also be surprised at the visit of their ex-wives in the middle of the day.
The pair will have already done business with Tancinha's mother (Mariana Ximenes) when the sequence is shown. The public will then see the two swindlers arriving a little embarrassed to assume the post of Francesca (Marisa Orth) at the fair.
In scenes that should air on Saturday (13), the ex-marketer will give some guidelines. Before leaving, she will give them the aprons they must wear. Alone, they will be hindered to start sales. More cool, Leozinho will start screaming to attract the attention of customers. "Look at the fruit! Look at the fruuuuuta", the thug who was known as Raposão will be crushed.
From a distance, Lucrécia (Claudia Jimenez) and Fedora (Tatá Werneck) will decide to spy on their ex-husbands, both feeling sorry for their situation. They will agree to be cautious with men, as they are crooks and may want to hit them again.
"Auntie, how silly we are, right? Do you think we should go home? Because we were abandoned, we were humiliated, and we still like and love these affectionate, yummy … Let's talk with them! ", Fedora will speak, contradictory.
Reconciliation
Between one client and another, Gigi will confess to her partner that she was unable to sleep at night, thinking about the ex-wife's kiss. "You were married to her all your life, only now that you lost that you decided to value?", Asks the youngest. "Isn't that the rule? We just want what we don't have," Gigi will reply, laughing at his own misfortune.
Back at work, they will be surprised by the arrival of Lucrécia and Fedora. "You came here to make fun of our poverty", accuses Aparício's brother (Alexandre Borges).
"Magina! We traveled an hour and a half to the east side [da capital paulista] to buy this banana that is the best in São Paulo ", says Lucrécia." Yes, Leozinho, I came to pick apples from Jardim Europa [região central da capital paulista] is missing ", the patricinha will lie. Without resisting, the couples will embrace and exchange kisses without paying attention to the curious looks of the other marketers and consumers.
Haja Coração is an adaptation of Sassaricando (1987), written by Silvio de Abreu. The plot is on the air at 7 pm on Globo and is by Daniel Ortiz, the same author of the unprecedented Salve-se Quem Puder, which has just been recorded and will be shown again on the 22nd with what has already aired in history in 2020. The unpublished chapters of the booklet will only be shown from May 17th.
---
Find out all about the next chapters of the soap operas with the Noveleiros podcast
Listen to "# 49 – All about the endings of A Força do Querer!" in the Spreaker.
---
Subscribe to the channel TV News on YouTube and watch videos with revelations of what will happen in Haja Coração and other soap operas.
Feedback Policy
This space aims to expand the debate on the subject addressed in the news, democratically and respectfully. Anonymous comments are not accepted nor do they violate ethical and moral laws and principles or promote illegal or criminal activities. Thus, slanderous, defamatory, prejudiced, offensive, aggressive comments that use bad words, incite violence, express hate speech or contain links are summarily deleted.
.