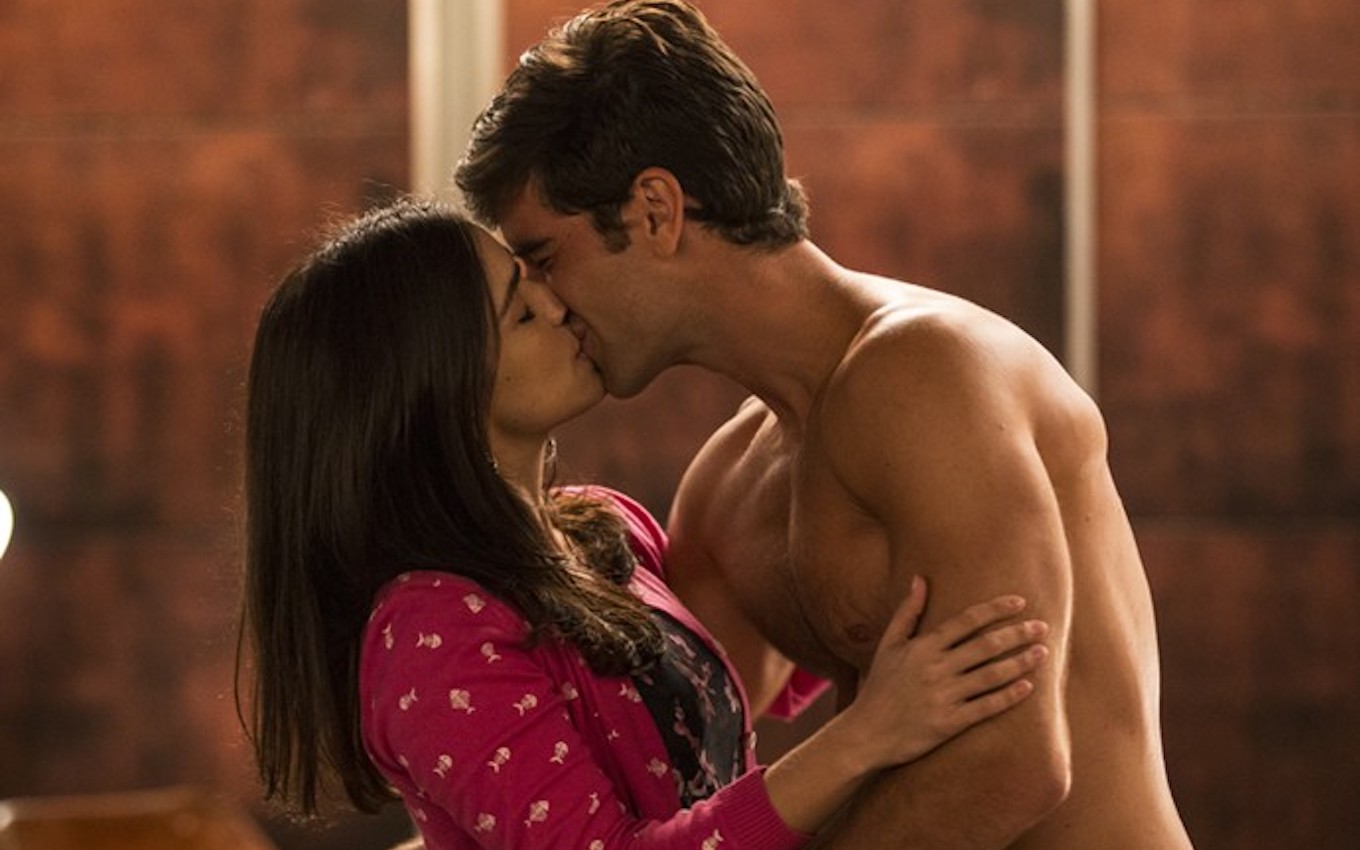 Shirlei (Sabrina Petraglia) will start living for her fairytale starting next Thursday (14) in Haja Coração. She will be so ecstatic when kissing Felipe (Marcos Pitombo) for the first time that she will not even have the courage to say that she had never kissed anyone. In a way, the playboy will feel it and drool over his new girlfriend in the Globo soap opera.
After the publicist declares himself to the cleaning lady and kisses her, Francesca's youngest (Marisa Orth) will go home as if she were daydreaming. The "Shirlipe" couple will engage the romance shortly after this first exchange of affection.
He will tell how his blood boiled when he discovered what Jessica (Karen Junqueira) did to her. In the show, the wicked blonde tried to bribe her rival to get her out of her fiance's life. "What did she say? Did she offend you? Of course she offended you, threatened you. She must have told you to quit, that's Jessica's face", will regret the good guy.
The girl will then clarify that she does not have a boyfriend, since Felipe thinks that the young woman has something more with her neighbor, the character played by José Loreto. "Adonis got into trouble, I helped. That night he just wanted to thank me", explains the marketer. Carmela's sister (Chandelly Braz) will be called beautiful and attractive.
Then, the youngest of the Di Marino brothers will go home and tell everything to her mother and Tancinha (Mariana Ximenes). "I couldn't tell Felipe that I had never been kissed," said the young woman.
At the same time, the playboy will vent to Henrique (Nando Rodrigues). "I felt naive, as if she had never been kissed, unlike all the girls I've ever dated", the boy will release.
Haja Coração was first shown in 2016 and is an adaptation of Sassaricando (1987), written by Silvio de Abreu. The plot is by the same author of Salve-se Quem Puder, a soap opera that has just been recorded and is expected to return to the air from March this year.
Pitombo in conversation scene with friend
Summary of chapters
Second, 1/11 (Chapter 79)
Apolo does not understand the hostility with which the people of the village receive him. Tancinha makes it clear to Beto that he still loves Apolo. Adonis is touched by Shirlei's interest in helping him. Felipe watches Shirlei and Adônis from a distance and concludes that they are together.
Aparício orders Camila to produce photos in Angra dos Reis for the new Grand Bazzar campaign, in order to bring her closer to Giovanni. Beto and Tancinha are attracted during a samba circle. Apolo is devastated to see the video where he appears with a woman.
Tuesday, 12/1 (Chapter 80)
Carol tells Cris that Shirlei is not dating Adonis. Francesca notes that Shirlei has been sad since he resigned. Henrique notes that Felipe is in love with Shirlei. Apollo is despised by the neighborhood of the village. Tancinha and Beto arrive on a trip and come across Apolo. Tancinha despises Apollo and asks him to forget her.
Aparício and Agilson try to hide from Rebeca when she appears by surprise in the mansion. Fedora and Lucrécia accuse Rebeca of being Aparício's lover. Henrique asks Penélope if she would leave him if any of his children did not like him.
Ariovaldo simulates a heart attack to distract Fedora and Lucrécia while Agilson takes Rebeca from the mansion. Francesca encourages Tancinha to be with Beto when her daughter confesses her attraction to him. Carol tells Shirlei that Felipe broke up with Jessica.
Wednesday, 1/13 (Chapter 81)
André notices Tamara's interest in Apolo. Aparício is concerned to realize that some members of the Council are in favor of Fedora. Beto sees Penélope and Henrique talking and asks if the two know each other. Henrique tells Beto that Penélope is friends with his girlfriend Leonora.
Felipe asks Shirlei in dating. Apolo accepts Adriana's proposal and returns to be a Mercury pilot. Murilo helps Carol to take Bia to the hospital. Tancinha does not accept Apolo's apology.
Thursday, 1/14 (Chapter 82)
Apolo tells Shirlei that he won't be able to live without Tancinha. Aparício encourages Giovanni to find Camila in Angra. Francesca and Tancinha celebrate when they learn that Shirlei is dating Felipe. Beto is ready to help Francesca and Tancinha to open a restaurant.
Carol is nervous when the doctor says she needs someone of legal age to sign Bia's discharge. Camila is startled to see Giovanni on the yacht that Aparício ordered her to board. Camila tries to escape when she sees that she is alone with Giovanni on the yacht. Apolo doesn't like Tamara's behavior. Fedora celebrates his inauguration as president of Grand Bazzar.
Friday, 1/15 (Chapter 83)
Aparício asks Bruna for help to prevent Fedora from assuming the presidency of the company. Camila watches the video recorded by Aparício, encouraging her niece to stay with Giovanni. Camila kisses Giovanni. Bruna and Enéas discover that Aparício helped Giovanni to travel with Camila. Carol asks Apolo to sign Bia's discharge.
Apolo overcomes Tamara and wins the best position for the race. Rodrigo and Beto assist Francesca and Tancinha in opening a canteen. Apolo asks Carol what happened to Afonso. Tamara celebrates when she learns that Henrique loves his mother and promises to help him convince Beto to accept the relationship. Camila questions Giovanni about her company in the cinema.
Saturday, 1/16 (Chapter 84)
Camila presses Giovanni, who decides to tell how she met Bruna. Aparício reveals that there is a document proving that Teodora gave 2% of the shares of Grand Bazzar to Safira.
Tamara makes a dinner with Penélope and surprises her mother with the presence of Henrique. Camila offers to investigate the explosion in the Grand Bazzar warehouse in order to clear Giovanni. Beto gives Tancinha and Francesca a surprise.
---
Haja Coração chapters are provided by Globo and are subject to change without notice.
---
Subscribe to the channel TV Newson YouTube and watch videos with revelations of what will happen in Haja Coração and other soap operas.
.