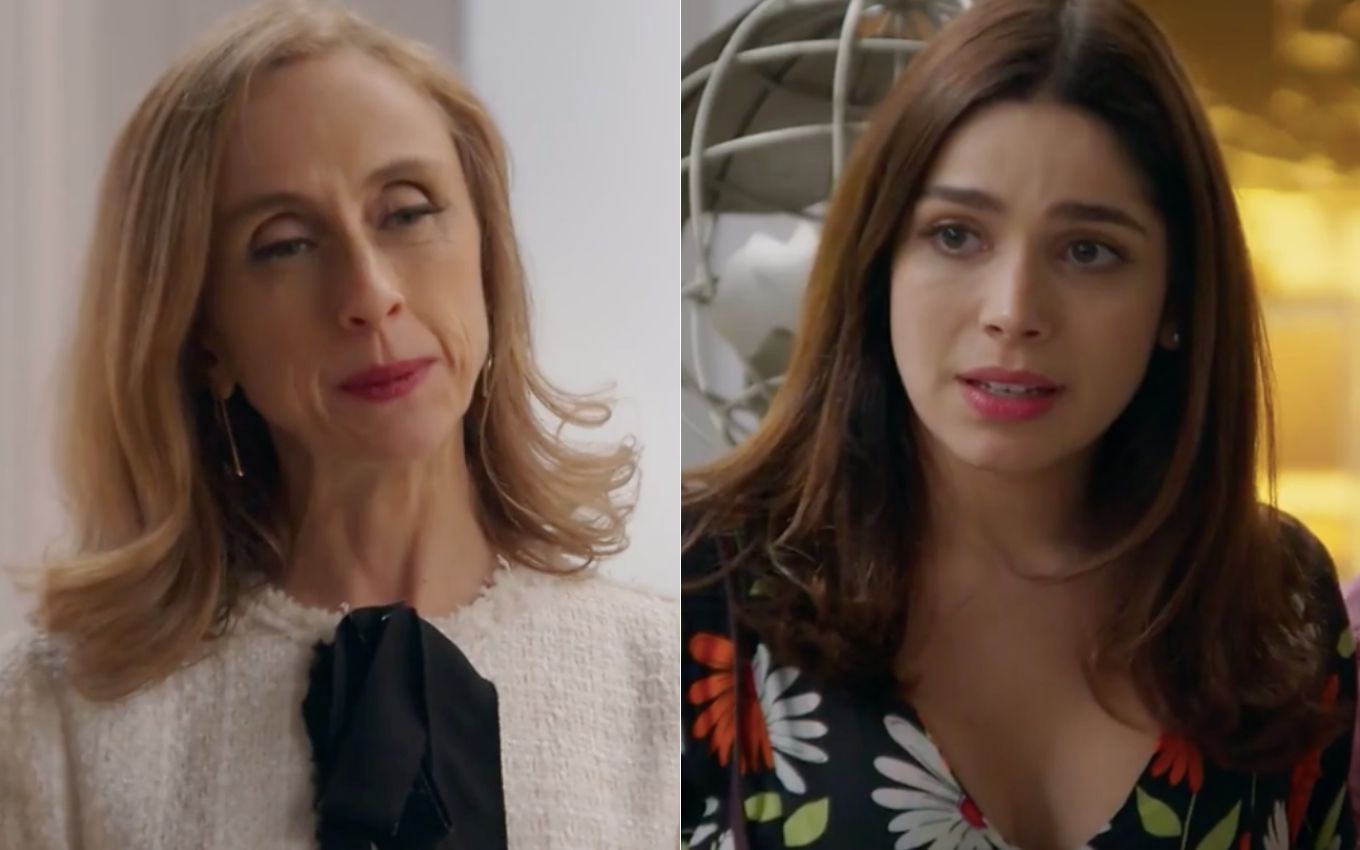 In Haja Coração, Vitória (Betty Gofman) will have to change her strategy to make Shirlei (Sabrina Petraglia) get screwed forever. Felipe's mother (Marcos Pitombo) will treat Francesca's daughter (Marisa Orth) badly, but she will pretend to be a good girl soon afterwards just to manipulate her son's girlfriend in the Globo soap opera.
The rich woman will come home all dazzling, but her face will change as soon as she notices Shirlei sitting on the couch with Felipe and talking to Mario (Werner Schünemann), who is actually Guido Di Marino, the father of the ex-cleaning lady. "What is that girl doing here?", Asks Vitória, sulking. "Oh, no, Mom. Are you going to start rudeness?"
"Victoria, you are an educated woman. Don't you want to try to get to know your son's girlfriend better?", The blonde's husband will scold. "Sorry, I didn't want to cause any discomfort. But Felipe could have warned me, right? By the way, nobody talks to me in this house anymore, right?", Complains the madame.
"Dona Vitória, Felipe and I, we were already leaving", the trader will warn. "No way. Do you have any commitments? So, you both feel", will deny Felipe's stepfather. At this point, Shirlei will have no idea that the "father-in-law" is actually his father, a man who left the family when she was still a baby to live with Vitória in Italy.
"They are my guests for dinner," will announce Mario. Disgruntled, the wicked will go to the room with the face of few friends. "Oh, I can't do that. I'm going to talk to my mother," says the Peripécia employee.
"Can I try? If the problem is with me", Tancinha's sister (Mariana Ximenes) will ask. "I don't think it's better. It won't work," said Cris's father (Isadora Cruz). "No, let Shirlei try. Maybe talking to each other the problem will be solved", will support the boyfriend.
Pure falsehood
Shirlei will then go to the "mother-in-law" room to talk. "Excuse me, Dona Vitória", the young woman will say. "Did you come after me, girl?" Will question the blonde, harshly. "I know you like Jessica very much [Karen Junqueira] and that she must not have spoken very well of me … But it is natural, she would marry Felipe ", will understand the youngest of the Di Marino brothers.
"You spoke well. She was going to marry Felipe. But then a cleaning lady appeared, who seduced my son and ended the relationship for years," complains the character played by Betty Gofman. "No, I didn't seduce him, no! Things were happening", will argue Carmela's sister (Chandelly Braz).
"I came back to Brazil to help Jessica organize the wedding. She is my friend's daughter. And then, you show up, turn Felipe's head over," the dondoca will reprimand.
"I just wanted you to know me a little bit, to get that bad impression. But that's okay, I know that every mother is jealous of her son. At home it is no different, my mother is jealous of my brother Giovanni [Jayme Matarazzo]", the fruit seller will recognize." But, look, I'm here if you want to meet me, I'm open, I'm available ", will speak Shirlei.
Karen Junqueira opposite Chandelly Braz
Evil plane
Before Jessica's rival leaves the premises, Vitória will change her posture completely. "You're right. I'm being rude, I didn't give you a chance. I know, I'm really jealous, I'm very jealous of Felipe. Jessica also suffered a lot at first, but then she ended up becoming almost a daughter", will lie to dondoca.
"I will make an effort. I will try to see what Felipe saw in you, it will be good for you to stay for dinner. That way, we can talk a little more", will accept Mario's wife, pretending to be a good girl.
As soon as Shirlei leaves the room, the rich woman will call her ex-daughter-in-law and let her know that she has decided to change her strategy to ruin the brunette's life. "But he is very petulant indeed. Did he go to your room after you?" Shortly before, the villain will have explained part of the plan to Carmela, to have Shirlei unfairly arrested by the police.
"And it's still going to be for dinner. I had to change strategies with this girl. Otherwise, she will raise suspicions up front, when we set up our plan," explained Vitória. "He did very well, mother-in-law. Let the disabled think he won this battle," agreed the one rejected by Felipe.
Haja Coração was first shown in 2016 and is an adaptation of Sassaricando (1987), a plot written by Silvio de Abreu. In addition to the spoilers, Notícias da TV publishes daily summaries of the chapters of the replay of the Globo TV soap opera.
The booklet is by Daniel Ortiz, the same author of the unprecedented Salve-se Quem Puder, which has just been recorded and is scheduled to be shown again on March 22 with a summary of what has already aired in 2020.
---
Find out everything that will happen in the soap operas with the Noveleiros podcast:
Listen to "# 45 – All about Juliano and Natália's wedding at Flor do Caribe!" in the Spreaker.
---
Subscribe to the channel TV News on YouTube and watch videos with revelations of what will happen in Haja Coração and other soap operas.
.