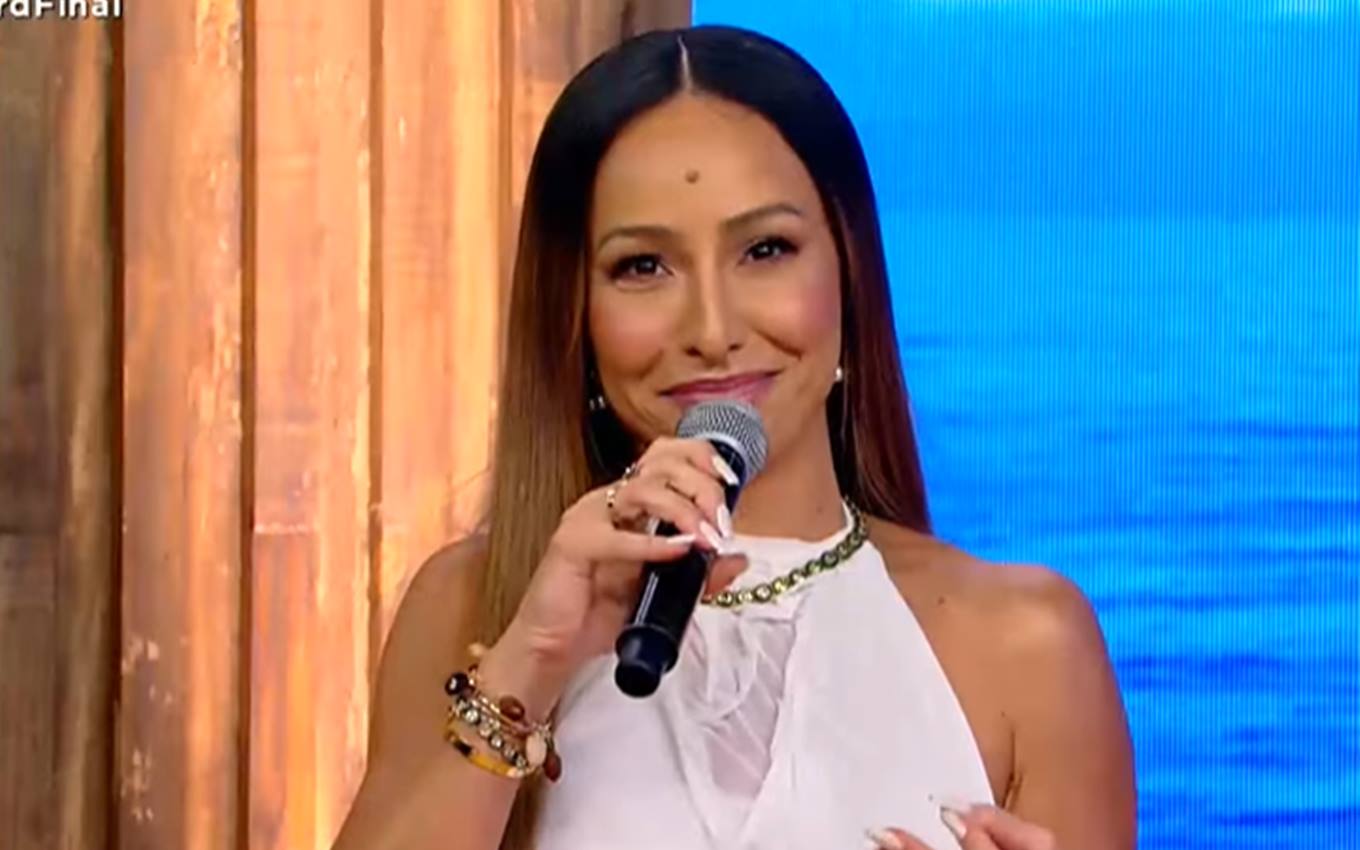 Sabrina Sato made several mistakes during the exhibition of the Ilha Record grand final this Thursday (9). The presenter was excited to meet the participants live, got names wrong, got confused with the voting dynamics, but didn't drop the shuttlecock and didn't lose her sense of humor.
The reality show commander's first gaffe happened when she decided to send a message to Laura Keller's son, but ended up changing the child's name. "A kiss to João Emanuel", said the communicator. "It's Jorge Emanuel," Laura corrected.
At another time in the edition, Sabrina stated that the vote to define the values ​​of the boxes with the precious stones had been closed, but was lost as soon as she received a production notice on her electronic point. "Attention people, the voting is over! (pause). Oh, no. It's not over, no. Keep voting, guys," warned the presenter.
Zoe's mother was also lost when asked by Lucas Selfie about the vote that would define the winner of the R$ 250,000. As soon as she informed the participants that the voting would be closed to announce the exit of six names from the dispute, the former Panico wanted more details on the continuity of the dynamic.
"But then are you going to open a new poll? Or are you going to pick up where you left off?", asked the participant of A Fazenda 12. Confused by the question, Sabrina was also unable to understand the information on the electronic point and laughed out loud on stage.
"Wait and I'll tell you," said the presenter, without removing the doubt from the explorer. "Lucas Selfie, don't complicate me. This is live," she added, laughing.
After announcing Mirella Santos' victory by popular vote worth R$ 250,000, the presenter tried to console Nadja Pessoa, but was wrong to say that the former farmer had come close to beating the dancer.
"Nadja, you came pretty close," Sabrina said. In the vote, however, the blonde didn't come close, as Mirella got 79.33% of the votes, while Nadja got only 20.67%
The commander of the reality series at Record did not stop there and, at another time, she amused the audience by calling Nadja's fan club "Nadjacos". The influencer corrected the presenter: "Nadnático".
Check out the videos of the edition:
---
Learn all about reality shows with the podcast O Brasil Tá Vendo
Listen to "#52 – All about the new season of the Show of the Celebrities!" on Spreaker.
---
Subscribe to the channel TV news on YouTube to check out our daily newsletters, interviews and live videos
.