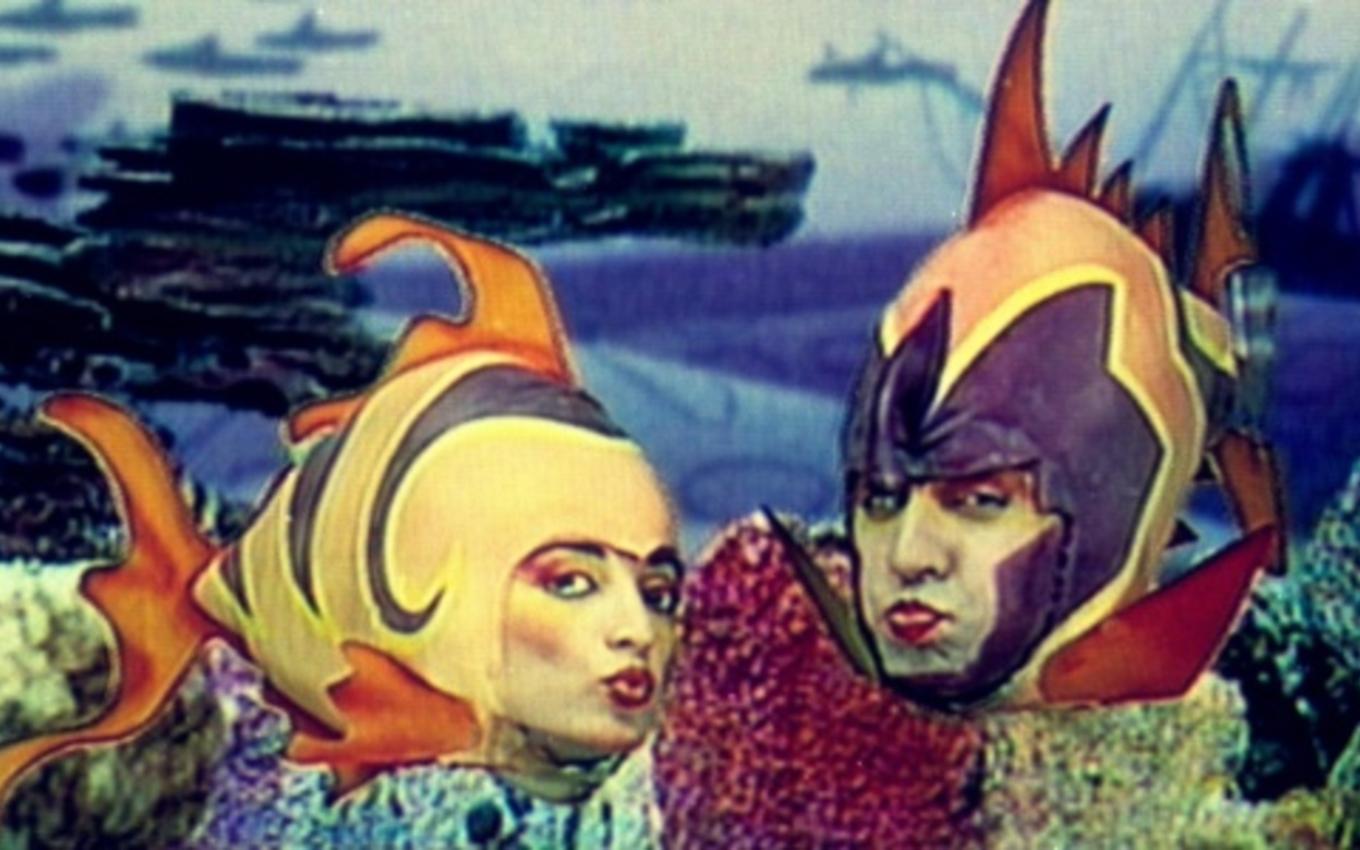 One of the programs from the golden age of TV Cultura's children's production, Glub Glub turns 30 this Thursday (9). The attraction was marked by the image of two actors, of whom the audience only saw their heads moving, with huge helmets, in front of a backdrop of the seabed (which even had real fish as well). In addition to the interaction between them, Glub Glub presented, over more than 700 episodes, cartoons and information about environmental preservation.
The protagonists of the program were two fish, Glub (Carlos Mariano) and Glub (Gisela Arantes). They talked to each other about subjects related to marine life, in child-friendly language.
To transform themselves into fish, the actors went through a long journey: they arrived at the Cultura studios in the early morning and faced about three hours of characterization. "It was a very dramatic moment. The makeup was very complex, there was a prosthesis on the face, so it was a lot of work. Then, to take it off, it took another hour. We spent a good part of the day in the function of getting ready", she says Gisela.
There were also the fish helmets, which weighed and required special physical preparation from the actors.
"It was a tough thing, Glub's head weighed about two kilos. We exercised, warmed up to be able to sustain us, but even so it was quite tiring. There were moments, when it was at its peak, when we recorded up to five programs a day. When it was over, I was like, 'Wow, someone's picking me up, someone's taking me.'
This intense pace of recordings didn't last long, as the cast asked for it to be reduced and to have only two or three programs recorded per day. But still Glub Glub has gone too far. Initially thought to be a 60-episode attraction, the show ran for eight years and had more than 700 chapters recorded in that wave. According to Gisela, the children's success is due to simplicity.
"It's a very simple program, made with only two actors, in a chroma-key system, in a studio with only two actors, great text", she says. In the beginning, the scenography had aquariums with real fish, which circulated and appeared in the image for the public. But, being a place with very strong and hot light, the team thought the animals might be suffering, so they were removed from there.
"Glub Glub had a lot of humanity. It brought this issue of friendship very strongly, loyalty, it brought human values ​​that touch people's lives. I believe that mainly this made the program a success. do bem program. This made it more and more popular with people. The generations were changing, and people continued with this affection with the program", declares the actress.
The first phase of Glub Glub came to an end in 1999, but the program returned for a brief new series of episodes, between September and October 2006. The reruns of infantile, however, continued to be aired, both on Cultura and on TV Rá Tim Boom, by subscription.
Even without the large amount of makeup they wore, the actors are still recognized today and receive affection from the program's audience — no longer children.
"Many people say: 'You helped to raise my children, to educate my children.' children, which I like a lot. Even today I'm very recognized with this, people are delighted when they know that I made Glub Glub", she says.
"Sometimes I'm at a corporate meeting, people are totally serious, and when they find out that I'm Glub… Wow, everyone smiles, changes the energy in the environment, that opens a path. I see how much the The program has an impact on people's lives, it helped in human and educational formation. This is something very cool," concludes Gisela.
.