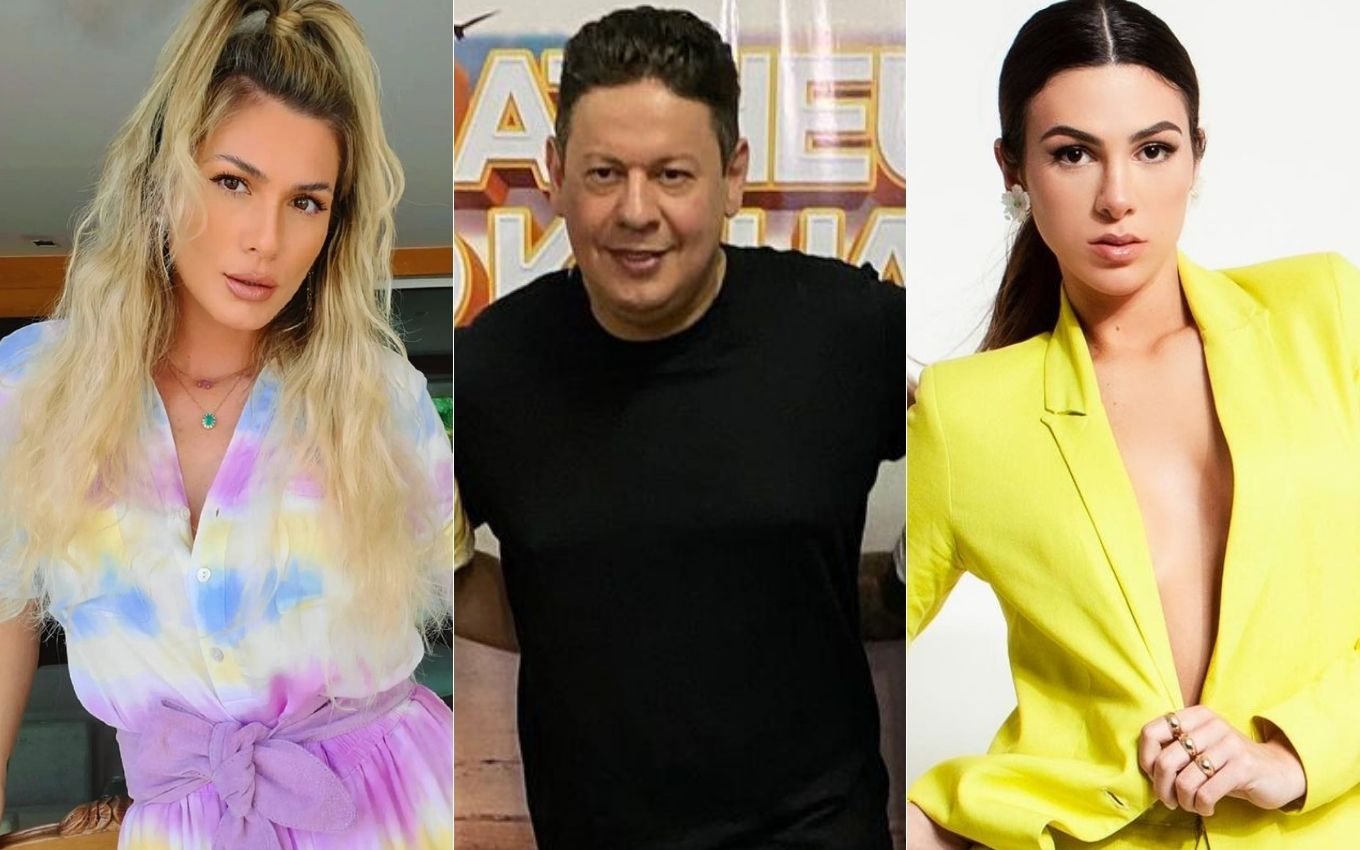 Lívia Andrade appeared surrounded by security guards in an unexpected meeting with the ex-wife of her current boyfriend, businessman Marcos Araújo. The president of AudioMix is ​​in the midst of a turbulent separation from Pétala Barreiros and would have demanded a DNA test from his youngest son. The test was held this Tuesday (21), and the presenter accompanied it.
The record of the meeting between Lívia and Pétala — Araújo's former and current one — was published by Yanka Barreiros, sister of the 22-year-old digital influencer, on Instagram. The businesswoman criticized the presence of a private escort at the site and said the security guards had caused "tension".
"Today was Luquinhas' DNA test [nove meses]. And look who accompanied everything outside with his father's security guard [meu ex-cunhado]: Livia Andrade. Poor thing, she was banned from entering. Well your face, Marcos. You are very predictable. This whole show, with more than four armed security guards intimidating me, my sister and nine-month-old Luquinhas," he wrote.
"No DNA do Lorenzo [o primogênito] it was the same thing. He took his ex-wife, three lawyers and six armed security guards, not counting his sister. As if he needed it. Who would need protection would be my sister, right? But you can be sure that I will always be on my sister's side," he declared.
In other publications, Yanka published photos of Araújo and Lívia on the spot. According to her, the bodyguards surrounded Petal and the baby's car. "Look how many security guards around the golden rosemary: three just around her [Lívia]. Now imagine protecting it. Despite the DNA test, Mr. Marcos Araújo did not know his own son. Congratulations," he criticized.
"Whoever sees him in the DNA today with this Louis Vuitton sneaker and this gold Rolex watch has no idea that he canceled his children's health plan. Joke," he said about his former brother-in-law.
In a sequence of videos for the Stories, Petal's sister was also silent and condemned the 38-year-old artist's appearance. "Today in Luquinhas' DNA. And look at the illustrious presence. How beautiful. She came all dressed up," she began.
"My God, as a 40-year-old woman, who calls herself a feminist, lends herself to this role? Look how cute Marcos' security guard is filming. Come on, Lívia. She thought her presence could make Petals mad. , knowing my sister, I know how serene she is and would never have any attitude around Luquinhas," he continued.
Finally, Yanka clarified that the children's agreement was suspended and that the influencer had discovered this in the worst way, on Sunday (19). "For those who are asking about the health plan, we only found out that it was canceled on Sunday. Petal went to take Lucas, who was short of breath, to the hospital. We found out that he canceled the health plan for his two children, even though he had been court-approved," he said while showing a print of the "suspended" notice.
O TV news contacted Araújo's defense. According to the lawyer João Fonseca, the businessman "will not pronounce himself under any circumstances", as "the process is a Family Law case and has judicial secrecy". Lívia and her legal counsel were also sought out, but they did not manifest themselves until the closing of this text.
In contact with the report, Yanka passed on the contact details of Petal's lawyer, who said that he must make an official statement by the end of the day.
See publications about Lívia Andrade and Pétala Barreiros:
understand the case
The story of Pétala Barreiros and Marcos Araújo, owner of Festival Villa Mix, president and CEO of Audiomix and manager of artists –such as Alok and Gusttavo Lima– was made public at the end of 2020. On December 28, the director's relationship with the presenter Lívia Andrade was disclosed. That same week, the young influencer vented that she had been betrayed when she was married.
In early January, Lívia decided to go to court for having been involved in Pétala and Araújo's divorce. Appointed as the pivot of the separation, the presenter filed a lawsuit against the young woman and issued a repudiation note for being suffering a "public condemnation".
At the time, Silvio Santos' former contractor declared herself single due to the controversy surrounding her personal life. She also said she would sue anyone who tried to publicly defame her or dishonor her.
According to Pétala, the artist's relationship with Araújo began in November 2019. The ex-husband himself would have confirmed the information.
Also in January, the São Paulo Court accepted a request for a protective measure requested by the influencer's lawyers and determined that the businessman is prohibited from "approaching her for less than 300 meters and maintaining any type of contact".
In the same month, however, Pétala received a visit from a court official with a summons that prevents her from proceeding with the statements in the media. She is prohibited from talking about Araújo.
.