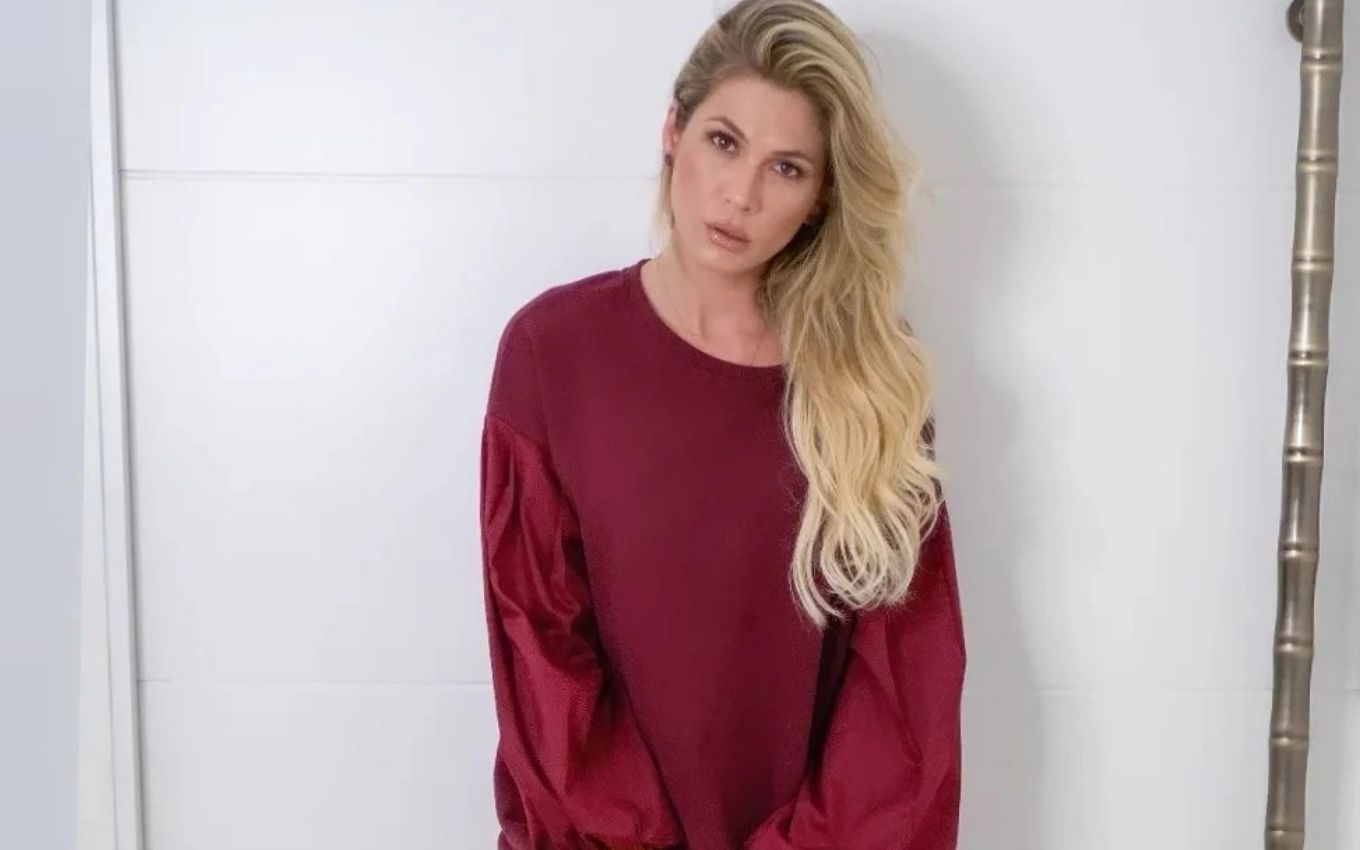 Lívia Andrade decided to comment on the criticism she received this Tuesday (21) for having accompanied her boyfriend, Marcos Araújo, in the DNA test of her son Lucas, the result of her marriage to Pétala Barreiros. The former couple faces a troubled separation in court, and this morning, the businessman went with his famous girlfriend to take the test. The presenter was judged for being on the spot, as her presence would intimidate the digital influencer. Because of this, the artist claimed that she is being "attacked".
Silvio Santos' former employee used her Instagram to express herself about the controversy. In a sequence from Stories, he vented the case hours after receiving a flurry of judgments. "I've been going through a very difficult situation in my life for a year. I've been persecuted and attacked. I was tried by the internet court and I was convicted by the judges. It's very difficult to go through that. However, I think it's important to be here," she began.
"My lawyers encouraged me to talk to you here. For the concern and affection you have for me. I'm getting many messages again. In fact, they never stopped. Since I was involved in a story that is not mine," he continued.
The model lamented the fact that she was filmed at the exam site. The recordings were made by Yanka Barreiros, Petala's sister, who posted it on her Instagram profile. "In this environment where I was exposed, children were exposed, families were exposed, employees were exposed, it's an environment, generally, where people go to do the investigation. The person enters to do the investigation and the companions are outside waiting" , he explained.
"It's a tense environment. It's not nice and it's not pleasant to be there. Everyone is already feeling emotional. Employees have to be very delicate and tactful to deal with this situation. It's all very difficult. I never imagined it. for someone to make a video of that moment. Even because there are so many people, so many families there and nobody wants to expose themselves right now. It's not a party. It's not a walk in the park," he said.
Livia complained about having to speak publicly about her steps. "I never thought I needed to give satisfaction or tell anyone where I'm going, where I'm going or who I'm with. This has never been part of my daily life, of my social networks. You know very well about it", he considered.
playback/Instagram
Lívia Andrade, Marcos Araújo and Pétala Barreiros
"My pattern hasn't changed, it's still the same. My life hasn't changed, it's still the same. The same types of posts and the same types of content. to come here to explain to me and talk about something that is the most normal: to accompany a person who you are in happy moments and in sad moments. I think this is what we expect from a normal and healthy relationship," he explained.
The digital influencer reinforced that if she is included again in the couple's story, she will try to defend herself. "It's pretty exhausting to be here talking about it again. But it's about Justice and there's a lot that doesn't concern me. I'm not going to expose process things, expose images of people and all that stuff, because it's not my concern ", he said.
"Now, what concerns me, yes. What I can say and show, yes. Even because I'm here to defend myself. Since the first time. I didn't come to the internet to talk about a person, even about people who I didn't even know, that I didn't even know they existed. But since I was mentioned, since they put me in this story, I'm going to the end. But I'm going for the correct one," he warned.
The presenter stated that she will seek legal means to clarify the issue. "Let's wait, because in court, it's not just about us talking, telling our story, our side of the truth. You have to prove it, you have to have material, evidence, documents and witnesses. That's how it is. People will analyze it. Competent bodies will analyze all that and see who is right or not. It's not up to me or you [internauta]", finished.
Afterwards, Lívia showed hate messages she received during the day. She was called "laughing" and "poor in spirit" by some haters.
Earlier, to TV news, the defense of the actress, who is also an actress, had already anticipated the information that they would take the matter to court. According to them, Yanka Barreiros cannot "dribble justice, exposing the child and others involved to attacks on social networks." Read in full:
"What is expected of someone in a healthy relationship is precisely that this person accompany the other in a delicate moment. There is no offense, nor anything unusual, in the fact that Lívia accompanies her boyfriend on an important day like today.
What was also expected, at a time like this, is respect for the child's image and privacy, and not their exposure on social networks.
It is important to clarify that Pétala Barreiros has already been convicted in court in a situation that precisely involved the exposure of Marcos Araújo's children and is prohibited by a court decision from citing him because of that.
Likewise, his sister is not allowed to dribble justice, exposing the child and others involved to attacks on social networks.
Finally, it is noteworthy that the whole situation caused today is nothing more than a smokescreen to hide the fact that the Public Ministry of São Paulo considered that there is evidence that Pétala Barreiros committed a crime of stalking against Lívia Andrade. Therefore, he marked the audience with Petal.
Therefore, today is another example of the persecution of Lívia Andrade, who did nothing but simply accompany her boyfriend. And the greatest proof of this are the hundreds of gratuitous insults and threats that were uttered against her and Marcos Araújo, today, on social networks, after the encouragement of Pétala Barreiros' sister.
Lívia and Marcos' defense will take all appropriate measures with the judicial and investigative authorities.
Ticiano Figueiredo and Pedro Ivo Velloso, Lawyers for Lívia Andrade"
See Lívia Andrade's statement about the case:
sister record out of fear
With the repercussions of the case, Yanka Barreiros returned to social media to talk about what made her record Lívia Andrade at the door of the exam site. According to her, the family was afraid of what could happen at the place, since everyone felt intimidated by the presence of the artist and Marcos Araújo's security guards.
She narrated that Petal has a protective measure against her ex-husband, so the two could not meet. The young woman, then, was waiting for the lawyer's definitions to start the test in her car when she noticed a strange movement in the street. According to Yanka, they were Araújo's bodyguards.
"The security guard started to surround our car. Because he knows our car. The security guard started walking behind our car, crossed the street and watched. And I recorded it because sometimes people don't believe it." narrated. Next, she displayed the records of a man hiding behind the pole guarding the vehicle.
The influencer's family would also have found one of the professionals in a bakery nearby, which caused distress. "I was a little scared, but I said: 'He's not going to do anything in a bakery. It's not possible,'" commented Yanka.
When Petal was called to take the exam, her sister could not enter. While waiting outside, he noticed Livia's presence and feared the worst. "My God, it's not possible. I can't believe she's here," he recalled.
Yanka reported that Araújo was not at the site because of the restrictive measure. He was waiting for his turn to take the exam in one place. But who positioned herself right at the main entrance was Lívia. "What happens is that he [Araújo] was not there. He was in the car in the parking lot, because he couldn't get close to the Petal," he detailed.
"Is it over there [Lívia] stood there at the door of the ramp with his arms crossed. I said: 'But Marcos isn't here. What are you doing here?'. There was her and two security guards at the door," he narrated.
"What was Lívia doing there? Since Marcos was across the street in the parking lot. She was standing there waiting for Petal to come out. There was no need for her to be there. Marcos wasn't inside. She wasn't waiting . She was just waiting for the Petal. That's why I started recording", he explained.
"I thought: 'I'm going to record because I'm going to inhibit them from doing anything against Petal and the baby. If I were recording, they wouldn't do anything," he said.
In her outburst, Yanka also revealed that her sister was fined R$ 35,000 for having mentioned the name of her ex-husband — she was prohibited by the courts from speaking about the case. Therefore, as a relative, she decided to manifest herself.
"She can't expose what happened to her. She has to keep quiet, because the Justice doesn't let her speak. Until my warrant arrives here saying that I have to shut up, I'll say everything. I'm not afraid of him." , finished.
O TV news contacted Araújo's defense. According to the lawyer João Fonseca, the businessman "will not comment under any circumstances", as "the process is a family law and has judicial secrecy".
Petal's lawyer was also contacted, but he did not manifest himself until the closing of this text.
See Yanka Barreiros' statement about the case:
See publications about Lívia Andrade in the DNA test:
understand the case
The story of Pétala Barreiros and Marcos Araújo, owner of Festival Villa Mix, president and CEO of Audiomix and manager of artists –such as Alok and Gusttavo Lima– was made public at the end of 2020. On December 28, the director's relationship with the presenter Lívia Andrade was disclosed. That same week, the young influencer vented that she had been betrayed when she was married.
In early January, Lívia decided to go to court for having been involved in Pétala and Araújo's divorce. Appointed as the pivot of the separation, the presenter filed a lawsuit against the young woman and issued a repudiation note for being suffering a "public condemnation".
At the time, Silvio Santos' former contractor declared herself single due to the controversy surrounding her personal life. She also said she would sue anyone who tried to publicly defame her or dishonor her.
According to Pétala, the artist's relationship with Araújo began in November 2019. The ex-husband himself would have confirmed the information.
Also in January, the São Paulo Court accepted a request for a protective measure requested by the influencer's lawyers and determined that the businessman is prohibited from "approaching her for less than 300 meters and maintaining any type of contact".
In the same month, however, Pétala received a visit from a court official with a summons that prevents her from proceeding with the statements in the media. She is prohibited from talking about Araújo.
.