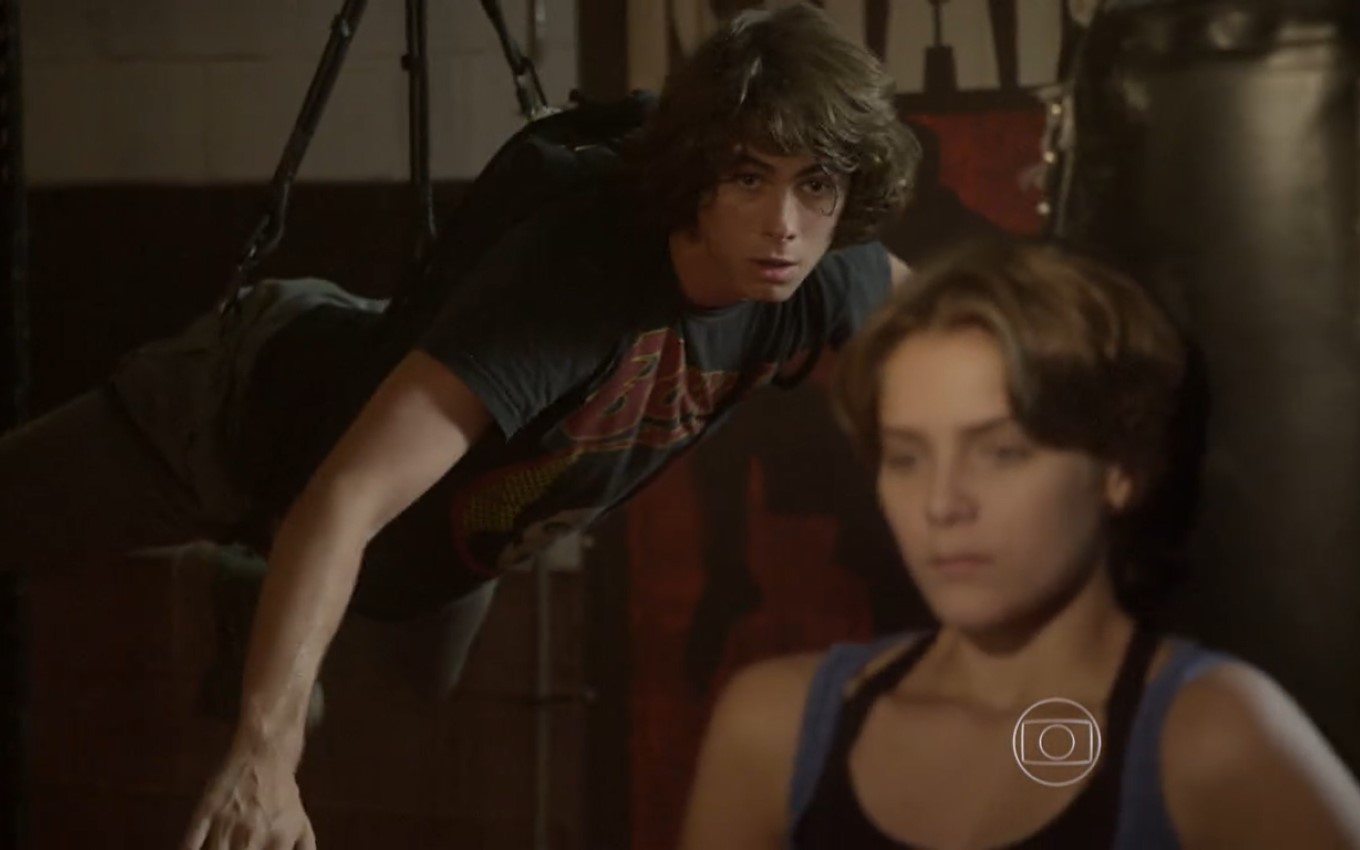 SUMMARY: Pedro (Rafael Vitti) will follow a plan to kidnap João (Guilherme Hamacek) to win back Karina (Isabella Santoni). The guitarist will invade Khan, Lobão's academy (Marcelo Faria), and will take the marrenta to Ribalta's bathroom by force. There, the two will be locked up for hours, and the boy will try to explain that he always had a sincere feeling for her. Bianca's sister (Bruna Hamú) will resist, but will be thrilled to hear her ex-boyfriend sing
Second, 6/9 (Chapter 160)
Lobão and Gael face off and Karina is sick. Dalva encourages Duca and Bianca to stay together. Jade tells all the setups to Edgard, promising that he will be a good person. Lobão invents that he had an affair with Ana and Gael despairs. Karina decides to leave with Lobão, and Cobra assures Gael that he will accompany the two. Dandara tries to talk to René to find out the truth about Ana and Lobão, but can't talk to her ex-husband.
Karina goes to Nat's house, and Cobra tells Gael, who asks Duca to check on his daughter's condition. Delma and Marcelo try to cheer up Pedro, who prefers to enjoy his solitude. Lobão asks Luiz for a secret about the falsification of the DNA test. Karina prepares to fight the Khan when Gael appears to take her away.
Tuesday, 7/9 (Chapter 161)
Lobão threatens the members of Galera da Ribalta. Jade tries to convince Bianca and Duca of her move. Pedro declares himself to Karina, but she ignores her ex-boyfriend. Dandara encourages students to give Jade a second chance. João suggests a plan for Pedro to win back Karina. Nat talks to Karina about Pedro.
João, Pedro, Nando and the gang from Galera da Ribalta prepare to help Pedro win back Karina. João reviews the plan instructions with the band members. John places a hidden camera in the Khan Academy. Nando is trapped in Khan's air conditioning duct. Barbara helps Wallace take care of Joaquim. Karina is alone at the gym and Pedro prepares to meet her.
Wednesday, 8/9 (Chapter 162)
Nando manages to free himself from the air conditioning duct and helps Pedro find Karina, who ends up dropping her cell phone at the gym. Duca comforts Gael, who suffers for Karina. As part of the kidnapping plan, Pedro and Karina are locked in the factory bathroom. Wallace and Barbara confess that they miss each other. Duca stays with Nat.
Gael confesses to Bianca that he regrets having been hard on raising Karina. Pedro tries to convince Karina that he always loved the girl. Sol arrives at Mari and Jeff's house and has a fit of jealousy when he sees Barbara. Duca and Nat believe that something serious has happened to Karina and they despair. Pedro sings to Karina, who cries without the boy noticing.
Thursday, 9/9 (Chapter 163)
Even tied up, Karina falls asleep with Pedro's affection. Wallace apologizes to Barbara and assures her friend that he won't let Sol offend her. Lobão is furious with Karina's disappearance. Nat tells Duca that Karina has disappeared, and the boy tells Gael. Lobão and Gael decide to team up to look for Karina. Delma discovers that Pedro has also disappeared.
Jeff and Mari dream of staying close to Ribalta, and Lincoln has an idea. Nando fears Gael's fury upon discovering his involvement in Karina's disappearance. Gael and Lobão decide to go to the police station. Lincoln suggests that Roberta open a food kiosk at her gym, and the businesswoman demands that Marcelo ask for permission. Jade manages to open the bathroom door and sees Karina and Pedro together.
Friday, 9/10 (Chapter 164)
Karina manages to free herself and leaves the bathroom, ignoring Pedro's requests. Gael and Bianca try to convince Karina to return to the house, but the girl gets angry and says she will stay with Lobão. Gael discovers that Nando and João helped Pedro find Karina and has a serious conversation with the three. Karina returns to the Khan Academy, but refuses to answer Lobão.
Delma rebukes Pedro's attitude. Lobão argues with Nat. Karina tells about the attitude of the ex-boyfriend towards Cobra, who tells the girl that Pedro really loves her. Duca confesses to Dalva that he has an affair with Nat. Roberta declares herself to Marcelo. Jade has a plan to help Pedro win back Karina. Lobão finds Duca's coat at Nat's house.
---
The chapters of Malhação Sonhos are provided by Globo and are subject to change without notice
.