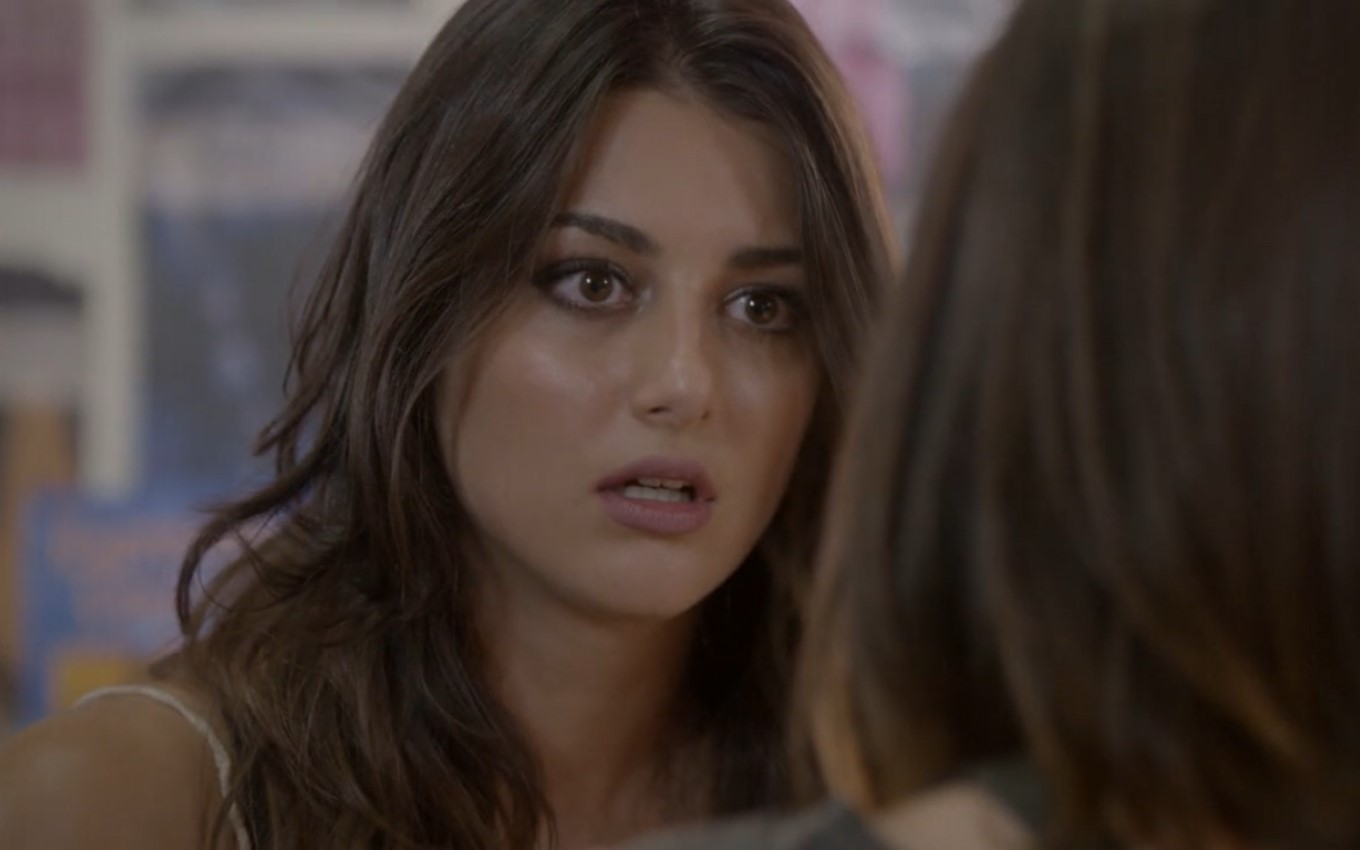 SUMMARY: Jade (Anaju Dorigon) will know from Vicki (Manu Gavassi) that Bianca (Bruna Hamú) paid Pedro (Rafael Vitti) to date Karina (Isabella Santoni). The aspiring actress will be tempted to use the information to take on her rival's role in Ribalta's play and will insinuate that she knows more than she should to the guitarist. The young man will despair and will comment to his girlfriend's sister that their relationship is on the line.
Second, 8/16 (Chapter 145)
Heideguer confronts Lobão, who threatens the lawyer. Beth is welcomed by the neighborhood. Wallace breaks up with BB. Nat sees the police envelope on Lobão's desk and is suspicious. Galera da Ribalta returns from the trip. Bianca tells Karina that she broke up with Duca. Nando kisses Delma and Marcelo tries to get satisfaction from his ex-wife.
Jade believes that Bianca will leave the play for Duca, but João tells him that the two are no longer dating. Beth goes back to work. Vicki tells Pedro that while he is in the band his secret will not be revealed to Karina. Sol says he's back as the lead singer of Galera da Ribalta.
Tuesday, 8/17 (Chapter 146)
With Sol's return to the band, Pedro fears that Vicki will reveal his secret to Karina. Jade provokes Bianca, who mistreats João. Jade learns that Bianca paid Pedro to date Karina. Henrique celebrates the end of the relationship between Bianca and Duca. Karina convinces Duca to fight her.
To try to get Delma's attention, Nando decides to travel. Gael is sympathetic to Duca's pain. To free Lobão, Heideguer sets up prisoner Jorginho to assume responsibility for the running over of Alan. Dalva is saddened by the memory of Alan. Jade reveals Pedro and Bianca's secret to Cobra.
Wednesday, 8/18 (Chapter 147)
Jade tells Cobra that she will use Bianca's secret to get the role of Juliet. Cobra demands that Jade not harm Karina. Sol and Wallace think of ways to raise money to buy Mari and Jeff's tickets to Rio de Janeiro. Lucrezia advises Jade. Lobão confirms to Nat the arrest of Alan's fake killer, but the fighter is suspicious.
Jade threatens to reveal Pedro's secret to Karina, but Cobra stops her. Jade confesses to Cobra that she wants the role of Juliet so her mother can see her on stage. Duca and Gael talk to Heideguer about their distrust of the arrest of Alan's alleged killer. Cobra says he'll help Jade get the role of Juliet, but asks the girl not to blackmail Bianca.
Thursday, 8/19 (Chapter 148)
Jade accepts Cobra's request and doesn't threaten Bianca. Sol kisses Wallace to provoke BB. Pedro comments to Bianca that he believes Jade knows about the deal they made for the boy to date Karina. Lucrezia talks to Dandara about her health. Bianca is distracted by the rehearsal and Edgard gets annoyed. Henrique insinuates himself to Bianca.
Duca thinks about Nat and Roberta advises him to apologize to the fighter. Nat questions Heideguer about Alan's alleged killer. Delma wonders why Nando traveled without telling her. Dandara wins the raffle and invites Gael to dinner at Perfeitão. Tomtom advises Pedro to tell Karina his secret. Duca looks for Nat.
Friday, 8/20 (Chapter 149)
Duca apologizes to Nat and kisses her. Bianca vents to her mother's portrait. Lobão, drunk, arrives at Nat's house and Duca hides. Sol invites Wallace to sing with her. The Galera da Ribalta show, made to contribute to the return of Jeff and Mari, is a success. Nat assures Duca that he'll prove that Heideguer is Lobão's ally.
Heideguer asks Henrique to get Bianca's support for Wallace to compete in a championship. Wallace comments to Gael that he would like to be a professional fighter. Jade demands Cobra's promise to get the role of Juliet. Tomtom tries to tell Karina about Pedro and Bianca's agreement, but gives up when he sees the girl's reaction. Duca kisses Bianca.
---
The chapters of Malhação Sonhos are provided by Globo and are subject to change without notice
.