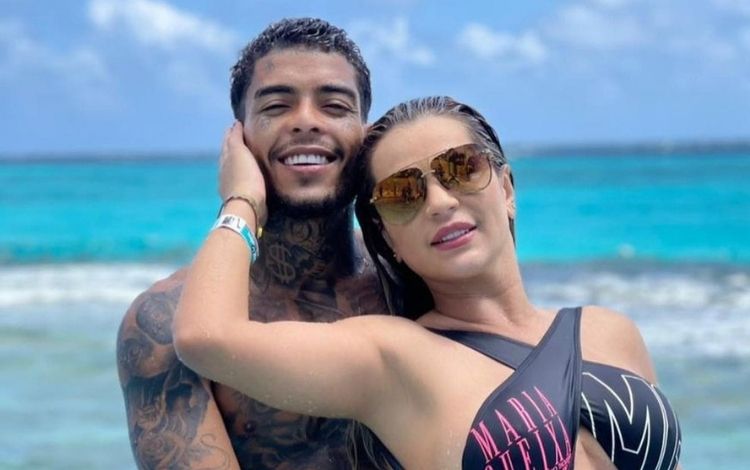 In a speech filmed by fans at the artist's funeral, Deolane Bezerra said that she fell out with her husband because she felt that the funkeiro's friends were 'sucking' him
Reproduction / Instagram / dra.deolanebezerra / 18.05.2021
Deolane Bezerra said she fell out with MC Kevin because of his friends

The lawyer Deolane Bezerra, widow of the singer MC Kevin, made a speech at the funkeiro's wake, which was open to the public and took place this Tuesday, 18, in Rio de Janeiro. The moment was recorded by fans and shared on social networks. Pointing to the coffin, Deolane said: "This is friendship, he is here today for friendship". According to the lawyer, Kevin went up to the 5th floor to give money to his friends. "My husband was lying with me and had to go down to pay hotel bills for people who should have left for São Paulo, but wanted to stay there with him and meddle in our life. He felt obliged to be everyone's dad. We are not obliged to tolerate blood sucks on our side, we all have to do where and do ours ", said the widow making it clear that she was upset by the situation.
Deolane went on to say that when Kevin started doing physical activity, he went three months without drinking and, even with jealousy, she realized that attending the gym was good for him. "Drinking is good, I also drink, but everything has its limits. I got tired of talking to Kevin, everything has a consequence in life and here is a consequence ", he said pointing again to the coffin. According to the lawyer, she and Kevin had fallen out over each other because of friends considered by her as bad influences. "I was asleep waiting for my husband to arrive. I had had a fight with him before going to sleep. It was a misunderstanding because his friends were sucking on him again. He went up to get money from one, I didn't say anything. He went up to get someone else's money and I said: 'Wow, life, are you a sucker for others? Why didn't they leave? ' It was supposed to be just me, him and a couple of friends, not five, six guys looking for a mess on the shore. A married man does not hang out with a single man, they are different lives, they are different attitudes ", he said.
During the speech, Deolane also said that his relationship with Kevin has always been intense: "I loved it, I forgave. Kevin and I spent a year and three months together and it was worth more than 10 years of marriage for many people who are here ". The funkeiro died last Sunday, 16, after falling from the 5th floor of a building in Barra de Tijuca, Rio de Janeiro. The case is being investigated by the Civil Police of Rio de Janeiro and, until then, there were two theories. One is that Kevin had gone down to hang out with friends and tried, in desperation, to jump onto the balcony of the apartment next door, because he thought his wife was arriving at the place. The other version is that Kevin would have tried to jump from the 5th floor into the pool, but ended up hitting his head on the edge. On social media, the singer's widow posted some stories saying that many lies are being told, but she still doesn't want to speak. According to her speech at the wake, Kevin would have gone down to give money to his friends, but the reason for the fall remained open.