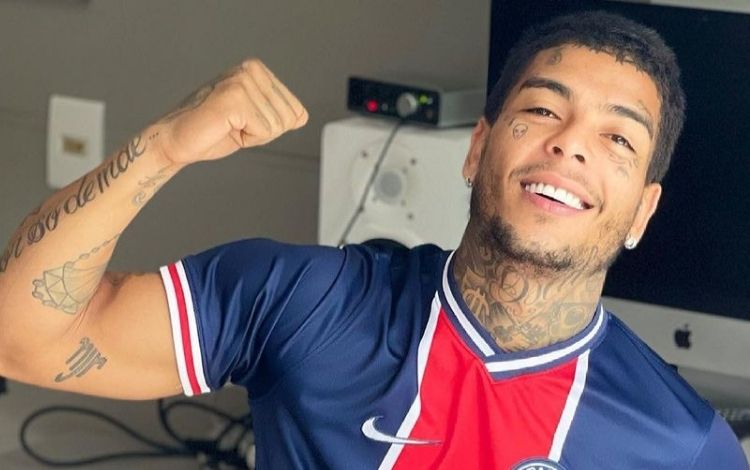 Singer, who has already given testimony, says that the audio in which he is pointed out as the person who encouraged the funkeiro to go to the 5th floor and jump from one balcony to another is false.
Playback / Instagram / mckevin / 18.05.2021
MC VK stated that he did not encourage MC Kevin to do anything and emphasized that he is in mourning

The singer MC VK is being criticized on social media after leaking an alleged audio in which a friend of MC Kevin says that it was VK who encouraged the funker to leave his wife, the lawyer Deolane Bezerra, sleeping on the 11th floor to go out with friends and some women on the 5th floor of a building where they were staying in Barra da Tijuca, Rio de Janeiro. Kevin died after falling from the apartment's balcony and one of the theories is that the funker got desperate when he thought the woman was arriving at the place where he was and tried to jump to the balcony of the apartment next door. VK gave testimony last Monday, 17, and used social media to say that he is not involved in the fall of his friend and declared that he is being "slandered" on social media.
"Do not believe any opinion, the truth will be exposed, I am committed to passing it on to you. All news is false. I'm soulless, exhausted, in a police station giving testimonies, without a cell phone and [lidando] with the loss of my brother ", wrote VK in the Instagram stories. "I ask for your silence out of respect for Kevin, for what happened and for the fact that I am committed to making you all know the truth, which is one! I was not the author of any situation, you will know ", he added. In a video that is circulating on social media, VK appears crying next to Kevin bloody shortly after the fall. "In the audio of the video being released, I say: 'It was not normal'. They deduced that I said: 'It wasn't bad' ", said the singer, who emphasized that he is mourning the loss of his friend. "I am suffering threats and with no ground inside, whoever knows my heart, knows it", he concluded. Another theory about Kevin's death is that he tried to jump from the 5th floor into the pool and ended up hitting his head on the edge. The Civil Police of Rio de Janeiro is still investigating the case.
AUDIO SAYING MC KEVIN WAS ENCOURAGED BY HIS "FRIEND" MC VK CHEATING HIS WIFE AND JUMPING THE BALCONY‼ ️😮 pic.twitter.com/Z42ICs5P3W

– Henriiq (@henriiqofc) May 17, 2021
bro, I don't believe this tape that Mc VK encouraged him, because in the audio it says that Kevin's wife was sleeping

and Kevin's wife says that when it happened (he fell), she was in an apartment (a few floors up) with a friend

so, this is very disconnected

— Matheus. (@mathsssaint) May 17, 2021
Comments on MC vk's photo, if this story that he influenced Kevin to jump is vdd moio🤦🏻‍♂️ pic.twitter.com/62u0Db5kKJ

– 𝓚𝓯 ᶜʳᶠ (@flanatik) May 17, 2021
I don't think it's right to attack Mc Vk, nobody knows what really happened. They should not point a finger and threaten the guy, he is capable of committing suicide and feeling guilty.

– Gabi ˢᶜᶜᵖ (@meiirex) May 17, 2021