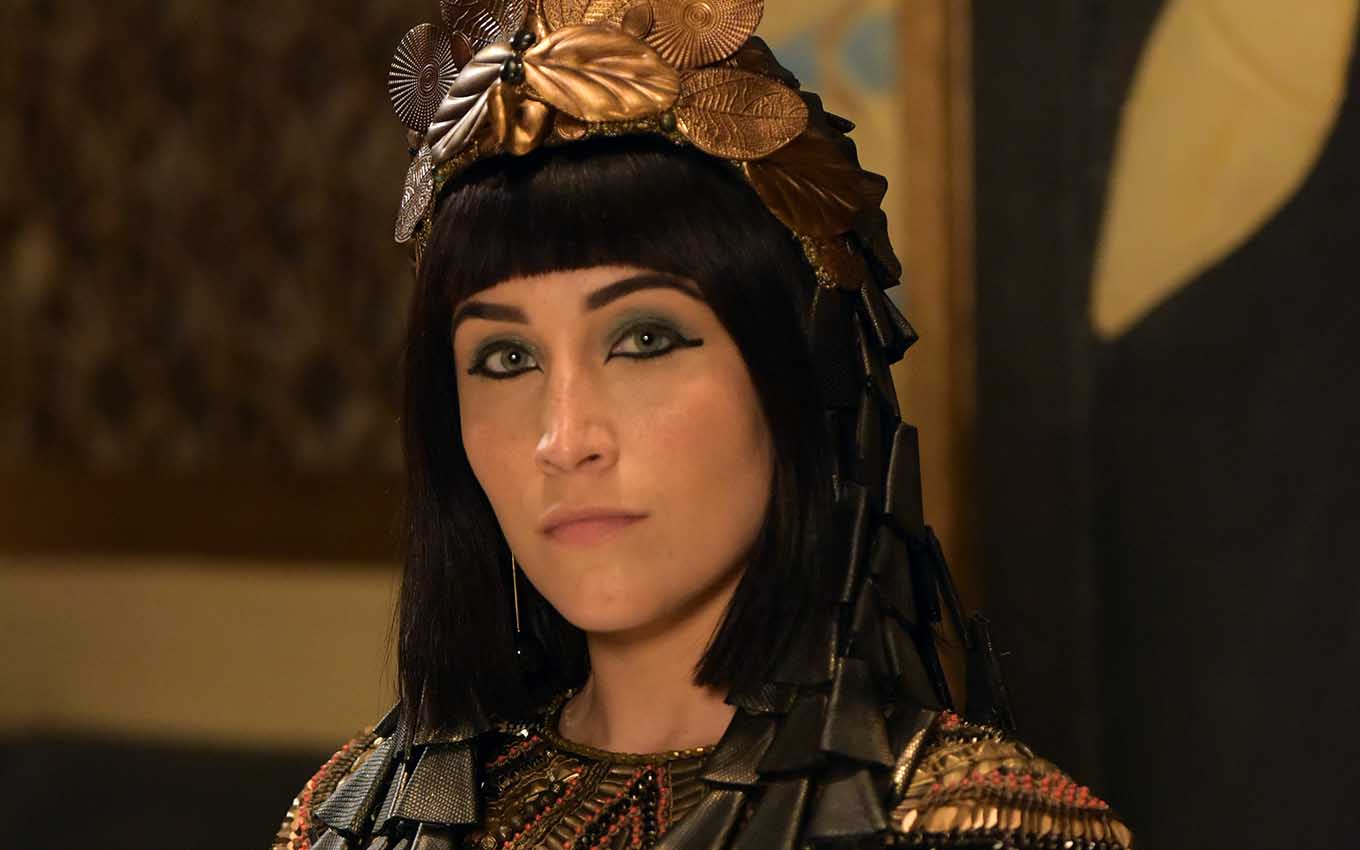 Samia Abreu jokes that it can't be easy for Merianat to keep the crown of Queen of Egypt on her head in Genesis. The actress confesses that she wouldn't venture into a three-way relationship like the noblewoman, who shares the attention of Sheshi (Fernando Pavão) with Kamesha (Kizi Vaz). "I would never be able to live a relationship with more than one person at the same time", he bets.
At 29, the interpreter shares the house and routine with her boyfriend Pedro Pires, but believes that each couple is free to make their own choices when it comes to polyamory:
I'm very traditional. I like to give myself to someone. When I know what I want, I'm very focused and determined, especially in a relationship. Now it goes from person to person. If the two respect each other, it's all right. What happens nowadays is that it's not a dual carriageway, right? Some think they have to live like this, and some don't. It's not cool there.
The artist emphasizes that viewers never questioned Merianat's affective arrangement. "Funny, isn't it? Because it's a reality so different from ours, but that the public accepts in a good way. Obviously there are people who support one or the other more. I have this crowd too", he delivers.
After all, the Egyptian never got along with Kamesha and even got a free way to conquer Sheshi after her rival was exiled for high treason. She, however, lives the drama of not being able to give an heir to her nation's throne — and is charged for it.
REPRODUCTION / INSTAGRAM
Samia with the Genesis Characterization Team
fake bald
Amid numerous behind-the-scenes photos, Samia Abreu also wanted to mark her role in the biblical novel with a publication dedicated to Elizabeth Taylor (1932-2011) on Instagram. The English actress gave life to the best known of Egyptian queens in the epic Cleopatra (1963). "She was one of the main references even in costumes at Merianat", he explains.
Samia also gave his followers a scare by appearing completely bald in one of the first characterization tests of the serials by Camilo Pellegrini, Stephanie Ribeiro and Raphaela Castro.
The performer herself was already prepared to shave her hair after being called for the role, but was surprised to discover that Record retired machine zero in period productions, at least for the female cast:
I didn't shave, but they did this test in case the character needed to appear at some more intimate time, like at night. As there were few scenes of this type, they created this fake bald head. Another option was a cap, which Merianat wears at bedtime. As I have a lot of hair, it was even easier for the team.
Genesis is a free adaptation of the first book of the Bible. The serial is divided into seven phases, and, currently, Record exhibits the seventh: José do Império. In addition to spoilers, the TV news publishes the summary of the biblical novel.
---
Learn all about the upcoming chapters of soap operas with the Noveleiros podcast
Listen to "#77 – Luísa makes a big revelation to Pilar in Nos Tempos do Imperador" on Spreaker.
---
Subscribe to the channel TV news on YouTube and watch videos with revelations of what will happen in Genesis and other soap operas.
.