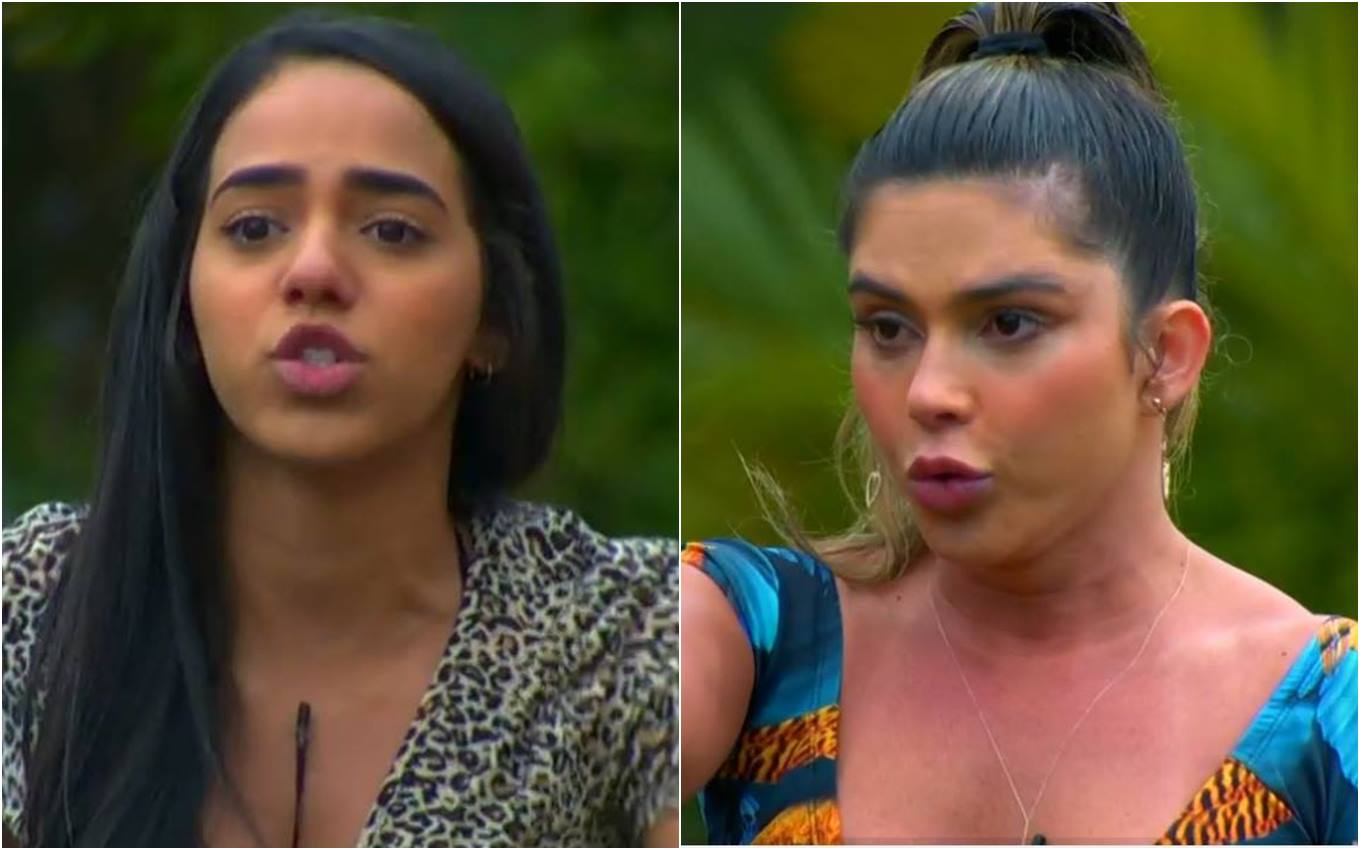 Mirella Santos couldn't hold back her tears after hearing a comment by Nadja Pessoa on Ilha Record. The former farmer attacked the dancer during a dynamic and stated that the rival "does not represent women from Pernambuco". "Snake," cried the Sealing Twin, in tears.
The fight between the two participants took place while the participants were subjected to a dynamic of discord. Explorers needed to point out which opponents are sinking into the game.
"I go into a person that I really think is sinking, I think I should go back to [a Caverna do] Exile, I don't know what you're doing here. You need strength. Be strong for yourself, you're not representing women from Pernambuco," Nadja fired, referring to the state where she and Mirella were born.
"When she said that I don't represent women from the Northeast, I started to cry with rage", Mirella reacted in testimony to the production of the program.
In the area of ​​dynamics, the discussion continued: "I don't need to show you my strength," countered the dancer. "Do you need Any to be strong?", asked Nadja, citing the opponent's alliance with Any Borges.
Nervous, Mirella got up and walked towards Nadja, other participants rose to try to stop the confrontation between the two. "You make fun of me 24 hours a day. Annoying, insufferable, cynical and sly," yelled the Sealing Twin.
"Go, snake, bark, bite. You're fake, silly, you're an actress. I don't like you, I don't like Pyong Lee," continued Mirella, who added during her statement to the production: "I was crazy to fly on top of the Nadja, but I wouldn't lose my reason."
Watch the following videos:
"The only person I don't see sinking into the game is the @pyongleetv", I told @nadjapessoa_. And even said that the @euumirella should go back to Exile. Come watch the dynamics! 💥 Go to https://t.co/aETZz312g4. pic.twitter.com/ylCva4XE5r

— Ilha Record (@ilharecord) September 1, 2021
"You are not representing women from Pernambuco," said the @nadjapessoa_ to the @euumirella. And Exile also caught 🔥 with the comment! Go to https://t.co/aETZz312g4 to watch the dynamics on #IlhaRecord now! pic.twitter.com/zKICD6ovdC

— Ilha Record (@ilharecord) September 1, 2021
Geeeee… O #IlhaRecord is boiling with today's dynamic! 🔥 Come see the bullshit @euumirella it's at @nadjapessoa_. Go to https://t.co/aETZz312g4! pic.twitter.com/488EdxcZap

— Ilha Record (@ilharecord) September 1, 2021
---
Learn all about reality shows with the podcast O Brasil Tá Vendo
Hear "#51 – Who goes to Farm 13? Know all about the rumors and speculation!" on Spreaker.
---
Subscribe to the channel TV news on YouTube to check out our daily newsletters, interviews and live videos
.