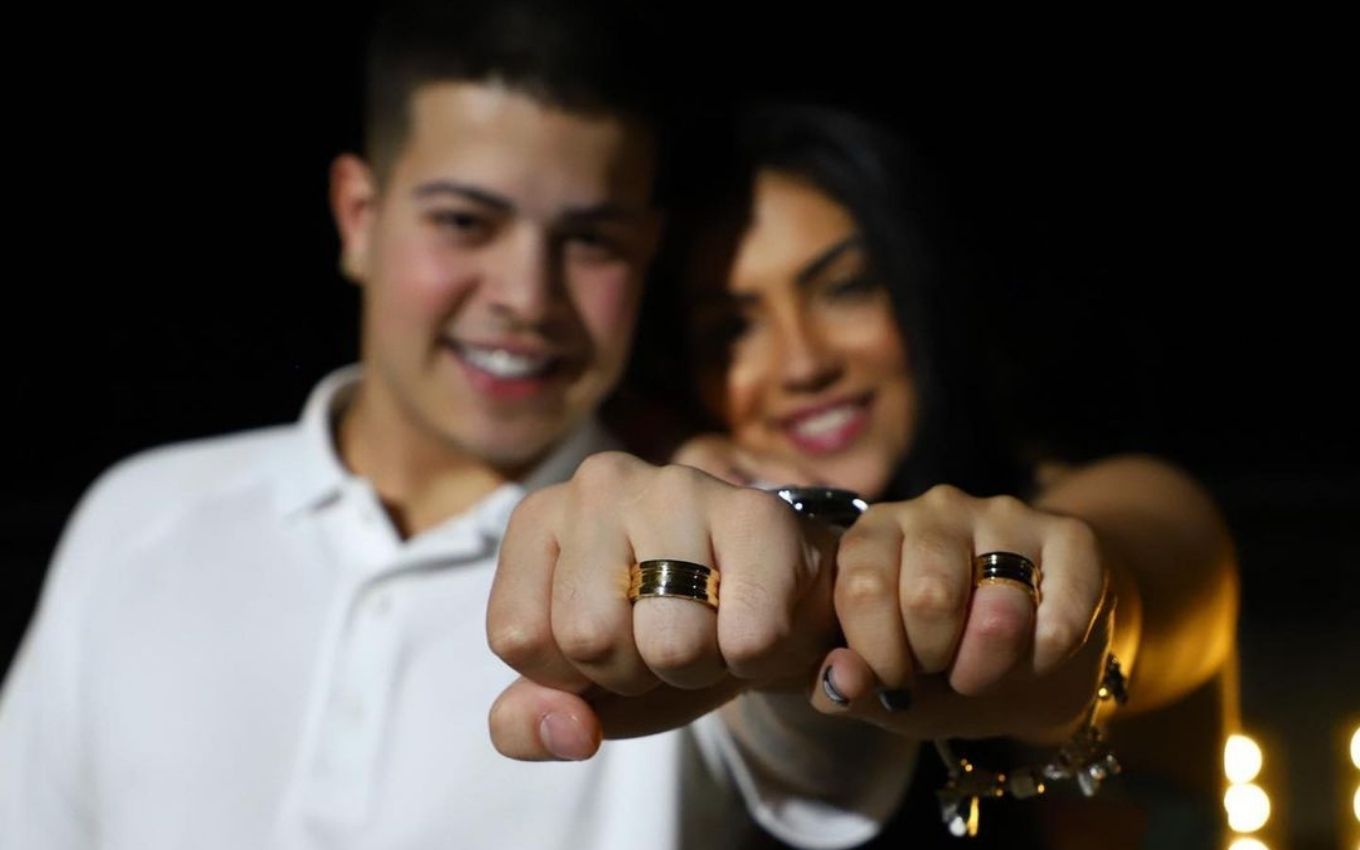 Protagonist of the series Sintonia, on Netflix, MC Jottapê became a joke on the web after asking Estéfani Boro to marry him on Saturday night (17). Netizens made fun of saying that the "lover has a home", rescuing the story that the dancer was accused of being the funkeiro's lover when he was still dating the influencer Ana Paula Souza.
On Instagram, the singer and the bride shared photos on Instagram in which they appear smiling and showing their engagement rings. Jottapê and Estéfani have been dating since 2019, right after the actor ended his four-year relationship with Ana Paula.
At the time of the breakup, the blonde went to social media to accuse her ex-boyfriend of having cheated on her with one of her dancers who was, after all, her friend. "He didn't even wait a day after he broke up with me to be cute with this girl! If he wasn't before, right? I took a video of the two in his room, she rocking on him and he 'stroking' her," said the blogger.
"I've always donated my body and soul to João Pedro, I've never betrayed him, I've never had relations with anyone, I've never even thought about anyone else. I think you must know that one day the masks will fall, right? For me, the important thing is not money and fame, I've always been with him at all times, I've helped him with everything, since school days, and he does that to me! He trades me for someone… He trades four years for a moment?" Is it over there.
Upon seeing the comment of his ex-girlfriend, Jottapê decided to take a stand on the situation and said that he ended the relationship because Ana didn't get along with his parents or with the people he worked with. And took the opportunity to give details of the dancer who was with him in the photo.
"The real reason for the breakup was when I broke the news that I was going to buy a house for my parents, and at that moment, she said that if I bought my parents' house before my house with her, she would break up with me. She arrived. to say that he changed his mind because after all I was moving away due to this, and I noticed that this relationship would not change and I decided to end it and move away", argued the singer.
"[A bailarina] He was the person who helped me a lot not to give up my job and who helped me to fulfill my dream of buying a house for my parents, so I consider it a lot and say that she is my best friend," said the MC interpreter Tuning Doni on the occasion.
This Sunday morning (18th), blogger Rainha Mattos published the announcement of MC Jottapê's engagement with Estéfani. In the comments of the publication, many profiles "charged" the countrywoman Marília Mendonça for saying in the song Amante Não Tem Lar that "a lover will never marry".
"She's already the second lover I see who has a home. Marília Mendonça was wrong," mocked Jessica Lorrayne. "A lover really has a home, right?" wrote Eve Godoi. "The lover didn't have a home?", joked Ana Grazy.
Check out:
reproduction/instagram
Comments on MC Jottapê's engagement
See MC Jottapê's engagement announcement:
.