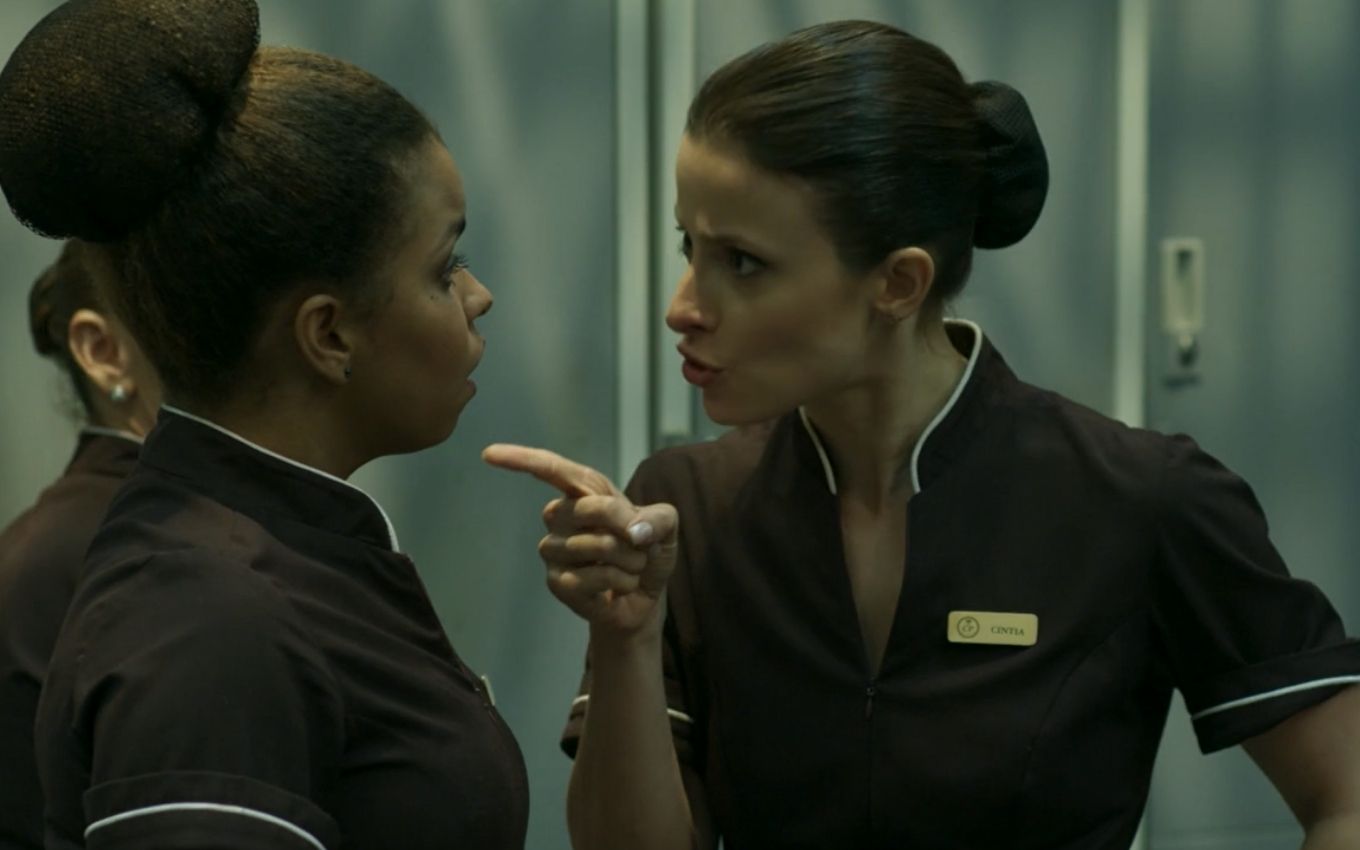 Cíntia (Bruna Spínola) will slap Tânia (Jeniffer Nascimento) in Pega Pega. The shack between the two chambermaids will take place after the arrest of Sandra Helena (Nanda Costa), who will spill over on her best friend. Employees of the Carioca Palace will accuse the young woman in love with Júlio (Thiago Martins) of being involved in the robbery of the Carioca Palace in a Globo telenovela.
In the scenes planned to air in the Friday (24) chapter, Luiza's friend (Camila Queiroz) will be confronted by her co-workers as soon as she steps into the hotel reception. "Are you also involved in this robbery?" the doorman will ask. "Of course not, Mr Gilmar [Gilberto Marmorosch]", will answer the unconforming maid.
"You know what it is, you and Sandra Helena are nails and flesh. It's hard to believe you're not involved in this," the veteran will comment. "Or you know something," the concierge will agree. "What is it, Jefferson [João Villa]?", counters Cíntia.
At that moment, a security guard will arrive and interrupt the employees' conversation: "I have orders to accompany you to Mr Douglas's office [Guilherme Weber]". The maid also became the target of suspects in the robbery of millions by Eric (Mateus Solano), after the manager discovers that she is in love with Julio.
In the manager's office, she will burst into tears when asked if she knew anything about the hotel's robbery of millions. "You have no idea what I'm feeling. I'm angry at Sandra Helena's betrayal. I'm sorry she was so stupid and fell for it. I'm scared of what might happen to my friend," he will vent, in tears.
Later on, Cíntia will already appear, getting ready in the bathroom next to Tania, who will provoke her: "I didn't say your friend was no good. You're going to defend Sandra Helena now, are you?" The great love of Nelito (Rodrigo Fagundes) will have no patience and will ask: "Get out of my way, Tânia!".
Dom's girlfriend (David Junior) will ignore the request and will continue needling her rival: "I just wanted to know if your friend who is a thief is a sweetheart." The maid will be exalted: "I don't owe you the satisfaction of what I think or should find. Is that good?".
Sabine's ally (Irene Ravache) won't give up and will continue the offenses: "I understand everything. [dinheiro] on the outside, right? He's getting that famous shut-up to testify in her favor. That's if you're not part of the gang."
Cíntia will then go after her coworker, pull her hair, and the two will slap. The shack will be separated by the other maids, who will also be getting ready in the bathroom. Hotel security will be called in to give the mess a cold shower.
Pega Pega (2017) won a "special edition" to fill the hole left after the final stretch of Salve-se Quem Poder. Como Mais Vida, Melhor, the next unpublished soap opera in the 7:00 pm band, was postponed because it is being recorded with security protocols that make the execution process slower.
Subscribe to the channel TV news on YouTube and watch videos with revelations of what will happen in Império and other soap operas.
.