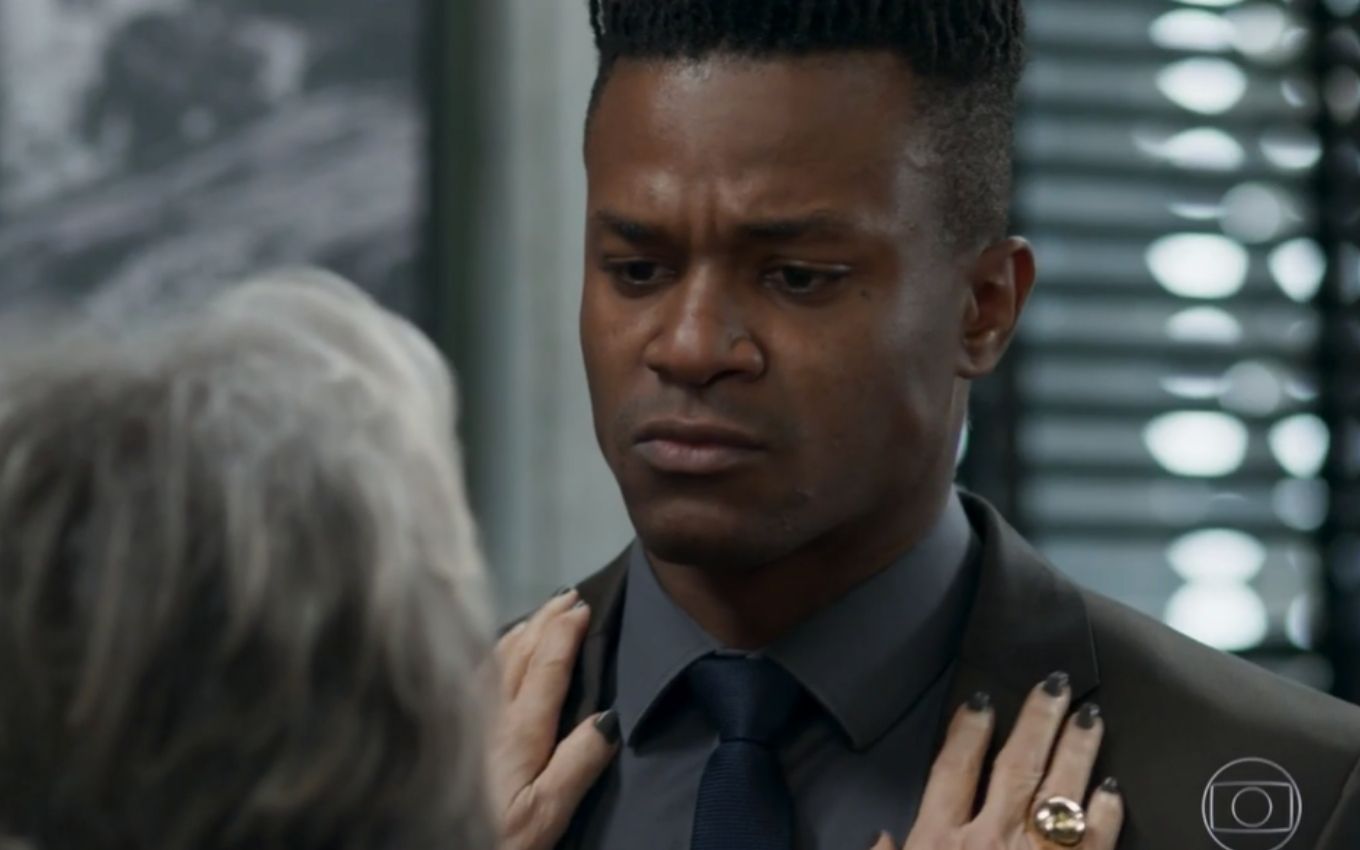 Dom (David Junior) will have an ugly fight with Sabine (Irene Ravache) over Cristóvão (Milton Gonçalves) and Madalena (Virgínia Rosa) in Pega Pega. The good guy, however, will soon regret having outdone himself with his adoptive mother, after discovering from Adriano (Márcio Kieling) that the shrew is sick on Globo's seven o'clock soap opera.
In the scenes planned to air in the chapter this Wednesday (15), Dom will rebel with the shrew after she has offered money to Madalena to walk away from him in Claudia Souto's serials. The boy will nervously enter the office of Pedrinho's ex-girlfriend (Marcos Caruso).
"You don't even say good morning now," Eric's partner (Mateus Solano) will say to her son. "The day didn't start out well for me. In fact, I spent the night awake. So, the day hasn't even started", counters the boy. "But nothing justifies you going in that way and talking to me in that tone," Sabine will argue. The good guy won't spare the rich girl: "I want you away from Magdalene and Cristóvão."
"What slander have these people told you?" the evil one will ask. "These people are my family", shouts the manager, who will add: "Knowing the way I know you, I know it's true. You went to Madalena's house." Sabine will claim that she actually went after the good guy's birth mother.
"I wanted to have a friendly approach to the woman who brought you into the world," he will argue. "Friendly? You're saying she's getting close to me just because I'm rich," he'll retort.
Sabine will ask Dom to approach her. Faced with the executive's refusal, Adriano's ex-girlfriend will vent. "Do you think I'm comfortable in this situation? Do you think I see what's happening to you and don't worry? These people have abandoned you."
The entrepreneur will ask the mother not to speak that way. "My father told me the truth, he lost me on the beach," Dom will say, crying. "If that's what happened, this man, this father, is irresponsible. So, I don't understand now, they have this love for you", the shrew will mock.
Irene Ravache's character will claim to be in love with her son and claim that Cristóvão is turning Dom against her. "And you're putting yourself above them, above me. In a place I can't accept," concluded the Carioca Palace heir, leaving his mother's room.
gift regrets
Later, Dom meets Adriano in Sabine's suite, and the doctor tells him he's leaving for France. "Have you come to say goodbye to me?", will ask Dilson's brother (Ícaro Silva). "Not exactly," the madam's ex-boyfriend will reply.
The doctor will claim that he needs to talk to the boy about some urgent things. "I postponed this conversation too much, I thought Sabine was the one who had to tell you and couldn't go over it," the ex-stepfather will begin.
"Is everything okay with my mother?" the manager will ask. "Not really," Adriano will reply, leaving the good guy scared. "Sabine is not in very good health", concludes the ex-affair of the evil one.
Pega Pega (2017) won a "special edition" to fill the hole left after the final stretch of Salve-se Quem Poder. Como Mais Vida, Melhor, the next unpublished soap opera in the 7pm range, was postponed because it is being recorded with security protocols that slow down the execution process.
---
Learn all about the upcoming chapters of soap operas with the Noveleiros podcast
---
Listen to "#74 – José Alfredo Makes Emergency Decision in Império!" on Spreaker.
---
Subscribe to the channel TV news on YouTube and watch videos with revelations of what will happen in Império and other soap operas.
.